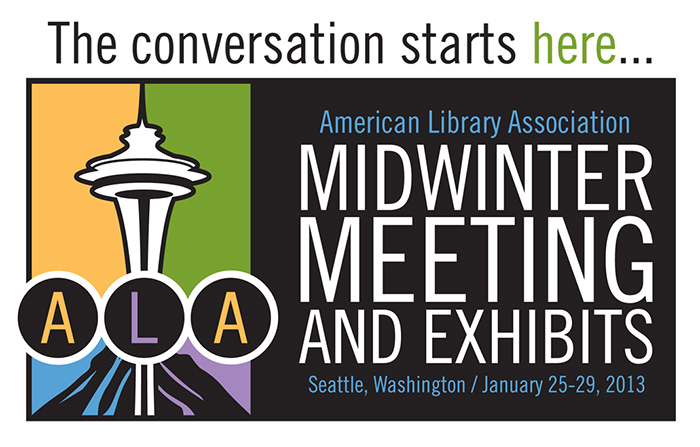 ALA Midwinter 2013 in Seattle!
The conference is over but I wanted to share a few of my favorite things about ALA Midwinter 2013:
The city of Seattle – Lovely! I enjoyed a great dinner at Schuckers Oyster Bar and a fantastic three-course lunch at Blueacre Seafood.
The Random House Opening Night Reception at Pike Place Market – Gene Ambaum, Bill Barnes, and their Unshelved players offered a hilarious skit of 'things heard from librarians in the Exhibit Hall.' The audience gleefully participated with the "Bookbag?" chicken cluck, the bovine "Boooooze" call, or the almost orgasmic but breathy "I heard you have chocolate. Where's the chocolate?" booth query!
Advance Reader Copies – galleys, lots and lots of galleys! I managed to acquire galleys for Chevy Stevens' next thriller, Always Watching, which is due out in June and one for The Runaway King (Book 2 of 'The Ascendance Trilogy') by Jennifer A. Nielsen. When I went looking for a galley of Scarlet by Marissa Meyer, the sequel to last year's Cinder, I was very excited to receive a hardback copy of the book instead!
The Pop Top Stage on Saturday afternoon for the YA Romance: Breaking the Rules session with Barbara Caridad Ferrer, Heather Davis, and Serena Robar – each author was funny and entertaining talking about writing series romance for teens. Plus they all autographed FREE copies of their books: When the Stars Go Blue, Wherever You Go, and Giving Up the V.
Seattle Public Library – Awesome!
The Recorded Books Reception on Saturday evening at the Chihuly Garden and Glass – beautiful, colorful works of art, a marvelous reading by Theresa Plummer who narrates the 'Virgin River Series' by Robyn Carr, and delicious food!
Author signings at the publisher booths – plenty of treasures to bring back home for myself and my library! For myself, I brought back an autographed copy of Pike Place Market Recipes by Jess Thomson. For my young nieces, I got a signed copy of the adorable children's picture book The Princess and … the Peas and Carrots by Harriet Ziefert, with illustrations by Travis Foster.
The Networking Commons area in the Convention Center – stopping by on Sunday afternoon to meet the PLA Online blog editors, Kathleen Hughes and Lian Sze! 🙂
The people of Seattle – for being so gracious while dealing with an invasion of librarians!
The RUSA Book and Media Awards Reception – Sunday evening at Midwinter is not complete without the excitement of hearing the winners announced for Notable Books, the Zora Neale Hurston Award, the Louis Shores Award, the Sophie Brody Award, the Listen List, the Dartmouth Medal, the list of Outstanding Reference Sources, and the Reading List!
I thoroughly enjoyed my visit to Seattle, especially all the events and opportunities offered at the conference, and am looking forward to attending ALA Annual in Chicago this summer.
---
Tags: ALA Midwinter 2013