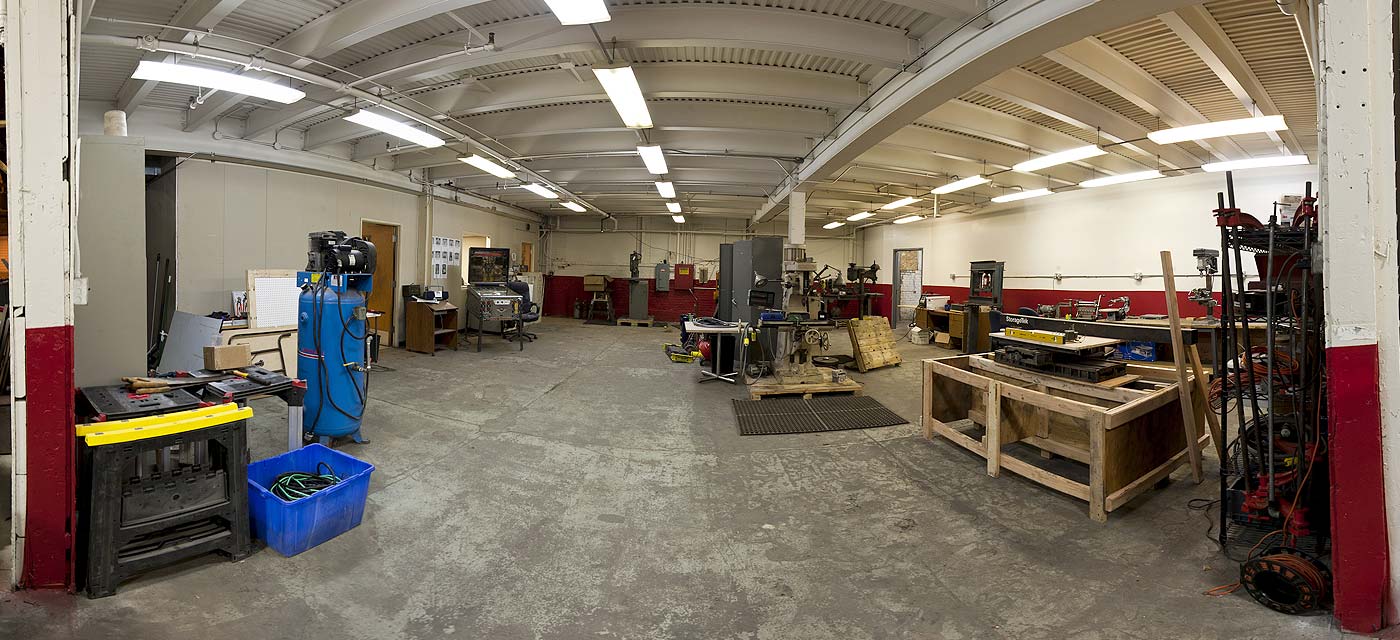 Public libraries exist to provide access to information and ideas. We live in a world where ideas are transmitted across a wide range of platforms, and information comes in a variety of containers and formats. In the past, the majority of our patrons were simply consumers of information. However, technology has changed the way we interact, not only with each other but also with our environments. We are no longer just consumers of information, we are also creators of information—information that can be uploaded, blogged, shared, liked, and tweeted. The information that our patrons create, on a daily basis, is valuable. It is a part of our community.
The Fayetteville Free Library (FFL), a member library of the Onondaga Public Library System, is located in a suburb of Syracuse, New York. FFL purchased the old Stickley Furniture factory in 2001, a historic building with deep roots in the community. The library was founded in 1906 and had two previous homes prior to 2001. Rated a five-star library by Library Journal for four consecutive years, FFL has worked hard to meet the growing and changing needs of the community. While the library is chartered to serve just over ten thousand people, the circulation statistics and qualitative data collected show a much larger area of service. Throughout the past year, FFL has been working to create a new, fully integrated library service: The FFL Fabulous Laboratory — the first permanent makerspace in a public library.
What Is a Makerspace?
A makerspace is a place where people come together to create and collaborate, to share resources, knowledge, and stuff. This definition sounds oddly familiar, doesn't it? It reminds me of . . .the public library. Makerspaces developed out of do-it-yourself (DIY) culture. They evolved from a desire to understand, tinker, remake, and share. A few years ago, Willow Brugh wrote:
When you're a hammer, everything looks like a nail. Which is to say, you use the tools you have to solve the problems at hand. Tools and technology do, of course, range everywhere from a wrench to language to roads to electricity. And when your tool is the mindset of a maker, any system at hand looks like something to be tinkered with and improved upon.1
Makerspaces give people the tools to create, hack, and remake their world for the better. They give people the ability to, in the wise words of Neil Gershenfeld, create local solutions to local problems.2
The library profession is constantly evolving and adapting to meet the needs of our communities in the best and most effective ways possible. These evolutions and adaptations are usually caused by a technological catalyst of some kind; new tools come along that enable us to better serve our communities. It is truly an exciting time to be in the information profession—there are multiple tools at our disposal, many new and innovative ways to work with our communities to meet their information needs. Libraries are moving beyond the dated and limited definition of a warehouse of books to a new model of community resource that includes tech times, job search assistance, Skype author series, and more. R. David Lankes, professor and dean's scholar for new librarianship at Syracuse University said, "Librarianship is not about artifacts, it is about knowledge and facilitating knowledge creation. So what should we be spending our precious resources on? Knowledge creation tools, not the results of knowledge creation."3
Librarians are not curators of books, we are leaders in our communities, who are able to provide services and access that are not available anywhere else. However, to fully embrace this role, to actually facilitate knowledge creation in our communities, we need not only new tools, but perhaps new mindsets as well—the mindset of a maker. Why would libraries include makerspaces in their services? Because librarians (and therefore libraries) facilitate knowledge creation, in other words the why, and makerspaces are a tool, or the how.
Before tackling a project like this it is essential that, as an organization, you challenge your own assumptions about what a librarian's job is—what librarians are "supposed" to do. At every level of the hierarchy, people need to be empowered to have big ideas and to take risks. This can only happen if both staff and management are not only tolerant of risk but also able to effectively manage the risks. The culture of innovation needs to exist and be supported internally before being taken to the community at large.
I asked FFL Executive Director Sue Considine how, as a manager, she created the environment in which this kind of project could flourish. She said:
First and foremost, I am not a manager. I don't manage people, I don't manage your work, I don't manage your lives. I'm a facilitator. I've been able to help this team understand that my expectations are very high and that I have absolute trust in them. The team also understands that in order for these expectations to be met, on behalf of the community, incredible risk taking has to happen constantly—I encourage everyone to think with a risk-taking mentality, with a "why not, let's try it" attitude. The only way this works is when everyone involved understands that failure is absolutely ok. This culture of innovation was built with clear, open communication and, at the base of it all, trust. When someone comes to me with an idea I don't necessarily judge the idea, I immediately go into "let's try it" mode; how do we make this happen—you need time, you need people, you need resources, you need press. Let's look at the budget, timing, and resources and let's do it.4
The Fab Lab
It is one thing to talk about these ideas. It is another to actually implement them. The FFL Fabulous Laboratory (or the FFL Fab Lab) developed out of a proposal I created for a course while earning my MLIS at Syracuse University. The course was called Innovation in Public Libraries and over the semester we were introduced to a number of interesting ideas, places, and people, including the Syracuse University Design Works Lab and 3D printing. The class had a loose structure that allowed us to create our own final project with the goal of creating an actionable, innovative thing. I decided to research and develop a proposal to build a Makerspace, with 3D printing at its foundation, in a public library. The proposal, titled "3D Printing: A Catalyst for Community Collaboration," included an introduction to 3D printing, the difference between hackerspaces, makerspaces, tech shops, and fabrication labs.5 It also included goals and outcomes, a S.W.O.T. analysis, a budget, possible sources of funding, descriptions of responsible parties, and more. Key stakeholders in the community were identified and recruited. I presented my idea to Considine and she hired me to execute the program.
It is important to point out that there were barriers to launching this idea. I actually created three different proposals to present to Considine because I took time to understand the potential barriers to my idea and understood what the assumptions might be—and I had a plan to work through each of them. I developed a thorough and strategic process in order to ensure the greatest possibility for success. This project did not happen overnight, but was supported with research, nurtured by passionate community supporters, executed by an incredible staff, and it enabled FFL to engage with the community in a new way.
Like many programs and services in a library, the question of funding was one of the first issues we needed to tackle. My first task as a new librarian at FFL was grant writing. We are still raising funds for the physical location of the FFL Fab Lab in the east wing of the library, but this hasn't stopped us from moving forward with launching programs and creating access—the FFL Fab Lab is currently mobile. With a small collection of carts and staff we can take this makerspace anywhere.
In addition to writing grants we are using a number of other sources to raise funds. In October 2011, I participated in the Contact Summit in New York City hosted by Douglas Rushkoff. I presented the FFL Fab Lab at the Bazaar, where we competed for and won one of three $10,000 awards. As part of the award we were given a free campaign on Indiegogo, a crowd-sourced funding site. We were able to raise an additional $4,000 through this campaign. We had donors from around the world.
The FFL Fab Lab started with a 3D printer, the MakerBot Thing-O-Matic. Our first Thing-O-Matic was donated by Express Computer Services in Manlius, N.Y. This MakerBot required assembly—think Ikea furniture but with more parts and a truly phenomenal customer service/support team. I connected with one of our patrons, Tim Brower, who runs the Syracuse University Design Works Lab, and he volunteered to help me assemble the MakerBot.
Our second Thing-O-Matic was also purchased through a donation, although this one came fully assembled. I asked Bre Pettis, founder of MakerBot and NYCResistor, for a quick description of what a MakerBot is and what it can do. He said, "A MakerBot is a tool for innovating. The cost of using it is low so that you can fail as many times as you need to until you are satisfied. You can download digital designs from Thingiverse for free and even modify many of them and customize them! I would love to see more MakerBots in libraries so that more people can have access to the raw power of innovation."6
These 3D printers are smaller than you might think, and fit easily on a desk—only slightly larger than a regular ink-and-paper printer. The next generation of MakerBot was recently released, the Replicator, and it is at the very top of my materials wish list. Three-dimensional printers use ABS plastic to print objects and it comes in a variety of colors—including glow-in-the-dark. The Thing-O-Matic printers we have at FFL cost under $2,000 and the Replicator is listed on the MakerBot website at $1,749.
While our makerspace started with 3D printing, it has grown to fully incorporate all avenues of maker culture. The technology is certainly important, however it is not the focus. The focus is placed directly on giving our patrons the tools they need to create, to foster a read/write culture in our community. Read/write culture encourages people to add, change, influence, and interact with their culture.7 People consume information and then use that information to produce or create something new. For example, through this program, children have the opportunity to make their own books, which can then be catalogued and circulated in the library. We are currently developing innovative and exciting summer reading programs, including bringing in local experts to teach a range of classes, like Intro to Digital Fabrication and Intro to Computer Programming.
The Importance of Community
One of the essential components of a successful makerspace is community. Traditionally, hackerspaces and makerspaces develop rather organically. You have to start with the people. Our community is full of experts—and so is yours. Technology teachers, local artists, computer programmers, and lawyers—these experts and practitioners from all fields, active and retired, have knowledge that is worth sharing. It is our job to create access and develop an environment where people can come together to share resources (whether they be physical or mental), collaborate, and create.
As librarians we are the facilitators—we do not have to be experts. This technology can be downright scary for some librarians and others simply have no desire to use it. And that's ok. However, we can't allow our lack of desire, interest, or understanding to create a barrier to access. As you build the program, you connect with the community—the experts are there.
Makerspaces are a natural extension of library services. As a society we are moving toward a read/write culture. Because of innovations in technology it is simple for all people to be creators as well as consumers. There are a number of excellent reasons for encouraging this spark of innovation, including fostering new ideas that can transform our lives and the world. Our patrons no longer simply consume. They have the transformational opportunity to create, to put their thoughts, dreams, wishes, aspirations, and skills out into the world. Why not help our patrons create, by giving them access to the tools and information they need to do it, and then circulate their creations?
This is what a library makerspace is. It is not just about providing access to machines like 3D printers and laser cutters, although this technology is important. Makerspaces in libraries give our communities the opportunity to make anything. From a feature-length film, to designing the next game-changing technology innovation—the sky is the limit. As librarians we don't need to become experts in movie making, we need to do what we have always done—provide access, space, and facilitate opportunity. Maybe this means taking a class on digital fabrication to get the basics. Maybe it means bringing in community members to share their knowledge by volunteering to teach classes or workshops. It will mean something different to each library because a library is, and must be, a reflection of its community and each one is different.
Neil Gershenfeld stated that, "Literacy has, if anything, regressed over time to the most minimal meaning of reading and writing words, rather than grown to encompass the expressive tools that have come along since the Renaissance."8 You would be hard-pressed to find a librarian who doesn't believe that promoting literacy is at the heart of their work. But we need to expand our definition of what literacy is and embrace the idea of transliteracy. Yes, many consider it to be a buzzword, but the concept is real. Transliteracy is the ability to read, write, and interact across a range of platforms and tools. Makerspaces give us a way to promote new forms of literacy, to help our patrons communicate across a range of platforms that are necessary for success.
Douglas Rushkoff is one of my greatest sources of inspiration. His book, Program or Be Programmed: Ten Commands For A Digital Age,9 changed the course of both my MLIS education and my future career. In the introduction of the book he writes, "When human beings acquired language, we learned not just how to listen but how to speak. When we gained literacy, we learned not just how to read but how to write. And as we move into an increasingly digital reality, we must learn not just how to use programs but how to make them."10
Public libraries are truly democratizing institutions in that we break through the divides and we bridge the gaps that society constructs. We can't bridge the digital divide simply by offering access to free Internet and computers. We need to give our communities equal access to the tools they need to be successful in creating knowledge. Makerspaces can help teens learn to create a videogame, not just play one. In an inspiring presentation, Ned Potter (also
known as "thewikiman") asserts that the top ten jobs in 2010 did not exist in 2004.11 How do we help our patrons adjust to such a fast-paced, ever-changing information landscape? My answer: makerspaces.
Programming at FFL
While we wait for the physical space to be renovated, we are hosting a variety of programming opportunities to ensure our community has access to the technology. We hold monthly Fab Lab open houses where patrons can use all of our "making" supplies and technology with librarians and community support members present to facilitate. These open houses are designed to be exploratory; we do not staff each table with librarians and instruction manuals. We encourage our patrons to wander through and experiment. We cover the walls with white butcher paper and encourage our patrons and visitors to write about what they're experiencing, to examine their assumptions about what a library is supposed to do, and to think about what a library might be able to do.
In addition to the monthly open houses, we host monthly workshops for duct-tape art, hardware jewelry, and more. We are currently working with a variety of local community members, as well as maker enthusiasts across the country, to offer a variety of in-person and Skype workshops.
Once the physical space is renovated and open for use, we will add additional technology that is generally associated with fabrication labs, tech shops, and
makerspaces, like a laser cutter and CNC router. These machines require more training and direction than MakerBot 3D printers. So librarians on staff are currently learning how to use them, and studying their software and safety elements. FFL has invested resources to give me the opportunity to enroll in Syracuse University's Intro to Digital Fabrication course to build a strong foundation in the basics that I can then share with my colleagues, students, and community members. As we are the first public library to incorporate a makerspace into our plan of service in this way, our goal is to share the knowledge with you—librarians across the country who are interested in creating similar opportunities for their communities.
Conclusion
Many of you might be thinking that you don't have access to a university with a lab like Syracuse University, or that you don't have the funds to purchase a laser cutter. And, guess what? That's ok! The cool thing about library makerspaces is that there aren't any requirements. Have a conversation with your community and discover what they know and what they want to know more about. We are doing something that has never been done before—the only rules are to be creative, encourage your patrons to create as well as consume, and give them access to the tools they need to do this. Be open to alternative forms of fundraising, like a crowd-source campaign. Gershenfeld has said that the future of technology lies not in thinking outside the box, but in making the box.12 I argue that the same can be said for public libraries. Let's make a new box.
REFERENCES AND NOTES
Willow Brugh, "Why I Believe in Maker Culture," The Steampunk Workshop, Feb. 4, 2010, accessed June 18, 2012.
Neil Gershenfeld, Fab: The Coming Revolution on Your Desk Top—From Personal Computers to Personal Fabrication (New York: Basic Books, 2005), 13.
R. David Lankes, The Atlas of New Librarianship (Cambridge: MIT Press, 2011).
Sue Considine, personal interview with the author, Dec. 1, 2012.
You can see an excerpt of the proposal, including my literature review, on my blog.
Bre Pettis, email interview with the author, Feb. 17, 2012.
Wikipedia's "Remix Culture" entry, accessed June 18, 2012.
Gershenfeld, Fab, 41–42.
Douglas Rushkoff, Program or Be Programmed: Ten Commands For A Digital Age (New York: OR Books. 2010).
Ibid., 7.
Ned Potter, "The Time for Libraries Is Now," thewikiman (blog), Mar. 13, 2011, accessed June 18, 2012.
Gershenfeld, Fab, 17.