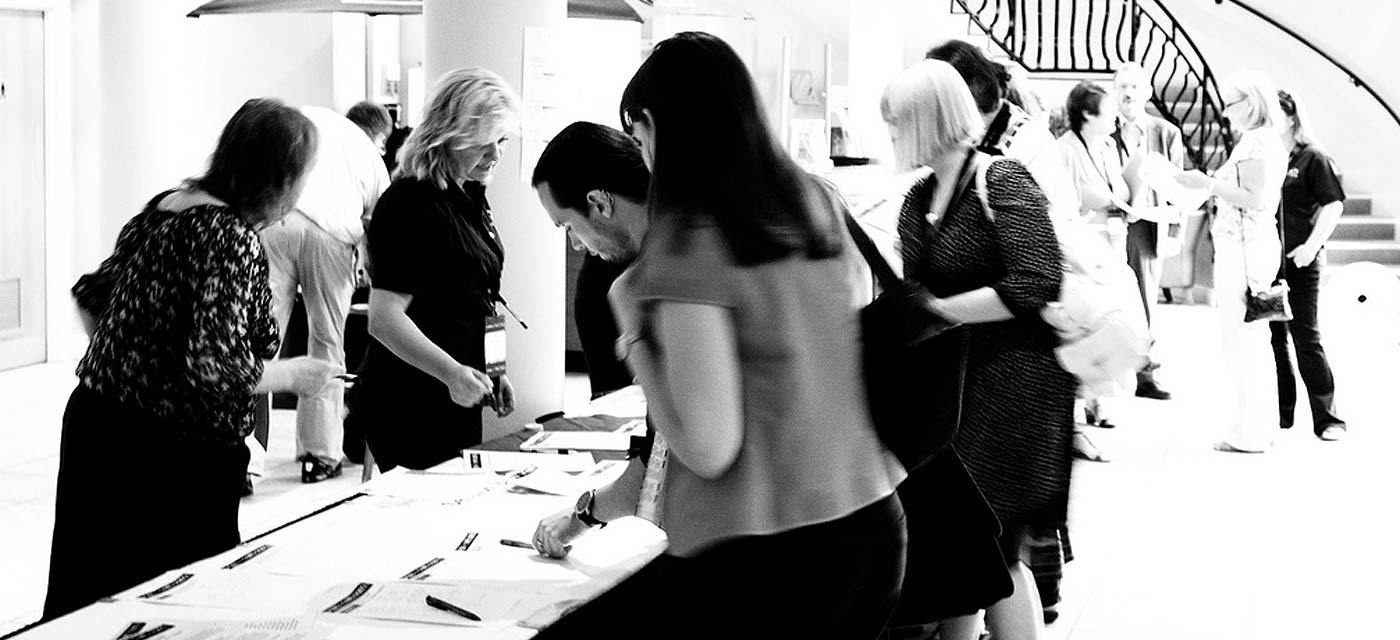 By nature, library technology walks a fine line between the new and exciting and the tried and true. This is particularly the case in public libraries, whose audience runs the gamut from Luddite to wizard. As we work to bring balance to these seemingly opposing forces, it's always important to temper our gadget lust with a certain sense of pragmatism. No matter how shiny a new app or gadget may be, any new tool must be tempered with a practical connection to the community it serves.
And that's why it's occasionally useful to flip the script when introducing new technology to one's patron base. Unfamiliar principles can go over more successfully if they're couched in familiar concepts. Take Dropbox, for example. While the concept of "cloud computing" might be tough to wrap one's head around, everyone understands the file folders on their desktop. By giving users that simple means of saving their documents, Dropbox can now introduce all sorts of radical concepts—from universal access to said folder from any device, to file-sharing, to collaborative editing. No small feat for a simple computer file folder.
Similarly, libraries can leverage their presence as an event space to spark groundbreaking discussions about the role they play within the community. By giving the audience as much of a role over the agenda as the organizers, you can help to identify new stakeholders and create opportunities for your patrons to learn from one another. These principles are at the heart of the unconference.
Let's Put On an Un-Show


This past May, I helped plan the Chicagoland Library Unconference (CLUncon). Along with my partners in crime,1 we created an event that drew more than seventy-five librarians from across the region. With a couple of speakers and no set agenda, we offered an environment for discussing library issues in an immediate, practical manner. With the shock of actually pulling the event off having worn off, it's a good time to reflect on the project and see what worked. With just a little tweaking, the unconference-as-continuing-education model can be adapted to function as a public idea generator. Here are a few suggestions to get the ball un-rolling.
Build Your Team
An unconference is a real opportunity for you to forge strong connections with key patrons. Who are your power users? Your community movers and shakers? Your active local organizations? These are all the kinds of people you want on your team. If you can get the right people involved, many of the issues related to brainstorming topics, planning logistics, and recruiting a crowd can become much easier. This momentum can build quickly: once the core group of organizers came together, the enthusiasm level changed from "Wouldn't this be cool?" to "we need this, this, and this" almost overnight. If you need additional material to help sell the idea of an unconference to your stakeholders, Unconferrence.net has gathered a number of useful resources.2
Set the Stage
Even though the unconference model is built on spontaneity, sometimes your audience needs a nudge to get started. Providing a broad topic of conversation will give folks an idea of what the event is going to be about, and can help get the wheels turning in the weeks leading up to the event. For CLUncon, the question was "What are the issues facing libraries, and how can we work together to develop creative solutions?" It didn't take much prompting beyond that to draw a crowd and get them talking. A topic like this can be easily applied to a community conversation, but it's not the only direction you can take things. Even something as wide-reaching as "What are you passionate about?" or "How would you improve your community?" can provoke some powerful conversations. As you work to choose a theme, it's important to talk with your community to determine what matters most to them.
Let Your Audience Drive the Agenda
CLUncon sold out within thirty-six hours of tickets going on sale. With six weeks until the actual event, we felt it was important to keep building momentum. Our solution: crowdsourcing the discussion topics within the broader theme, giving attendees a better idea of what they had gotten themselves into, while giving everyone an opportunity to state their case as to why particular issues were important. To facilitate this, we used Idea Informer, which gave us an easily embeddable system that allowed anyone—attendees or non-attendees alike—to propose and vote on their favorite topics. The result was a low-key version of the South by Southwest conference's Panel Picker, and a great way to get the audience working on collaborative ideas.
Voting is just one way to get people more invested in your event. Your online presence can help to keep the conversation steady on the ramp-up to launch day, and inviting attendees to provide guest content—blogs, video, and more—can help inspire other people to join in.
Look Outside Your Comfort Zone
Similar to the way in which we chose a theme, we wanted our keynote speakers to come from outside the library world, in order to start conversations that looked beyond traditional library thinking. Filling this role were Nick Disabato, creator of Distance (distance.cc), a quarterly journal and online platform devoted to essays and conversations on web design and user experience issues; and Becca Martin, community manager for Everyblock, a hyperlocal news aggregator and message board service offering by-neighborhood news updates in nineteen cities.
Our hope was that our audience would find the parallels between what Disabato and Martin were doing and their own communities. Both Distance and Everyblock have some sound strategies toward building online communities, and we felt that libraries could use them as models for how to bring people together in their own communities. While I think this message got through to most program attendees, we could have probably provided more guidance as to what we hoped to accomplish. If you're looking to get people thinking outside the box, you've got to at least make a door for them to walk through.
Keep the Conversation Going
Holding an unconference was only phase one of a much larger plan to get area librarians talking. The CLUncon.org website is designed to feature occasional blog posts from organizers and audience members alike, in the hope of creating an ongoing resource for people to think creatively about library issues.
Library events can serve a similar purpose, provided you make the commitment to keep a steady flow of content going. Like with any major social-media effort, persistence is the key to creating and building an audience.
Other Frameworks for Un-Spiration
If you're looking for more structure as you plan your own unconference-style event, several organizations have resources to help you get started.
Out of this growing micro-industry, the speaker series known as TED is likely the most well-known. Short for Technology, Entertainment, Design, the organization has been working for nearly thirty years to provide speakers with eighteen-minute windows of opportunity to inform and inspire. They've developed a set of resources3 for local groups to organize independently run TEDx events, leveraging the TED brand to draw a crowd and get people talking. The startup guide includes specific guidelines for libraries to start their own events, as well as a framework for smaller TEDx salon discussions.
Ignite talks take the TED format and compress it even further. Similar to the Pecha Kucha format of presentation-giving, speakers are allowed five minutes and twenty slides to discuss something they are passionate about. The Ignite framework4 also offers optional icebreakers and contests to help the crowd get comfortable with one another.
If your community's interests run more toward robots, circuit boards, and other gadgets, then you may want to organize a mini Maker Faire.5 This stripped-down version of MAKE magazine's official events is a showcase for creators, hackers, and tinkers alike. This would be an ideal partnership for a school or community college computer science department, not to mention a local hackerspace, if one exists.
Sometimes, there's no replacement for putting a group of enthusiastic people in the same room and getting out of the way. No matter the format, unconference-style events serve to start important conversations in your community, and reinforce the library as a platform for new ideas to emerge. It could be as simple as an open meeting in a coffee shop or a Google Hangout, or it could be a full-fledged, day-long program. One way or the other, it's a way to help build those most human of connections within your community. By doing so, you can help to further your library's role as a springboard for new ideas and technologies.
REFERENCES AND NOTES
Carolyn Ciesla, Michael Gershbein, Richard Kong, Anne Slaughter, and Ryann Uden, librarians from the Chicago suburbs of Homewood, Glencoe, Arlington Heights, Oak Park, and Barrington, respectively. Association consultant and former ALA Director of Membership John Chrastka also assisted with conference logistics.
Kaliya Hamlin, "How to DIY Unconference," accessed July 15, 2012.
TED, "TEDx: Organize an Event," accessed July 20, 2012.
Ignite, "How to Produce an Ignite Event," accessed July 20, 2012.
Maker Faire, "So You Want to Make a Maker Faire?" accessed July 20, 2012.