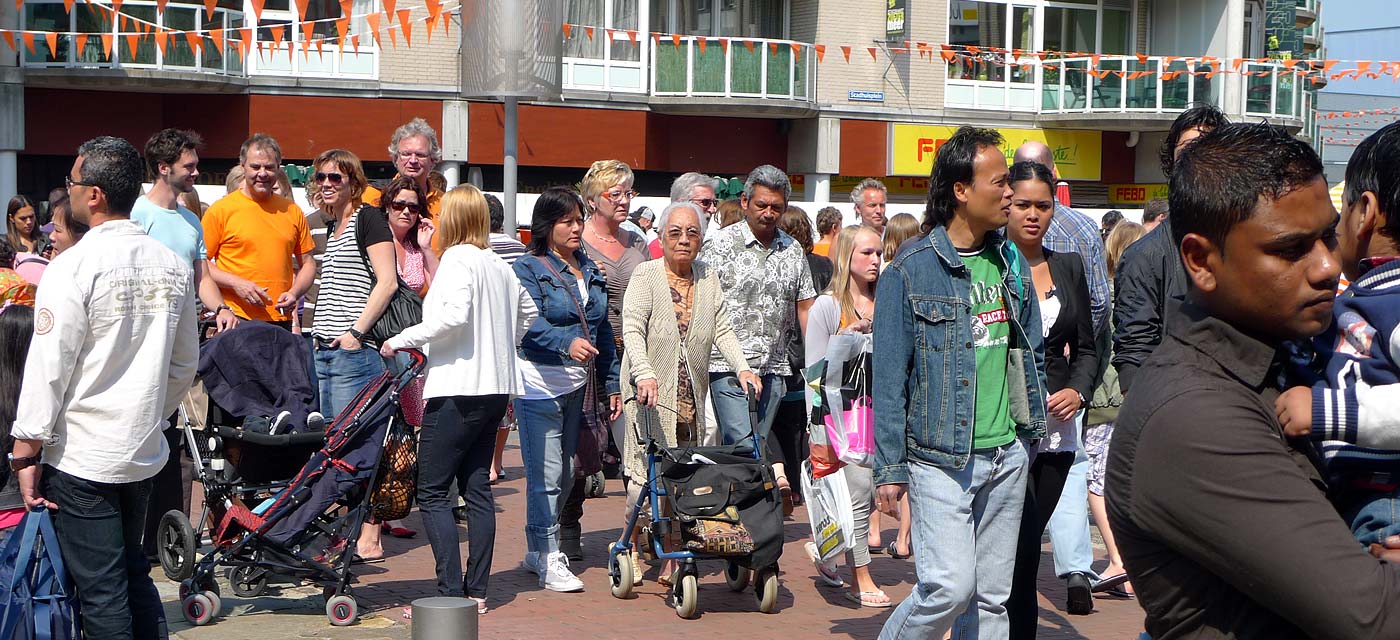 At a recent unconference at Piscataway (N.J.) Public Library (PPL), librarians from across the state came together to discuss issues and share ideas from their libraries. One issue we all have in common is the shifting ethnic makeup of New Jersey and the need for libraries to meet the changing requirements of their communities.
Shifting Demographics Bring New Challenges
According to 2010 US Census Bureau figures, in the last decade, the number of white people in New Jersey declined as the number of Asians and Hispanics soared. In fact, in Middlesex County, the number of Asians jumped more than 50 percent. By 2010 Asians accounted for 21.3 percent of the population in this county.1 

So, how do we best serve these diverse communities? The challenge faced by many libraries is to develop collections of relevant, popular books in world languages without having a librarian on staff who speaks or reads those languages. And how do we make our libraries a welcoming space for patrons who recently moved to the United States and speak very little to no English?

PPL has attempted to address these challenges over the past several years. We shared at our meeting some stories of our efforts that succeeded, and some that were less effective.

In the early years of our world languages collection, the library purchased books in Chinese and Gujarati because these were the two most common languages other than English spoken by our foreign-born residents. For Chinese books, we were fortunate to have a staff librarian and cataloger who both spoke Chinese. They were able to select and catalog the Chinese collection. But for the Gujarati collection and languages that we collected later, such as Hindi and Spanish, there was no librarian on staff who was familiar with these languages. The librarian who purchased these books relied on the judgment of the book distributors to send books that were current and popular. The only way to verify this was to look at circulation statistics well after the books were purchased.
Eliciting Opinions from World Languages Readers


In an attempt to determine how patrons felt about the world languages books that we were purchasing, we approached library users as they browsed in the stacks and asked them for their opinions. These attempts were not always successful––for a number of reasons. Sometimes the language barrier was too great to have a meaningful conversation about the quality of the collections. Many times, face-to-face conversations resulted in users simply saying that everything was fine. There seemed to be a reluctance to complain or give any negative feedback about the books.

In order to make more informed choices for book purchases, we also tried to form focus groups for each world language that we collected. Ideally, the focus group would consist of library users who read the books in a certain language, and would be willing to meet at the library to evaluate the collection. We posted signs in each language asking for users to join focus groups, and spoke with users about it when they came to the desk to check out books. Again, there was little or no response.

Finally, we chose to elicit opinions from our world languages readers by creating a brief survey on paper. Each time someone checked out books in a language other than English, the library staff member inserted a survey into one book. The survey asked questions such as:
For fiction: Are there specific authors whose books you would like us to order? If so, which authors? Are there certain genres you would like us to purchase more of, for example humor, mystery, short stories?
For nonfiction: Are the books up-to-date? If not, which subjects are too old? Are there certain subjects you would like us to purchase more of?
This approach proved to be much more successful than any other we tried. Many surveys were completed and returned to the desk over the following weeks. Users were much more open about their opinions than they had been in person, perhaps as a result of the anonymity.

After collating the responses for each language, we contacted our book distributors and requested specific titles, authors, and genres. We were finally able to target our purchases to meet our community's needs.
Creating a Welcoming Environment
Another way to serve our increasingly diverse community is to provide a welcome atmosphere in the library. To this end, we ordered a large banner with the library's logo on it, and the word "Welcome" in all of the languages spoken in our area.

We also changed our signage in the English as a Second Language (ESL) section of the library to be more descriptive. For example, in addition to Dewey classification, we made descriptive labels such as "Citizenship," "Grammar," and "Pronunciation." The rationale behind these signs is that non-English speakers might hesitate to ask a librarian for help to find materials that are only labeled by Dewey number. The more descriptive signs make it easier to navigate the ESL section of the library.

For those library users who speak very little or no English, we have created a Translation Aid. The idea for this came from the Philadelphia Free Public Library, whose "Translation Station" flip chart offers help in many languages from Arabic to Vietnamese. The aim of PPL's Translation Aid is to help improve communication between library staff and users who do not speak English. It contains translations of phrases that are commonly used in a library, such as "I need to find a newspaper" or "I have a book on hold." These phrases are shown in Chinese, for example, with the English translation written beneath. The user points to the Chinese phrase, and the staff member sees what he or she is looking for. Conversely, if the staff member wants to express something but does not speak Chinese, he or she can point to the English phrase "Do you need to apply for a library card?" and the user will see a Chinese translation beneath. The Translation Aid does not offer more than basic communication, but it has been warmlyreceived by our new immigrants who seem genuinely pleased by this effort.
Multicultural Programs
PPL's programming this year has been a celebration of ethnic diversity. Performances have included a Mexican guitar player, Indian dances, and gospel groups, among others. Throughout the year, our six-member Diversity Committee works on projects aimed at welcoming people of many cultures.

One way to get the community involved in the library is to provide a display case that showcases items from the home countries of the library users. In response to a call to "Show us your ethnic heritage," many patrons brought in pottery, traditional costumes, and art from their native lands. The items are on display for all to see, and some include descriptions of the items. Patrons have been pleased to view and add to this display; it is becoming a popular way to learn about other lands. Our meeting of librarians from across New Jersey resulted in many informative conversations about how to meet the evolving needs of our diverse communities. The consistent theme, however, was the positive results gained by involving library staff and users in efforts to promote communication and understanding. The library belongs to the community, and they genuinely want to help.
REFERENCE
Richard Pérez-Peña, "New Jersey's Ethnic Makeup Shifts, and Population Drifts Southward," New York Times, Feb. 3, 2011, accessed Sept. 19, 2012.