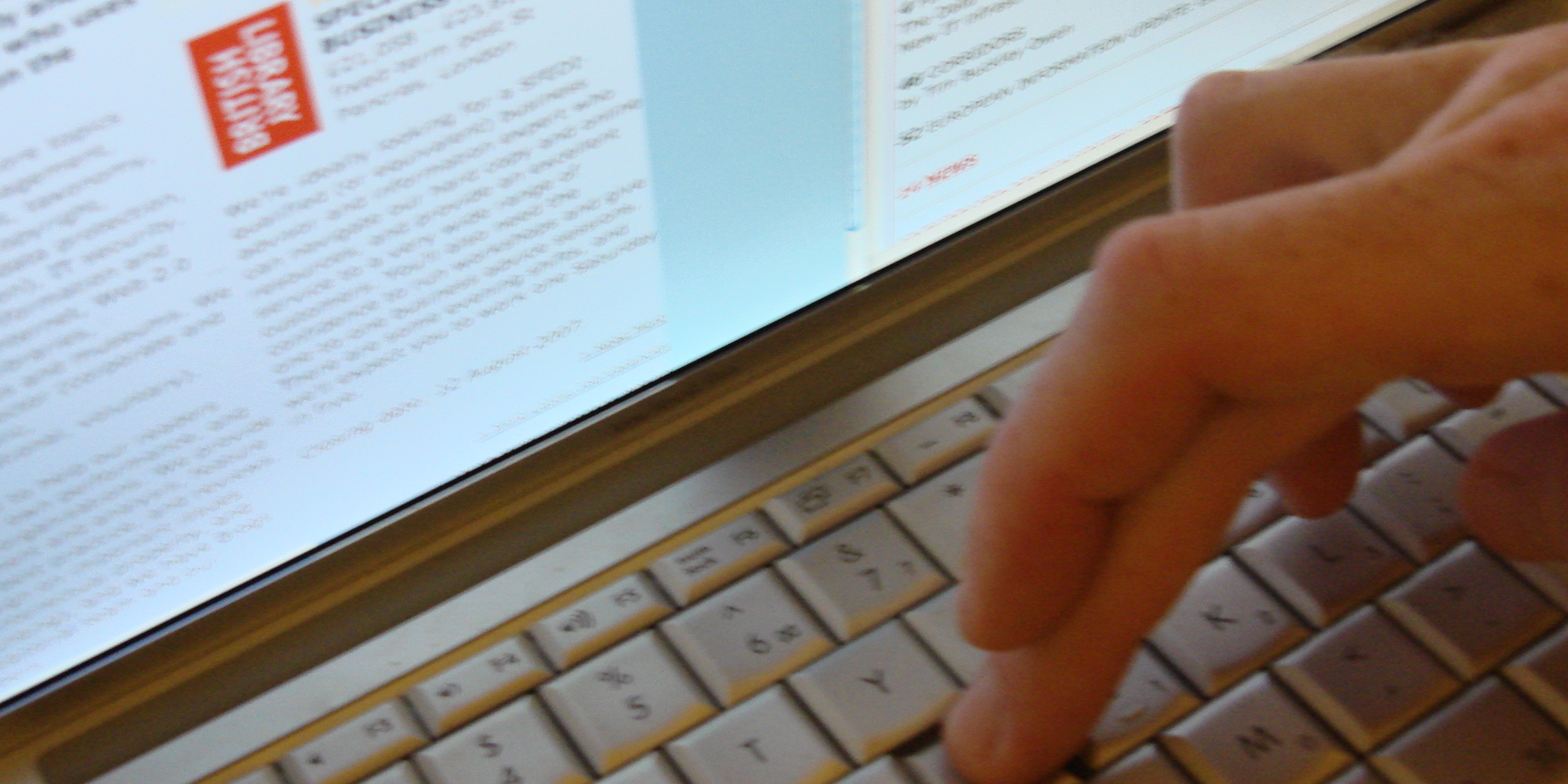 Twitter connections may happen silently, but the information exchanged speaks volumes.
I am picturing the stereotypical library: people sitting at large tables or cubicles, working on homework or browsing through the stacks of books, sitting at computer terminals busily typing away. The only sound you hear is the occasional cough and the soft clickety clack of the keyboards and maybe a hushed question at the reference desk.
Now, imagine that we can see virtually. The virtual connections and access points would be present at the computer terminals, sure, but that person browsing the stacks? They just asked the library if there is a downloadable electronic copy of the book they are holding. The patron working on their homework project just asked the reference librarian a question about the War of 1812, and a person at a computer terminal is carrying on a conversation about the policies and procedures of internet use in the library. A woman who lives eight miles away just learned of the new library hours and programming events and a person traveling on another continent just sent the children's librarian a picture of the library's mascot sitting in front of one of the Seven Wonders of the World.
Twitter use is everywhere. Libraries that aren't using Twitter as a way to connect with their patrons are missing out on one of the easiest connections available. Libraries can use Twitter to inform patrons of closings and updated hours, upcoming events and programs, new additions to the collection, informal surveys, policy changes, reference questions, and communication with other libraries. But what I think is the most important aspect is that the libraries' Twitter use reaches out to the patrons and communicates with them wherever they are. I was once visiting a library that impressed me so much with their children's section that I tweeted about them, and within moments received a reply back from them, welcoming me into their space on my first visit. It was friendly, it was unobtrusive, and I knew they were listening.
The Library wins when they use Twitter, but to use Twitter effectively, know some of the basics:
Keep it short! Venture beyond the 140 characters only occasionally. If you become known for long tweets that force the user to click into another screen, your tweets will go unread.
Publicize, Publicize, Publicize! Twitter works best when there are people following you – get the word out. And similarly, if someone starts following the library account,
Follow them back! It is like responding with a greeting when someone says "Hello" to you.
Start conversations on Twitter. Don't simply put out information and facts without having conversations with those in the Twitter-sphere. An unresponsive, un-engaging Twitter account ends up unfollowed.
Periodically (daily) do a hash tag (this is how Twitter "tags" posts, with keywords preceded by the number symbol: #thisisahashtag) search for topics that may be relevant to your library and reach out! Similarly, search for any mentions of your library that may not have been sent directly to the account. This allows you to meet users where they are and make connections, get in the discussion, and show that the Library is interested and active.
Twitter can be fun – think of it as the busiest, loudest, lightning fast information sharing network that you will never hear!
How does your library use Twitter? What other forms of "Twitterquette" do you think should be followed by the Library that uses Twitter?
---