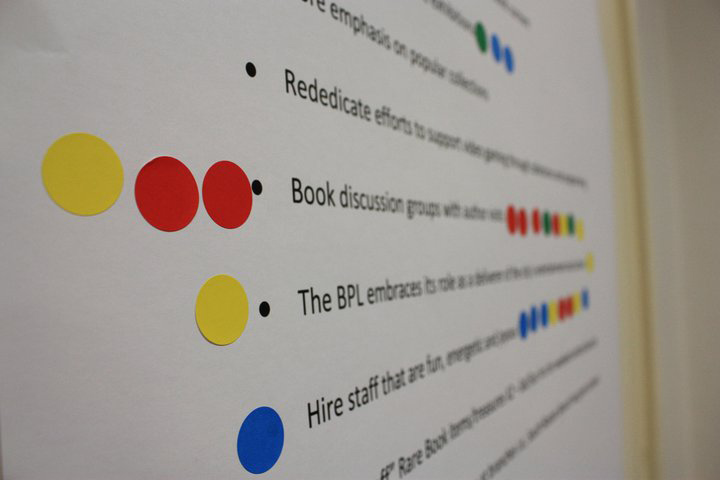 Completing a strategic plan is an important milestone for any organization, but the story does not end there. A strategic plan's success depends on how well, how actively, and how authentically it is brought to life. So often a plan or final report can sit gracefully on a shelf or rest quietly as a PDF on the web. At Boston Public Library (BPL), we are in the midst of implementing our strategic plan, the BPL Compass. Here are three things the organization is doing to bring the plan to life.
Continuing the conversation. The first thing we did after the Compass was approved in November 2011 was celebrate. The second thing we did was go right back out to the community and continue the conversation. Using the same roundtable model that helped us gather significant community input during the planning phases, we discussed each of the eight principles in the Compass with our users. The roundtables are interactive in nature and provide an in-the-moment view of the projects that relate to the principle being discussed. At an average pace of every other month, we have spent the past sixteen months updating people on and, at times, introducing them to our strategic plan. At the most recent roundtable, colleagues discussed the Community Gathering principle from the plan and provided updates on a variety of capital projects, including a new wayfinding system at the Central Library in Copley Square.
Embedding the plan in operations. Perhaps less visible to our users, but no less important, is the fact that our strategic plan has been embedded into job descriptions, performance expectations, and project summaries. When new projects are proposed, they are presented and discussed through the lens of how closely they support the Compass, even to the level of having specific principles and outcomes cited in proposals. Using the strategic plan as the framework when planning initiatives immediately focuses the discussion and ensures we're all referring to the Compass as we work.
Keeping the plan visible. Boston Public Library launched the Compass blog in conjunction with the strategic planning process. It was a gathering place for meeting announcements, research findings, and conversation. Rather than retire the blog when the planning process was complete, we opted to keep the blog going and convert it into the place to find the latest news on major projects taking place across the system. The projects discussed on the Compass blog come directly from the strategic plan. Another take on keeping the Compass alive and visible is a bit more literal: several departments have framed versions of the Compass principles hanging on office walls, and a trio of selected artwork from the plan greets all visitors to the Boston Public Library's administrative offices.
The power of the BPL Compass is the community-identified priorities it contains. Intentional, continuous conversation about the plan is helping generate momentum and bringing those priorities to life.
---
Tags: strategic plan