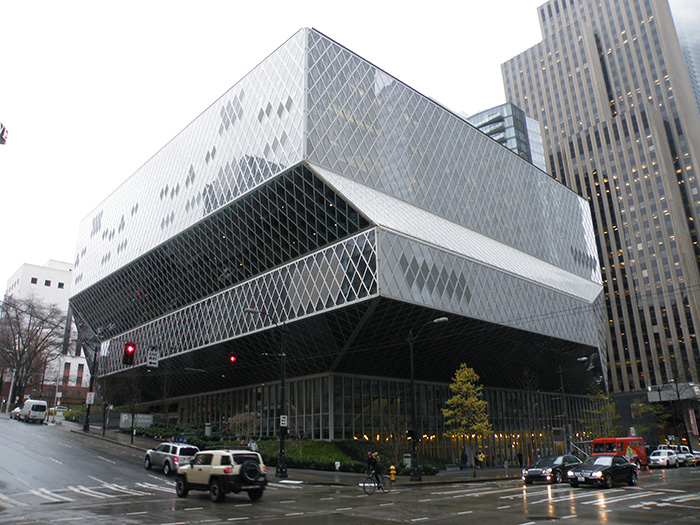 Most folks choose to patronize their local library because they are looking for convenient access to books and other relevant sources of information. In some very special cases however, visitors to the library are able to utilize these same types of services, all while being surrounded by buildings that possess a grand architectural presence. As it happens, the host cities for both the 2013 American Library Association's (ALA) Mid-Winter Meeting and its Annual Conference and Exposition are home to such unique structures.
During my stay in Seattle for the recently-concluded ALA Mid-Winter Meeting, I was lucky enough to be staying at a hotel directly across the street from the Central Library of the Seattle Public Library (SPL).  Pictured above, the Central Library houses SPL's main collection of books, government publications, periodicals, audio visual materials, and the IT resources necessary to access information from the physical collection online. The 362,987-square-foot Central Library opened on May 23, 2004 and cost nearly $170 million to construct.
Award-winning Dutch architect Rem Koolhaas, in a joint venture with Seattle-based LMN Architects, was selected to design the new Central Library. The crystalline steel-and-glass structure contains five platforms — each devoted to a specific program cluster. Four open spaces are housed among these platforms, where patrons can meet, search the Web, or read their book of choice. Architect Koolhaas noted that he designed this library to serve as "a custodian of the book, a showcase for new information, a place for thought, discussion and reflection – a dynamic presence for the Seattle community."
Innovative design elements within this 11-story building include:
An innovative "Books Spiral," a four-story ramp that allows visitors to browse through books in a continuous sequence.
A carpeted "Living Room" that contains the fiction stacks, while non-fiction items are located on the Books Spiral.
A 19,500-square-foot "Mixing Chamber" where patrons can go for help with general questions or in-depth research — this space functions as a sort of "trading floor" for information.
A Reading Room, located on the top floor, which offers dramatic views of the Puget Sound and surrounding mountains.
Later this year, attendees at the ALA Annual Conference and Exposition in Chicago will have the chance to see another visually-stunning library, albeit of a completely different architectural style. The Harold Washington Library Center opened on October 7, 1991.  This 756,640-square-foot neo-classical building appeared in The Guinness Book of Records as the largest public library building in the world.  During 2012, Chicago's $130 million central library circulated nearly one million items, approximately 10% of the total circulation for the 79 locations of the Chicago Public Library (CPL).
Architect Thomas Beeby – from the firm of Hammond, Beeby and Babka – won a design/build competition for Chicago's new central library in June 1988. Clad with Napoleon red granite blocks on the lower levels and brick above, the library is epic in scale and echoes the Beaux Arts style of the late nineteenth century.  Five-story-tall arched windows grace the red brick walls on three sides of the structure and offer natural light for visitors inside. A number of ornamental features are intended to highlight icons of the Midwest such as prairie agriculture and other aspects of the city's history. For example, between the windows, four-story-tall corn stalks are shown on the facade of the library, while the head of Ceres (the Roman goddess of grain), appears in wall medallions together with ears of corn.
Immediately inside the building, a mosaic mural by artist Jacob Lawrence honors former Chicago Mayor Harold Washington (1922-1987), whose legacy is honored through this structure. In 2007, the Harold Washington Library Center ranked 85th in an American Institute of Architects national poll of the public's favorite pieces of American architecture. If you were in Seattle, and missed the Central Library, be sure to visit the Harold Washington Library Center if you are in Chicago this coming June.
---
Tags: library architecture