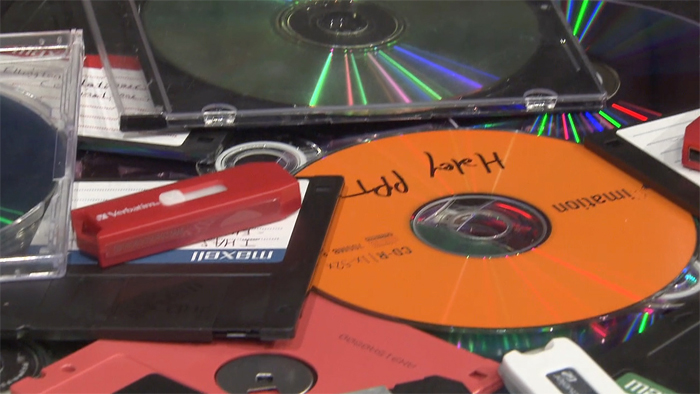 This is a bi-weekly post from staff at the Library of Congress about personal digital archiving. We recognize that public libraries play a unique role as centers of information for their communities and that their role in the spread of digital literacy is expanding. We hope that librarians — and the communities they serve — can benefit from our resources.
In my previous column, I noted that we advise people to take the following steps for preserving their digital possessions:
– identify your digital files
– decide which files are most important
– organize the files
– make copies and store them in different places
It is convenient to have only four steps to remember but within each step there are layers of complexity. Today we'll look at the first step, "identifying your digital files."
It simply means to gather all of the digital files that you want to archive. This is no simple task because most of us have valuable files scattered throughout our computers, on different media, and out on the Internet. The challenge is to track down and collect all of your important files from wherever they reside.
To begin with, it is helpful to create a single folder on your computer to put all your stuff into. Give the folder a name like "MyArchive" or something relevant. Then start transferring files into it. We'll look at sorting and organizing later.
Dig up the important files buried in folders on your computer. Round up all your backup media – such as thumb drives, CDs, DVDs and floppies – and transfer the files off of them and into your archive folder. If you have disks from obsolete media, you may have to find the hardware that will enable you to get at your files. The longer you wait to get files off of obsolete disks, the more difficult it will be – as time goes on – to find devices that enable you to access your files.
If you always meant to archive your email someday, this is your opportunity.
Email can be tricky to archive but it is not impossible. Email resides either locally on your computer or remotely on a website. If you have an email program on your computer, then your email resides somewhere within the program's folders. Some desktop email programs have a menu option to "archive" or "save a copy" of your email. The function is the same in all email programs but the terminology may differ from program to program. For more details, search online for information about archiving email for your particular program.
Web-based services store email on remote servers far from your home computer. Only a few of the large, popular web-based services enable you to download your email from their servers though. Some permit you to download your email only if you pay for their premium service; if you are using their free service they may not permit downloading. To find out if it is possible to download, save or archive your email, search online for keywords and phrases such as "archive email" or "download email" and "(your email service name)."
If you can, save email files as "text" (.txt) files. This is a file type that is readable on all computers systems. If you are given a "save as" choice between "text file" or a different format option, always select "text." Text files will strip out any fancy formatting but the contents of the emails will be fine.
Some social media sites – such as Facebook — enable you to download your personal files. Go to the site and look at your account information or search online for as "download files" and "(social media site name)."
If you have personal websites you'd like to archive, there are several fine programs available that will enable you to download entire sites. Search online for "download websites."
Once you've got all of your email, photos, website and other files gathered into your archive folder, you're ready for the next step, which we'll cover in our next column. In the meantime, we have lots of related information here.
---