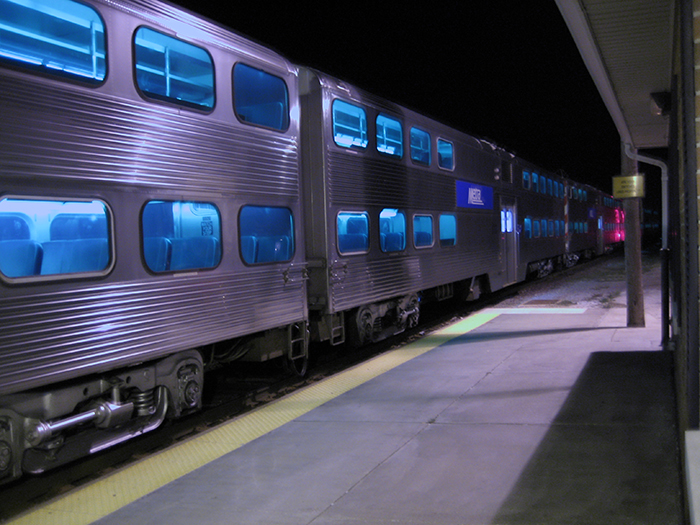 The growing popularity of e-books and other Internet-accessible information formats has much to do with the convenience that users find in actually being able to download these media pretty much anywhere they happen to be.  An innovative partnership that launches this month will allow commuters traveling to and from Philadelphia – the City of Brotherly Love – to make a single stop that will enhance their travel experience.
The Free Library of Philadelphia (FLP), the Southeastern Pennsylvania Transportation Authority (SEPTA), and Dunkin' Donuts have teamed up to create the nation's first virtual library at a train station.  Seventy-six advertising boards located on SEPTA's Suburban Station's platforms will allow for virtual media access.  The opening of the  virtual library at Suburban Station coincides with National Library Week, held April 14-20, 2013.
The "library" — which is sponsored by Dunkin' Donuts —features books and podcasts available for download from the Free Library.  SEPTA riders, with Philadelphia Public Library Cards can access the books and podcasts by scanning QR codes or logging on to the Free Library's website. The virtual library will also include a QR code for commuters to download the Dunkin' Donuts app for mobile payments and local offers.
Given that the Suburban Station operated by SEPTA is just a stone's throw away from the heart of Philadelphia, and serves as an embarkation point for thirteen of the system's regional rail lines, it is certain that demand for the virtual library will be high.  Not surprisingly, initial reactions to this service have been quite favorable.
Representatives of the various partners for the virtual library are thrilled about the prospects offered by this intriguing service offering. According to SEPTA General Manager Joseph Casey, "the train or bus, especially on longer trips, can provide the perfect setting for sitting down with a book for an extended period of time. And the digital library allows commuters to access a great number of books on the go."
Library team members are equally excited about this collaborative effort. "We are proud to partner with SEPTA and Dunkin' Donuts to bring the virtual library to Suburban Station," said Siobhan A. Reardon, President and Director of the Free Library. "The Free Library's vast digital resources include access to more than 80,000 ebooks, 8,000 audiobooks and 1,000 author podcasts. We are committed to making as many of our incredible resources available online at freelibrary.org as possible, so that our customers can access great materials wherever they are—including on their daily commutes!"
In order to publicize this new initiative, and also to recognize National Library Week, the Free Library and SEPTA are sponsoring the "What are you reading?" contest.  Until the sixteenth of April, the public can submit the titles of the books they are currently enjoying to SEPTA's Facebook page (www.facebook.com/septaphilly) and the @SEPTA_Social Twitter feed using #enrichyourride.  Three entries will be selected at random to win one of a number of interesting prizes.
The commuting public will be also able to explore the Free Library's full digital offerings on April 16 when the Techmobile — a "hot spot on wheels"—visits SEPTA's City Philadelphia headquarters. Library staff will be on hand to assist customers with a variety of services including:  registering for library cards, downloading digital materials, and learning more about the Free Library's extensive online offerings.
For more information about the virtual library at Suburban Station, National Libraries Week and the Free Library, visit www.freelibrary.org. For more information about the "What are you reading?" contest and SEPTA, visit www.septa.org.
References
  "SEPTA, Free Library of Philadelphia Want to "Enrich your Ride with Reading," News Release Southeastern Pennsylvania Transportation Authority, April 2, 2013.
---