Much has been written about branding and marketing to make potential patrons more aware of the relevancy and value of public libraries.1 This is especially true in the challenging budgetary environment that we are all facing. However, in targeting customers, governmental authorities, voters, trustees, and donors, we often forget one of the most important and essential stakeholders: library staff. This view is not limited to public libraries or nonprofit organizations. The 2010 book, Employees First, Customers Second: Turning Conventional Management Upside Down,2 underscores the importance of frontline employees to the success of any company.
After coming to Queens (N.Y.) Library (QL) from a successful career on Madison Avenue and in international marketing management, QL asked me to create a brand for the organization. An essential part of that development was the involvement of QL staffers at all stages of the project. The previous logo of the library had been around for more than fifty years, and the look and feel of the organization's communication efforts had become a bit old-fashioned and stodgy. But many of the library's employees had been with the organization for more than twenty years and were comfortable with the old way of portraying the system. Getting their "buy-in" and enthusiasm for a new look and direction were critical to the success of the initiative.
The first step was involvement. I spent one day a week for the first four months visiting our sixty-two community library locations, meeting with and listening to our managing librarians and other staffers. The chats were wide-ranging and covered all aspects of the organization. I learned a great deal in a short time about public libraries, librarianship in general, and QL in particular. The meetings also allowed me to start laying the foundation for the need and importance of developing a new QL brand. While many staff members were enthusiastic, several others saw no reason for change. It sometimes felt like I was a missionary for marketing.
The second step was development of a strategic positioning statement. This differs from a mission statement, as it provides more of the personality or character of the organization. While we solicited input from a broader number of stakeholders (customers, trustees, government officials), of particular importance was how our staff described the library. Three simple questions were put to more than 150 employees and provided the basis for the development of the strategic positioning statement:
What is QL today?
What would you like to see QL become? and
What is the one thing you would like to keep about QL going forward?
The questions were purposely left open-ended. As you might expect, the answers covered a broad range of thoughts, ideas, aspirations, and emotions. But there were two common themes underlying a great number of the comments. Many staffers indicated that QL was a community center, a place where all of the diverse people of Queens could come together. The staff commitment to fulfilling customers' needs was also frequently mentioned.
These two common themes coalesced to create QL's Strategic Positioning Statement:
Queens Library is the best community resource for all of your informational, educational, cultural, and recreational needs. Queens Library has an extensive collection of materials, programs, and services, as well as open access to the Internet. Queens Library has a friendly, supportive, and professional staff and provides a free, comfortable, safe, and welcoming place for the people of our diverse neighborhoods.
The vast majority of staff was comfortable with the strategic positioning statement,which serves as the foundation for the brand. Creation of a theme line or motto was the third step. Again, we reviewed the input of the employees to find the basis for a meaningful communication that would provide a concise statement of our positioning and would be meaningful to our staff and other stakeholders.Time and again, employees provided anecdotes of how the library and staff support helped people by assisting new Americans in a variety of ways to adapt to their new home country; working with the unemployed to craft a résumé or properly answer a want ad; teaching individuals to speak English or help illiterate individuals learn how to read; supporting children with after-school homework help; and soon. QL made an important difference in people's lives. This led to our succinct but highly meaningful theme line: Queens Library.Enrich Your Life (see figure 1).


Logo Development
In developing a new brand logo to gowith our strategic positioning and themeline, we again went to our employees forinspiration. Our existing logo was a cold,blue, corporate-type seal. The new logo needed to reflect the welcoming nature of QL and its caring staff. Ultimately, we chose the warm colors of yellow, orange, and red. We also wanted to reflect the changing nature of the public library, especially from a technology and non-print collection standpoint. It was then that one of our staffers said: "One hundred years from now, public libraries will still be about books." She was right. We then worked to develop a more contemporary "book look" for our logo. So, with a positioning statement, a theme line, and a brand logo, we needed to introduce the new QL brand to our employees. How to make the staff feel more a part of the brand and embrace it?
Introducing the Brand
It happened that National Library Week was approaching. Normally, QL would provide some small gift of appreciation to each individual employee. Expanding on this, we developed a high-quality, branded T-shirt for each staffer. We even put together a small committee of employees to pick the T-shirt color. It was an immediate hit! And it was something personal for each employee reflecting the new brand. In subsequent years, we provided a branded baseball cap, folding umbrella, and zippered canvas book bag. Each of these brand items became so popular that we established an online store to sell the merchandise, not only to employees, but to library patrons who kept asking to buy the items. We have sold thousands to date and have expanded the line of QL-branded merchandise.
Using Staff in Advertising
The next step in our marketing process was to develop an advertising campaign to introduce the new QL brand. As many of you may know, Queens County in New York is the most diverse county in the United States. Residents speak more than sixty different languages. With JFK and LaGuardia airports close by, it is also a major portal for immigrants. This is one of the reasons QL established its renowned New Americans Program nearly thirty-five years ago.
When you move to a foreign country (I lived in China for five years), everything seems strange. Often, there is some hesitancy to contact government officials for a variety of reasons. Many new Americans do not have a cultural heritage of public libraries in their home countries and are reluctant to enter an official-looking building flying United States, New York State, and New York City flags. How to entice these individuals and their families to avail themselves of the many benefits of the Queens Library's employee-based advertising campaign public library? Again, our employees provided the answer.
As I traveled to our community library locations, it was striking to see how our employees reflected the diversity of Queens itself. Even our central library, where the marketing and communications department is based, looks more like the United Nations than an administrative office. Therein was the creative solution: We developed an advertising campaign based on our employees (see figure 2). We used bus posters and community newspapers that featured photos of actual employees with backgrounds from Puerto Rico, Trinidad, India, China, and the United States. Our headline was "I Am Your Queens Library." Residents saw familiar faces in their new environment with their name, title, and location listed. The initial campaign, featuring staff with heritages as diverse as Queens itself, created confidence for customers to come into the library and get a library card. Visitor counts, new card registrations, and circulation all jumped.
There was also a surprise benefit. Staff members responded enthusiastically to the new QL brand campaign that featured them. They applauded the fact that senior management recognized the essential role that all employees play in the library's success and made them the stars. Shortly after the campaign launched, staff members appeared at my office daily with a photo of themselves volunteering to be in the campaign. Internal research showed that employee morale had substantially increased.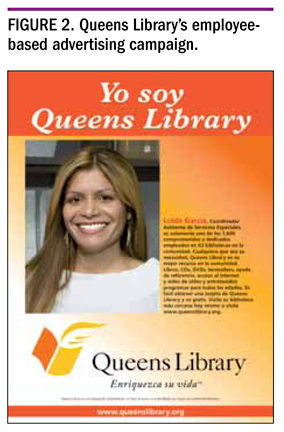 Many of our staff not only work in Queens, but live there as well. A funny thing started to happen. Employees who were featured in the ad campaign began to get stopped on the street or in the supermarket. "You're the library lady on the side of the buses," people would say. One staffer started to get ardent fan e-mail. Many customers were proud that "their" librarian was in the campaign. A key part of the brand strategic positioning statement ("Queens Library has a friendly, supportive, and professional staff") was successfully communicated, again, due to the highlighting and participation of our employees.
Consistent Brand Use
Promotion of QL programs and services is a very important and ongoing challenge. We run more than 30,000 program sessions each year: from toddler time to after-school homework help; learning to speak and write English to adult and family literacy; book discussion groups; computer learning; and a host of cultural and recreational programs. Prior to the establishment of the QL brand, many of the programs and services were promoted by staffers at the local community level. Flyers and posters depended heavily on the individual abilities of those who created them. Since individual employee creativity was involved (whether enhanced or not by computer software), it was essential that all communications produced on behalf of the brand have a similar look and feel.
While it took some effort by the marketing department "brand police," eventually we were able to get the vast majority of promotion and communication vehicles to reflect the QL brand's look and feel. A major part of the solution was to create brand templates for community library staffers to use. Instead of announcing a program at Middle Village, it was announced at Queens Library at Middle Village and featured the proper use of the new logo and theme line. Occasionally, we come across a renegade flyer or poster at the local level, but we sensitively explain the importance of promoting the QL brand and the problem is resolved.
As you might imagine, it can be difficult for QL to get media coverage in a city as large as New York City, especially when there are three separate library systems here: QL, Brooklyn Public Library, and the New York Public Library. We have found that pitching stories to the media is more successful when we can wrap the story around a staffer. Whether it's a children's librarian challenging her summer readers that, if they read more books, she would dye her hair purple, or the Russian immigrant who found a career and success as a QL employee, the human element adds to the story, and to the brand.
We have also found that using employees to promote working at QL is a key part of our recruitment efforts. We produced a DVD video featuring the stories of four QL employees. We avoided the usual talking headshots or senior-management comments and focused on the staffers at work. It has been very effective at library schools and industry conferences at selling the QL brand in recruitment.
So, when a new marketing direction or brand development is needed, it is of essential importance to utilize, involve, and engage your employees at every step of the process. Your staff is the personification of your marketing and communication efforts. Staffers are your direct contact with your customers and need to reflect what your strategic positioning is and how it comes alive. When you're focusing on your marketing efforts, always keep that important target—your staff—front and center.
References
James A. Keller, "Branding and Marketing Your Library," Public Libraries 47, no. 5 (Sept./Oct. 2008).
Vineet Nayar, Employees First, Customers Second: Turning Conventional Management Upside Down (Boston: Harvard Business, June 2010).
Additional Reading
All of these titles are available from ALAEditions (www.alastore.ala.org):