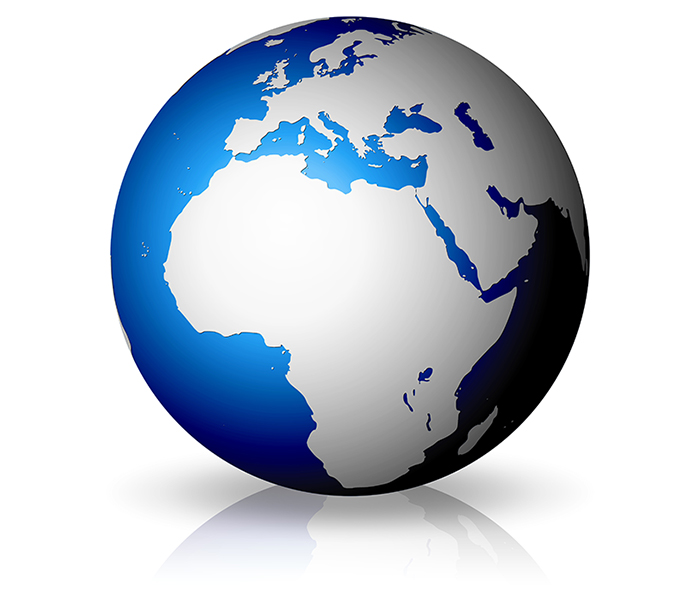 Who wants to be a spy? Come on, don't be shy…you know you (and everyone you know) would love to be a stealthy ninja who knows the secrets of the world. With the CIA World Factbook, you can! In fact, you might already be one…
The World Factbook provides reliable information about countries and nations from around the world. The plethora of facts about each country are simply presented and are about "the history, people, government, economy, geography, communications, transportation, military, and transnational issues for 267 world entities."[1] They also provide visual data with maps (political, physical), flags and times zones.
For an example, let's take a look at South Africa. On the World Factbook homepage, an interactive map guides us to find countries. After clicking on continent of Africa, we can choose from an alphabetical list of country names or select the country on a map.
Every country has sections based on the topics above. To read about a topic, just click on the title of the section you are interested in. For example, the geography section for South Africa has information about: area, climate, terrain, elevation extremes, natural resources, land use and more. It happens all the time; students come in and need information about a country only to find that the book is checked out. The CIA World Factbook is conveniently a few clicks away for immediate use.
The pictures available in the World Factbook are very useful!  They show famous locations, animals and satellite images of the country. These pictures are from United States government sources only1 and are described in detail. The caption for an amazing satellite photo of the Kalahari Desert describes the sand dunes and land formations that are visible from space.
One of the common questions I'm asked on the reference desk is for a picture of a country's flag and the history of it. The World Factbook provides the meanings of the colors and shapes on the flag. Finding reliable online sources with this information can be difficult, but The World Factbook has it all there.
The entirety of The World Factbook can be downloaded by anyone, anytime for free. If you don't want everything, you can download specific sections. All the content on the site is "in the public domain and copyright free."1 They just ask that The World Factbook is cited as the source "as a courtesy."1 I don't mind doing that – especially if I get credit for being one of the top ninja spies (A.K.A. librarians) out there! Who's with me?!
---
[1] The World Factbook. Central Intelligence Agency, 2013. Web. April 30, 2013.
---
Tags: CIA Factbook