Through a system-wide survey taken in 2007 to assess the number and variety of library programs over a three-month period, we learned that only 1 percent of more than 3,500 public programs of the Free Library of Philadelphia (FLP) system had been targeted specifically to adults over age 65. Recognizing that the population of Philadelphia had a much larger component of seniors than 1 percent, we realized that FLP was leaving this group drastically underserved. But it was only as we investigated further that we realized how drastically.
According to 2000 census data, 14.1 percent of Philadelphians were over age 65, second only to Miami out of 23 cities studied by the Brookings Institution in relation to aging populations.1
Additional data indicated that this 14 percent is not only likely to grow but to be especially in need of library services. A report from the Philadelphia  Corporation for Aging (PCA) suggested that although our city's overall population is projected to decline by 7 percent over the next 20 years, the 55-and-older group will grow by 11 percent during the same period. Currently, Philadelphia houses over 1.5 million people, with 24.5 percent living below the poverty level— nearly double the national rate of 13.3 percent—and the proportion of elders living in poverty is higher in Philadelphia than in Pennsylvania overall, 19 percent compared to 11 percent.2 Obviously, the freely available services, programs, and resources provided by FLP for people of all ages and from all backgrounds are especially crucial for these disadvantaged groups.
In addition, the recent downshift in the economy has intensified the need of all ages, but especially disadvantaged groups, for library services. Since the economic downturn, large numbers of over-55ers are using the library for free computer workshops to prepare for prospective jobs, and also for checking out leisure materials.
Certainly, we anticipated that the library could offer a multitude of resources to over 65-ers for many reasons. From a historical perspective, it is an exciting time to grow older. Never before has it been possible for so many people to live so long and so well. Taking on new careers—and beginning new marriages— after age 55 have become commonplace and even expected options. Improvements in health and life expectancies have spurred a phase shift in public attitudes. Seniors are widely recognized as worthwhile contributors to our society and are increasingly in demand for paid and volunteer responsibilities. They are seasoned, dependable, and simply priceless. So this refreshingly enthusiastic group of new older people wants to know about nearly everything to prepare for the rest of their long and productive lives—and libraries can help them reach new peaks of achievement and make new beginnings.
Judging from increasing discussion about senior programming in the library literature as well as on conference agendas,3 library initiatives involving this expanding group of patrons are increasing nationwide. So as we venture onto new ground, we are pushing to learn from others' experience as well as our own. We noticed that although countless libraries house children's areas and a good many have teen nooks, apparently only a relative few have senior areas. However, because the FLP's information and resources relevant to seniors have been dispersed throughout ten departments at the Parkway Central branch, we decided to implement a dedicated space for on-site senior activities as a priority.4 We recognized that we needed to make the library a more inviting place for older adults to visit, browse, and interact, so it seemed like a good plan to set up a dedicated point of focus.
Preparation and Funding
Central Senior Services (CSS) was visualized as a center specifically for older adults on the first floor of Parkway Central within the Government Publications Department. The area is located close to the barrier-free entrance to the building. Moreover, it is the location of Parkway Central's access technology workstations (ATWs), work centers for the visually impaired that have been in place since the fall of 2000. We envisioned that the Government Publications staff would oversee CSS.
As plans for the center began to gel, we first sought funding via the Office of Commonwealth Libraries from the federal Library Services and Technology Act, and we received a grant for $26,500 to help support the new center. Secondly, we approached the Christian R. and Mary F. Lindback Foundation, which awarded FLP a total of $143,621 over five years.
Gradually, the design took shape. Plans for the center came to include space for print and large print materials housed in attractive display units, computer stations dedicated to older adults, the ATWs, a conference area to allow semi-private information exchange, and comfortable seating. The grant funds were meant to cover a part-time dedicated librarian to supplement staff from Government Publications, magazines and large-print books displayed in the area, dedicated laptops, and the reconstruction needed to carve out a space originally within Government Publications. A design consultant was engaged to assist in working out these details.
Meanwhile, a marketing study was conducted of 160 seniors surveyed at local senior centers and housing facilities. More than half expressed interest in senior-focused events at Parkway Central, and most preferred them during the day. Topic choices ranged from a high of 48 percent for exercise and nutrition down to 15 percent for sports (see table 1).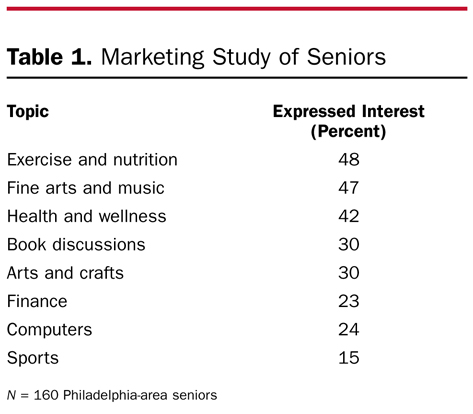 The part-time librarian was selected from a pool of applicants. Besides the FLP system, Philadelphia is home to a number of academic and special libraries as well as the Drexel University iSchool, ensuring a broad range of experienced and talented possible candidates. Richard Levinson, the chosen individual, provides assistance to patrons in the center as well as serving as outreach coordinator for promotions and programming. As a result of working with a large base of Philadelphia institutions serving seniors and older adults, Levinson has developed an impressive network of supporters (see "Getting the Word Out" on page 48).
As the opening day for the facility grew closer, a fine collection of travel guides, large print fiction, and a selected mix of health, arts, and other leisure subjects— DVDs as well as books—took their places on the shelves. After some late stage fine-tuning in room configuration, the furniture, dividers, and workstations were delivered and installed with only two days to spare before the launch date. Meanwhile, Levinson had begun outreach for grand opening festivities as well as for future programming. Finally, CSS officially opened on August 26, 2009.
The Menu of Events
Right away a bit of spice got on the menu as part of the first quartet of programs through the new center. Fall Focus on Health included presentations about four facets of health and wellness that concern most people:
Live to Be 100!
Doctors Are from Mars . . . Communicating with Your Doctor
Sexy at 60 or 70+
What Every Hospital Patient Should Know: Surviving Your Hospital Stay
Attendance at this first round of presentations varied from 12 to 37 people, and the enthusiastic notes jotted down on the program evaluation cards convinced us that we were on the right track. "The best!" wrote someone attending the sexuality program. "Very interesting and informative," commented another about the hospital program. "We can take control of our own care by asking the right questions." A frequent visitor sent in a letter: "I have been impressed with the quality of the speakers and the care and attention each gave to his or her presentation . . . I want to thank you and the sponsors of this excellent new program."
For a later presentation, My Life as an Actor, a veteran of the professional stage from the Philadelphia area talked about the joys and limitations of acting from a home base other than New York or the west coast. The following week, a vivacious teacher of improvisational acting conducted an interactive workshop to enhance enjoyable spontaneity in everyday life. Both programs drew high praise: "Excellent presentation"; "wonderful, wonderful, and wonderful"; "would like to see more improv."
Throughout the winter, a series of visits was scheduled from an APPRISE counselor who assisted patrons personally with questions about Medigap plans and Medicare Part B enrollment. APPRISE is a free counseling service of the Pennsylvania Department of Aging and the Philadelphia Corporation for Aging, designed to help older Pennsylvanians with Medicare matters. Counselors are specially trained volunteers who can answer questions and provide objective, easy-to-understand information about Medicare, Medicare Supplemental Insurance, Medicaid, and long-term care insurance. Since some senior centers in the area are hosting "Medicare enrollment" workshops held by insurance company representatives, APPRISE sessions provide an unbiased and much needed corrective. In the same pragmatic spirit, a lawyer with Pennsylvania's SeniorLAW Center attracted a good crowd to hear about consumer fraud.
The season of spring brings renewal, and so the theme for February/March workshops focused on New Beginnings for Seniors:
Looking for Love after Age 50
Starting a New Business
Travel Bargains and Opportunities for Seniors
Creating Your Own Memoirs
All told, some 14 programs were held, and feedback gathered from attendees has helped guide the planning for forthcoming events.
Sit, Savor, Surf
Central Senior Services at a Glance
Mission: Create a place for seniors that blends a warm, welcoming environment with state-of-the- art knowledge and information resources.

Size: 480 square feet, fully wheelchair-accessible, and close to handicapped access to the building.

Components:
Five laptop computers (all computers and workstations are loaded with the Microsoft Office Suite);
Consultation cubicle enclosing a table and four chairs to allow semi-private sessions;
Books and magazines: The most popular magazines are housed in a beautiful wooden display rack that compliments the décor of the room, while the four bookcases are stocked with a pristine collection of meticulously selected materials for seniors. The collection holds more than 100 largeprint books, 20 magazine titles, and a special collection of more than 60 DVDs. The collection has its own budget and will receive updated material continuously;
Access technology workstations (ATW) offering Zoom Text and JAWS screen-reader software, located inside the CSS. The Braille reader/embosser is just a few steps away. A scanner is attached to one ATW workstation to convert print material to a format that screenreader software can read aloud;
Closed circuit TV nearby, which magnifies print material placed under the camera lens;
Regulation National Library Service tape player;
Large video display screen at entrance that continuously loops announcements and programs; and
Desk and laptop for staff librarian on duty.
While the events aim to offer spice for every taste, the heart of CSS is the space itself with its collections, furniture, and equipment. Comfortable chairs for leisure reading are essential as well as laptops with databases and Internet connections, a special workstation for large-print reading, and a variety of books as well as newspapers and magazines in regular and large-print formats. One of the computers, part of the Access Technology program, offers Zoom Text and JAWS screen accessibility software. Zoom Text allows users to easily enlarge any part of the screen content, whereas JAWS enables the laptop to read selected sections of screen content aloud. Only a few steps from CSS, another Access Technology unit features a Braille reader/embosser (see  idebar). Statistics kept of CSS use show an average of about five user sessions per day on the equipment.
A valuable staff addition has been librarian Susan Golding, who came on board in September 2009. Seniors have appreciated her computer expertise, especially with the CSS laptops, and they call on her for help on providing "how to" answers to their technology questions. Her familiarity with government agencies and their workings has also been a big plus for our seniors. Over the first few months—roughly 100 days—that the center was open, CSS staff logged more than 900 reference questions on a variety of topics.
Finding useful information to answer visitors' questions is made easier through dozens of links to senior-valuable Web resources, available via a dedicatedsection of the FLP's website. Categories offered include paid employment, volunteer work, brain power, entertainment, creative expression, education, travel, and senior-focused. Librarians are always available to help with questions and concerns.
Getting the Word Out
Throughout the planning process and continuing forward into the full operation of CSS, Levinson has worked closely and persistently with dozens of Philadelphia organizations relevant to over-55ers' concerns and services. One of the most valuable has been an informal partnership with the PCA, which has an extensive network of outlets and cooperating groups/individuals. Milestones, PCA's online and print newsletter, has featured many articles about CSS.
To promote the center's kickoff and grand opening event, Levinson delivered hundreds of postcards and bookmark-style announcements to a variety of apartment buildings, senior centers, and other locations in the area (FLP is fortuitously situated close to more than a dozen such organizations). Phone calls were made to activities directors in the senior centers to follow up on the invitation. In addition, FLP did a mailing to more than fifty senior centers within a ten-mile radius, and PCA announced the new center on its website. Levinson mailed press releases to the twenty-plus news weeklies in the area, and several articles resulted. Radio spots about the center ran on the public services station (WHYY) for three days prior to the opening. Promotional materials were also sent to the offices of all the members of the Philadelphia City Council.
To increase the audience for the numerous CSS events on an ongoing basis, FLP benefits from notices on PCA's website and newsletter for getting the word out. For a more personal touch, Levinson "circuit rides" among the nearby retirement facilities, dropping off flyers and talking to in-house activity directors. Flyers are also left at selected supermarkets, business centers, and theaters. Moreover, upcoming programs and services are included in FLP's monthly calendar and posted on www.freelibrary.org.
As part of "circuit-riding," Levinson spoke at the Senior Citizens and Caregivers Expo held at Philadelphia's African American Museum, distributed flyers, and chatted with attendees about CSS programs and services. A number of people made positive comments about FLP or told a personal story. Levinson also participated in an editorial focus group convened by Healthy Aging, a new magazine for Philadelphia-area seniors scheduled to launch in the fall of 2010. Currently, he is exploring informal partnerships with area pharmacies about displaying CSS flyers.
In finding speakers and facilitators for these events, CSS staff members have made contact with numerous other Philadelphia organizations, including:
Drexel University School of Public Health
Jewish Federation of Greater Philadelphia
League of Women Voters
Mayor's Commission on Services to the Aging
Mayor's Office of Community Services
Myrna Brind Center of Integrative Medicine
Pennsylvania Academy of Fine Arts
Philadelphia Gray Panthers
Theater Alliance of Greater Philadelphia
United Way
Wilma Theater
In working with these organizations, we look to identify current gaps in services to older adults so as to plan for the role that the library will have in addressing these needs in the future.
Reception
The CSS has already attracted a loyal group of regular users in addition to new patrons, who come in to use a computer in a supportive, unpressured  environment or to take advantage of the large-print materials via the comfortable seating. Reference interactions with our older adult users tend to be more intensive and lengthy than the average reference transactions.
For the grand opening in August 2009, the CSS welcomed some forty seniors to watch the ribboncutting ceremony, plus local reporters, as well as  representatives of our state legislature Senator Vincent Hughes and Darrell Clark of the Philadelphia City Council. Over the first five months of the center, 210 people attended programs. In the same period there have been more than 900 reference questions and more than 500 sessions on the laptops and other equipment. Some typical questions have concerned:
Section 8 housing information needed by a homeless patron
How to find English as a Second Language help for improving writing skills
Locating computer training courses
Finding organizations to assist job seekers
Identifying a great public health speaker for a church-sponsored program
For the local Social Security Administration: what publications the agency can use to reach seniors
One senior is taking a college course online but does not have a home computer. Naturally, she finds it very challenging to complete her assignments—not only because she has no computer but because use of computers elsewhere in the library system is time-limited. CSS computers do not have strict time limits. Said Levinson, "She was thrilled to have found us."
So far, there have been no problems beyond occasional dozers and visits from younger people attracted by the comfortable chairs. Others can visit, but the computers are reserved for seniors.
Several out-of-state librarians paid a visit recently. "We don't have anything like this," commented an academic librarian from the Midwest, while a retired librarian from the South was impressed by such a "nice facility." A legally blind regular comes nearly every day to watch television and videos on an Access Technology computer that allows screen enlargement. "I depend on you guys so much for entertainment and information," he says. Every week several new faces appear to swell the ranks of the habitués who may stay to read or work, or shop for reading material to check out.
Central and Local
CSS builds from and draws on long experience at the branch level with older Philadelphia library patrons. Individual FLP branches have offered and continue to offer large-print books, Medicare workshops, caregiver support groups, tax assistance for retirees, special computer workshops including Generations Online—an elder-friendly software package designed to help seniors become computer savvy—horticulture workshops, tai chi, yoga, and line dancing as well as other programs.
For decades, librarians have serviced assisted living centers, senior centers, and adult daycare centers to provide our homebound patrons with library and community news, bestsellers, and the extremely popular adult story hours. To finally have a dedicated space and program series for seniors is truly a  milestone.
Conclusion: Pay It Forward
We expect that the early years of CSS will establish liaisons, patterns, and precedents that will carry forward as FLP undertakes the challenging project of renovating and expanding its historic Parkway Central headquarters building.4 As the expansion goes forward, CSS's successes will serve to inform the staffing, services, physical space, programming, and resources facility so that the new Parkway Central provides a welcoming and highly useful destination for the region's older adults. FLP views the current center as a first step towards expanding and improving services to this currently underserved group and is committed to incorporating the recommendations that result from the new facility into the expanded headquarters building, and possibly applying the model to other library locations.
Options for staffing a future CSS include training seniors and older adults to eventually take a volunteer role in implementing programs and assisting in the center. Certainly, the relationships with partner organizations developed or expanded during the current center will continue long after the grant period.
If we reawaken to the realization that aging can bring experience and excellence, we expect that CSS will get better and better over the coming years. We look forward to learning from our successes and setbacks as well as from other libraries that have established senior centers in their own communities.
References
---
Tags: senior programming