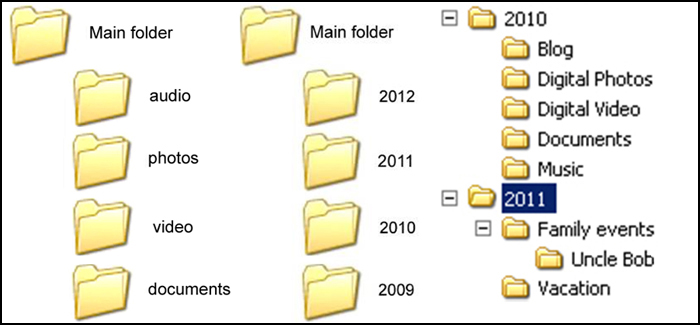 This is a bi-weekly post from staff at the Library of Congress about personal digital archiving. We recognize that public libraries have a unique function as centers of information for their communities and that their role in the spread of digital literacy is expanding. We hope that librarians and the communities they serve can benefit from our resources.
Once you locate all of your digital files and decide which of those you want to archive, it is time to organize. An organized collection makes it easy to find specific files, such as special photos or important documents, because you can easily visualize the layout and navigate to the place where the file probably resides. More on the "finding" part later.
It is helpful to start out by creating one main folder, or directory, to keep everything in. Within that folder, create subfolders to fit your organizing scheme. There are many possible ways to organize your folders and you should just create one that you are familiar with and comfortable with.
You can organize by file type and create folders for Audio, Photos, Documents and Video. You can organize by date and create folders for month, year or season. You can organize by event, such as Wedding or Family Reunion. However you name or organize your collection, the most important thing is to be consistent so that files will always be where you expect them to be. If someone else — such as your next of kin — ever has to go through your digital archives, your consistent system of organization will make it easy for them to locate things.
As far as making things findable, you can embed descriptions into audio files and photo files. Special software (search online for "adding description" and "digital photos" or "digital audio") enables you to open the information fields in the "headers" of audio and photo files and type in information. You can add the date, a title, describe the contents…even add copyright information. It is up to you whatever you do or do not add.
The best part of adding descriptions into digital photos (photo metadata) and digital audio files (audio metadata) is that most modern computers are capable of indexing all of the text on your computer, including the text descriptions that you may add into audio and photo file headers. So if you add keywords to, say, a photo file — words such as "Duke," "Cootie," "Billy" and "Apollo" — and later you search your computer for "Apollo," that particular photo will turn up in the search results. It works the same for audio files too.
You can display embedded photo metadata with most digital photo processing software. You can also download free metadata readers. Search online for "photo," "metadata" and "EXIF" (a standard for digital photo formats).
With digital audio files, you can add metadata to WAV and MP3 files by means of audio processing software or free "tag" software. Search online for "audio," "metadata" and – for MP3 files – "ID3" (a standard for tagging MP3 files. Any metadata you embed into an audio file will display on an MP3 player.
When you have organized your collection, it's time to back it up. We'll explore back-up options in the next column. In the meantime, you can find further information and more resources at digitalpreservation.gov.[1]
---