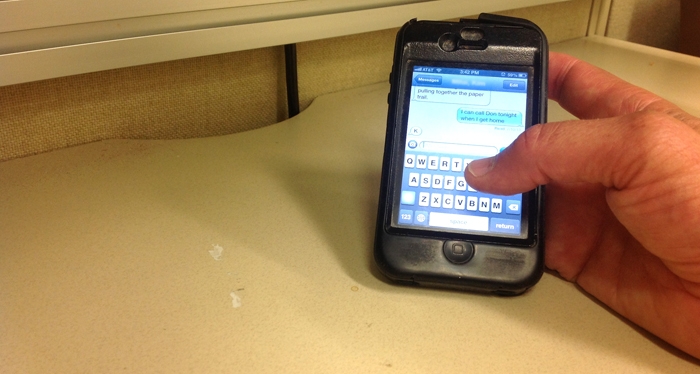 This is a bi-weekly post from staff at the Library of Congress about personal digital archiving. We recognize that public libraries have a unique function as centers of information for their communities and that their role in the spread of digital literacy is expanding. We hope that librarians and the communities they serve can benefit from our resources.
Most of us save letters and email, so – since text is a form of correspondence — it seems natural to save some of our cell-phone text messages too. Saving text is not too difficult, with a little understanding and effort. You simply transfer text (also referred to as Short Message Service or SMS) off the phone and onto a computer or another storage medium. Cell – or mobile – phones can be loosely divided into two types: "basic" and "smart." On both you can store text either on the phone's built-in drive or on a detachable SIM card.  The format of the text messages – TXT — is one of the simplest of all file formats, so once you transfer your texts you can display them with a basic text editor or even through a browser; many different programs will display text files.
To transfer text messages off of basic phones, open the phone, remove its SIM card and pop it into a SIM card reader. This is a small, inexpensive device that plugs into a computer; you can buy one at almost any consumer electronics store. Then copy the text messages from the SIM card to the computer.
Smart phones enable you to transfer text off your phone into a computer either via a cable or wirelessly via Bluetooth. There are many apps and software resources available to access, view and manipulate text files. Just search online or in your app store for keywords like "save SMS" or "save phone text."
Most apps and software vary by how they organize and display the text but they usually transfer texts off the phone into a single file, and give you a "save as…" choice from a few different file formats such as TXT, CSV (for spreadsheets) and HTML.
If you want a quick, temporary solution you can always email text messages to yourself and save them, one by one, on your computer. That method can quickly get tedious though.
Some software enables you to recover texts you thought you deleted. This is possible because when you delete a text message, sometimes it doesn't actually get erased. The phone keeps the text for awhile, hidden from your view, but declares that the space the "deleted" text inhabits is available to new text. If you type in or receive new text and it finds an actual uninhabited space, the "deleted" message will continue to exist, hidden.  If you type in or receive new text and the new text needs the "deleted" texts space, it will overwrite the old text.
If you are considering requesting a copy of your cell phone texts from your service provider, expect legal obstacles; your provider will not just give your text messages to you. For privacy purposes, there are strict laws governing access to your phone files, including the 2006 Consumer Telephone Records Protection Act[1], and laws vary in complexity and severity from state to state. Ultimately you will probably need a court order to get the files.
You can find related information and resources at digitalpreservation.gov.[2]
---