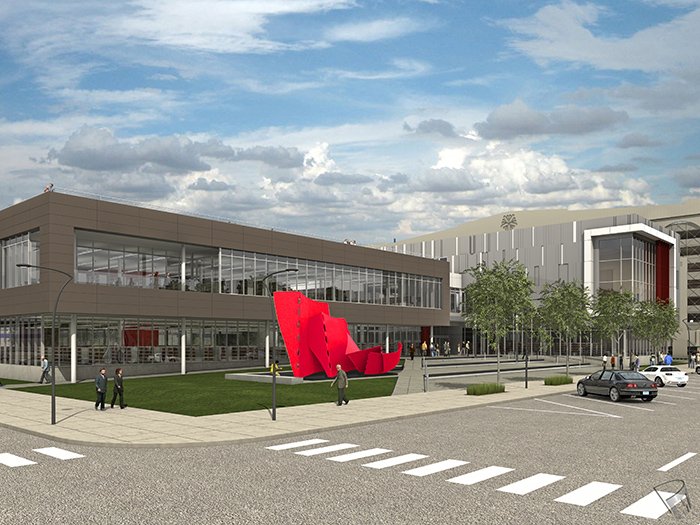 When a community decides what it will rebuild and how it will prioritize its recovery dollars following a natural disaster, it is putting its money where its mouth is in a very real way. The loss forces the community to determine what matters most to them and offers a silver-lined opportunity to act on that. When my community (Cedar Rapids, Iowa) lost its main public library to a devastating flood in 2008, city hall, emergency services buildings, small businesses, community organizations and private homes were also lost as well. There were very few people in the city of more than 125,000 who weren't in some way impacted by the damage done by the flood waters.
Rebuilding the library has been an exercise in listening and patience. The staff, Board of Trustees, and design team has worked tirelessly over the past five years to design and build a library that will be beyond the expectations of every citizen. Much time has been spent on gathering input from various stakeholder groups—everyone from teenagers to early childhood educators to senior citizens. And the end result is going to be magnificent. We open on August 24.
One of the more important elements in the building has been the installation of public art. While it may seem secondary to many people, our Board of Trustees has made a commitment to the inclusion of art. To this end our Foundation secured thousands of dollars in donations from our community in order to finance the commission, installation, and maintenance of public art in the new library.
The discussion of art in public places is an ongoing and sometimes difficult one. Each community must ask itself what it values and whether public art is a part of the plan. For our community, both the City Council and the County have policies in place that requires 1 percent of every building project to be used on public art. Many cities have similar policies in place.
The value of public art can be seen in community tourism attraction, economic development, and even civic engagement.
Jack Becker, founder and artistic director for FORECAST Public Artworks, sums up the value of public art in this way: "Great public art reveals its meaning over time, rewarding repeated visits. Beyond all that, public art has the distinct ability to add beauty to our shared environment; to commemorate, memorialize, and celebrate; and to transport us, if only momentarily, out of our daily routine. Public art is for everyone and it is free. Many people don't visit museums or attend the theater; anybody can experience public art." [1]
Over a process of two years the library worked with a volunteer task force on the commission of public art. The architects designed the perfect spot for a large sculptural element on an urban plaza on the north side of our building, facing our downtown. The task force used a system known as Café (www.callforentry.org), a web-based service that allows organizations to easily reach and manage an artist-application and jury process for public art. The search was international and Café made managing the process simple and easy to do from anywhere.
After more than 330 entries, the task force narrowed down to three finalists. Each finalist received $500 to do a proposal for the urban plaza sculpture. After two months, interviews were held over Skype with each artist and the task force had the opportunity to evaluate each proposal. In July of 2012, renowned artist Albert Paley was selected as the artist who was commissioned to create the sculpture.
A full year later, in July of 2013, the sculpture, called "Regeneration", is being installed at the site of the new Cedar Rapids Public Library. It is 32 feet in length and 18 feet at its tallest point. It is made of stainless steel and painted a dramatic red color.
While the process to identify who would make the art for the public library was cumbersome and lengthy, it also allowed the library an opportunity to focus energy and resources on something that was determined to be a large priority. In the end, not only does the library end up with a wonderful public art piece, but there are also policies in place to deal with the variety of issues that come along with art in public places. These policies offer guidance on the donation of art to the library, the ongoing maintenance of all art, and the deaccession of art from the library collection.
For libraries looking to establish similar policies, great information can be found through the Americans for the Arts: Public Art Network (http://www.americansforthearts.org/networks/public_art_network/resources_tools.asp).
---
[1] "Public Art: An Essential Component of Creating Communities." Americans for the Arts; Monograth.  March 2004.
---
Tags: public art