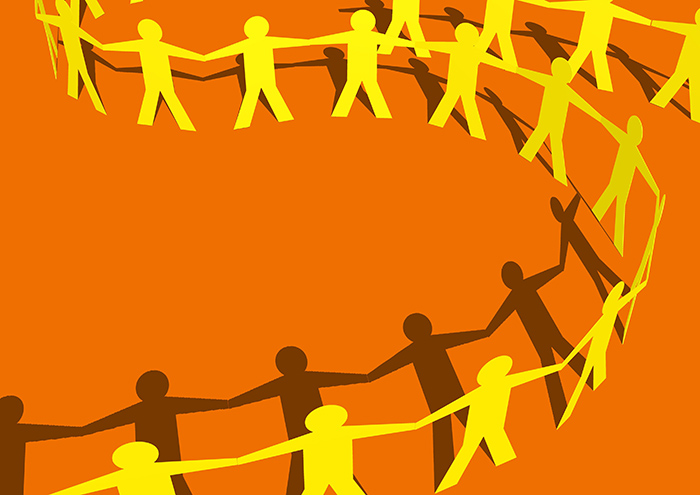 Stronger Partnerships=Stronger Communities
One of my colleagues, an elementary teacher, decided that instead of asking for more money from her school budget for new encyclopedias, she was going to check them out of the public library for her classroom.  I thought "What a brilliant solution!"  It seems that even educators sometimes overlook the vast and free resources that the public library can offer.  In Illinois, some communities are trying to change that in this critical time.
"Critical because collaboration among community institutions is a vital component to making the best use of all available resources; critical because collaboration among community institutions is urgently needed since the tasks ahead are large; and critical because in a world where people wonder whether libraries are relevant, collaboration can be the clear path to a vision that libraries play an essential role in the life of a community." (Collen 2013)
In order to discover what is and what needs to be done the Illinois Library Association (ILA) created a survey.  The responses were all completely voluntary and the survey was available online in several locations (ILA website and numerous listservs across the state).  The survey was available during the months of February and March 2013. There were 223 individual responses to a set of 15 survey questions.  The purpose of the survey was threefold:
to provide a window in at the collaboration between public libraries and schools in Illinois
to provide an public caucus to share ideas innovative projects
to provide a realistic look at barriers to collaboration.
Responses

The respondents were all professionals within the library or school system.  The majority of the respondents were public or school librarians.  What was discovered was that there was a broad range of services that were being utilized by the schools within the public libraries.  A very few respondents said that the public libraries do not provide any services, however a larger population boasted that the "relationship between the public libraries and the schools goes well beyond that, characterizing the relationship as a true collaborative partnership." (Collen 2013)  Many of the respondents praised the joint collaborations and offered suggestions of ventures that have worked for them including:
 Writing Workshops
Author Visits
ACT Prep and Proctored Practice Tests
Library Card Sign-Up at the Schools
Database Acquisition and Presentation
Battle of the Books
Field Trips to the Public Library
Poetry Slams
New Book "Release" Parties
Public libraries partnering with schools is a win/win situation. It increases the relevancy of public libraries in an increasingly digital world and also can help the budgetary concerns in public schools with more access to a variety of data and material than the school alone can provide to the students, as well as the teachers.  "In so doing, we have the power to create not only stronger institutions, but also stronger communities." (Collen, 2013)
Works Cited
Collen, Lauren. Critical Collaboration:Public Library and School District Partnerships In Illinois. Machesney Park: ILA Reporter, 2013.
---
Tags: library collaboration