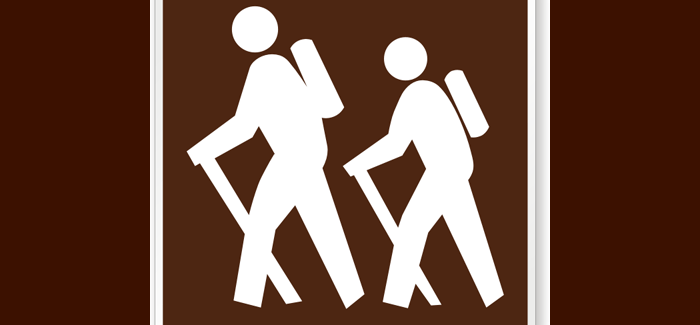 Most people do not connect the library with outdoor recreation.  While we often hear talk about how everyone likes to read outside, the library tends to be thought of mainly as an indoor activity. We promote many things at the library, and outdoor recreation can be just another aspect of helping to enrich our community. A few years ago consultants who were working with us at the Pikes Peak Library District (PPLD) in Colorado, pointed out that we weren't addressing the popularity of the variety of outside activities that our community enjoys.
This input spurred us to develop our "Library Outdoors" program, which debuted this past July.We worked with community resources and knowledgeable library staff members to provide a variety of programs on different outdoorsy topics. One of the most popular programs explored the hobby of geocaching, which is basically a GPS scavenger hunt. This program was given by outreach staff from one of the local state parks at two of our locations. Other popular events included:
Nature photography(presented by a staff amateur photographer)
Biking, presented by a local biking organization
Historic walking tours
Wildflower hikes
Programs like these can provide great opportunities for partnerships with your parks and recreation departments. You can also find out if any of your local schools have outdoor recreation studies programs and possibly work with students to provide different activities. Many times residents and patrons may have a special skill or hobby that they might be willing to share with others. Often opportunities present themselves simply by asking your coworkers what their interests are.
Even if you don't offer any programs on outdoor recreation, you can still maintain lists of recommended websites that have helpful links to local parks and recreation groups or nearby outdoor attractions. These selections are great for locals looking for more information on their area and for visitors who want to enjoy the natural elements of your community. Internet Public Library has some good general websites for the outdoors. You can also feature information about a topic, like Chattanooga Public Library's Pedal Faster! page, which provides information on bicycling.
Winter sports are also incredibly popular in our area, so hopefully we will be able to have a cold weather and snow edition of Library Outdoors. Play and games have become an integral part of what libraries offer their communities. On a beautiful day, take that play outside!
---
Tags: summer programming