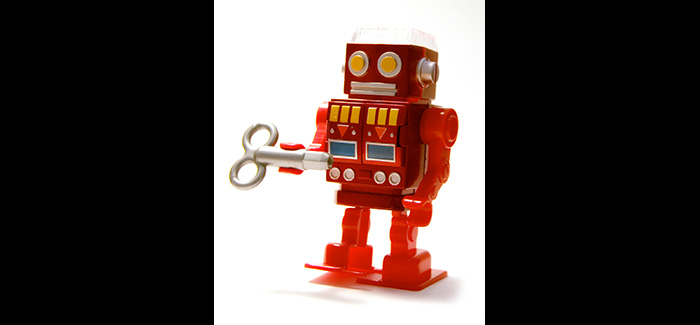 Robotics clubs have become popular throughout the country, and now many librarians are becoming involved.  Robotics programs can go hand-in-hand with LEGO programs at the library, or can stand on their own.  The purpose of a robotics program is for patrons to create a fully functional robot that competes against other robots.  These robotics clubs can be found in both public and school libraries.
The Hansel Public Library's Robotics Club won the Loleta D. Fyan grant this year.  The grant (in the amount of $5000) is awarded every year and "supports a project that will develop and/or improve public library services, will effect changes that are innovative and responsive to the future and have potential for broader impact and application beyond a specific local need."1  This club will use LEGO Mindstorms technology and is for pre-teen patrons.
Another library based Robotics Club is from New Rochelle High School in New York.  This club is run by the school's librarian, Ryan Paulsen.  This group participated in a FIRST Robotics Competition and was started with faculty, parent, and other schools' help along with a grant from NASA.  Paulsen said that he didn't have a lot of experience with robotics (aside from watching Battle Bots when he was younger), but that his librarian skills helped him research what his team needed to be successful.  The team also used library space to build their robot.  The New Rochelle High School principal said that the robotics team helps make the library a "place of action" rather than a museum.  According to Paulsen, teams who compete in the FIRST competition are teamed up with senior mentors who help throughout the process.  This makes it much easier for teams to form and get involved in the competition.
Librarians who would like to start a robotics program at their library should decide if they are going to compete, and if so, where.  The FIRST Robotics Competition website has a listing of local teams and events.  The team will need funding, a specific age group, and a place to build.  Even if the library can't sponsor an on-going robotics club, the library could still purchase some robotics sets and have programming based around the robotics concept.
Resources
http://www.ala.org/news/press-releases/2014/03/haslet-public-library-robotics-club-wins-2014-loleta-d-fyan-grant
---
Tags: robotics, teen programming