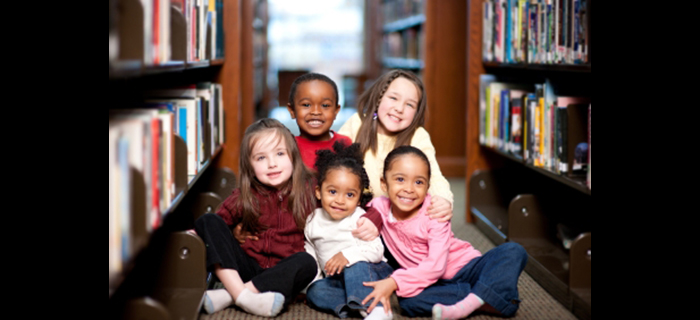 In part one of my article, I discussed how diversifying your YA collection can bridge the cultural divide between children of color and libraries. Yet your collection is only one facet of community outreach. Here are some other programs that can inspire you, as well as groups you can collaborate with, in order to increase your library's exposure.
Starr Latronia stresses that libraries that include diversity in its programs and collections have the potential to help children make "cross-cultural connections and to develop the skills necessary to function in a culturally pluralistic society"1.  Books that promote diversity should not be reserved for special ethnic holidays; they should be celebrated every day.
Programs like Story Walk Park Street in Hartford, Connecticut, celebrate diverse ethnic and racial communities through children's literature and engaging, fun and family literacy-oriented activities. Hartford Public Library's walk took children around the largely Hispanic neighborhood, Frog Hollow, surrounding the Park branch of the Hartford Public Library, and the Portuguese neighborhood, Parkville, served by the Dwight branch2.
Using enlarged pages of the books, Quinito Day and Night by Ina Cumpiano in Spanish and English, and The Giant Turnip by Henriette Barkow in Portuguese and English, participants were given passports and the location of each page of the story, located in local businesses.  The entire community was involved—teachers, librarians, parents, guardians, children and "guest travelers" from other neighborhoods in Hartford.
Leticia Cotto, Branch Manager, at the Park Branch, said that "it was exciting to see the interaction between the children and teachers, librarians or parents leading the Story Walk and to listen to the children reading out loud in the community and talking about their book." (Email interview, May 20, 2014).  Sharing these stories allowed the diverse communities of Hartford to share social identity and increased awareness and appreciation of one another.  Most of all, it fostered a community cohesiveness and respect for Hartford's diversity.
Leticia spoke at a recent breakfast hosted by MOSAIC, Multicultural Outreach Services and Information Center, a division of the Suffolk County Library Association RASD.  Elma Lugo, Spanish-speaking librarian at the Longwood Public Library and Co-Director of MOSAIC, believes that "the more you become aware of other cultures and backgrounds your life becomes richer…In my conversation classes…they learn, but I feel I learn so much more….such as tolerance, patience, other cultures, and service" (Email interview, May 22, 2014). MOSAIC's mission, "…to promote cultural awareness and develop strategies for effective outreach services" is one example of the many organizations and special interest groups that public librarians can tap into for professional guidance and/or professional development3. Joining one of the ALA's Associations of Ethnic Librarians can provide a public librarian with an invaluable source of information on books, resources and professional development opportunities.4
There is a need for public libraries to become more inclusive and welcoming to the diverse cultures that exist within and without of their communities.  Children of any color need a diverse collection of books that represent the rainbow of cultures and communities that public libraries serve.
RESOURCES
---