On March 21, New Jersey hosted the first state-wide Maker's event in the US. The initiative saw 150 registered sites, the vast majority of which were public libraries. Other notable participants included colleges such as the New Jersey Institute of Technology (NJIT), Rutgers, and Seton Hall University, as well as numerous AC Moore stores, independent maker collectives, and museums. Keynote speakers were Senator Cory Booker (D-NJ) and author Cory Doctorow.
The true beauty of the initiative was the freedom for sites to design any type of Maker activity. After bouncing around several ideas at my library (Lee Memorial Library in New Jersey), we opted to hold our first annual Inventors' Fair. This program hit on an unfilled need in our community: a science fair-like activity that would promote strategic research and experimentation, alongside important engineering skills local students may not be learning in school. Offerings from some of our neighbors included a Maker Faire; workshops with technology such as MaKey MaKey, littleBits, 3D printers, and Arduino; myriad craft sessions; and cooking lessons.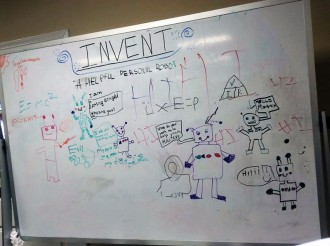 Because this was my library's first true Maker event, the initial planning process was slightly overwhelming. Fortunately, the NJ Makers Day Committee was comprised of librarians from around the state who have already had hands-on experience with Makerspaces. Numerous planning webinars and trainings were offered in the months leading up to March 21, and participants received free literature to aid in preparation. Once we figured out the logistics of actually holding the event, reaching out to some of our dedicated volunteers helped tremendously in spreading the word. They were able to publicize the fair to various community organizations, in addition to putting us in contact with local science teachers who were willing to promote the program to their classes. Some were even willing to serve as guest judges.
Our next step was to enlist community partnerships. This turned out to be far less difficult than we thought. The first two businesses we approached, a tutoring center and children's museum, were more than willing to jump on board. In return for putting their logos on our promotional materials and allowing them to have tables at the library on the day of the fair, they helped promote the program to their customer bases and offered free prizes to the winners. This was a great way to help both of these relatively new businesses feel more included in the community, as well as garner some potential new customers. For us, not having to spend money on prizes and accessing patrons we may not have otherwise reached was a huge boon.
NJ Makers Day was a huge success, not just in my library, but across the state as well. It brought the public new awareness of the Maker movement and how public libraries can fit into it. I am proud to say that my library was a part of it, and I look forward to running more Maker events in the future.
*Editor's Note: The author of this article, Gretchen Kaser, was the director at the Lee Memorial Library in Allendale, NJ, at the time when this article was written. She is now the director at the Worth Pinkham Memorial Library in Ho-Ho-Kus, NJ.
Photo Credit: Lee Memorial Library, NJ
---
Tags: 3D printers, arduino, community partnerships, crafts, makerfaire, makerspaces, New Jersey, partnerships