Many kids look forward to summer vacation: swimming, camp, trips, and best of all, no homework! Unfortunately, when school's out for some kids, it means one less meal. According to the National Summer Learning Association (NSLA), only one in seven children who are eligible for free or subsidized school lunches receive summer meals. Public libraries, such as those in the Brooklyn and Oakland public library systems, have stepped up to the plate to close this hunger gap.
But not all libraries have the capacity to serve summer meals. This is where Range, a mobile app created by Caravan Studios (a division of TechSoup), comes in to help. Range helps youth and those who work with them find locations where free summer meals are served.
Caravan Studios' Community-Centered Approach
I spoke with Anna Jaeger, the CTO of Caravan Studios, to learn a bit more about the team's approach to developing apps. Caravan's model for understanding and prioritizing community needs is not unlike how many libraries develop programming.
Jaeger describes Caravan's app development process as a "community-centered approach." It's a five-step process that begins with events called generators, where leaders from the nonprofit and library communities discuss what gets in the way of delivering their missions. The Caravan team then listens and identifies ways that technology can intervene to solve or alleviate the problems.
Caravan worked with the California Summer Meals Coalition, particularly with its director, Patrice Chamberlain, who served as an advisor for the app.
"As we start to design, build, and select, we have advisors in the community who are trusted experts who are willing to give us input and help guide our work," Jaeger said.
Chamberlain introduced Caravan to the California Department of Education and the USDA, who further guided the team's work. The USDA also provided Caravan with a dataset of summer meal sites across the country.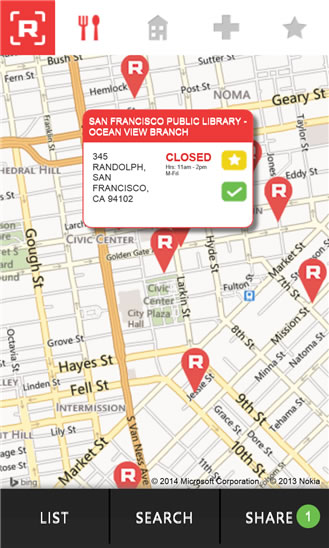 Screenshot of Range App
How Libraries Can Use Range
Public libraries are starting to play a larger role as a referrer of community health and social services. Many larger public library systems (such as Washington, D.C. and San Francisco) are adding social workers to their employee roster. In a recent TechSoup for Libraries and WebJunction co-hosted webinar, we examined social service referral programs from three libraries of varying sizes. And at ALA 2015, WebJunction showcased its Health Happens in Libraries program along with five library participants at a poster session.
But for libraries that don't have the budget or staffing to develop a robust social services or meal program, a tool like Range is an easy (and free!) way to get started. One librarian I spoke with said that she posted a flier about Range on her library's community bulletin board. She said that although they don't get a lot of questions about social services, there is a high poverty rate in her community. She thought that posting Range's information could help a family in need if they were too afraid to ask.
What's Next for Range
One exciting addition to Range, coming in 2015, is that the app will show the locations of nearby public libraries, using library data from IMLS. That's a whopping 17,000 libraries! Caravan held a crowdfunding campaign last spring to raise funds to also add the days and hours of operation for all of the libraries in the United States (the IMLS dataset doesn't currently provide that information).
Why add libraries to Range? In the aftermath of the events in Ferguson, MO and in Baltimore, MD, it was evident that libraries are viewed by the community as safe places in times of crisis. But during a normal summer day, the library is also a safe place for a child who isn't at camp, swimming, or on vacation.
You can download Range today to help youth in your library's community locate free summer meals. Range is available for Windows Phone, Android, and Apple iOS devices.
---
Tags: apps, children's programming, Range app, summer meals at the library, summer programming