When Madison (WI) Public Library began renovating their central library in 2013, a vision of an interactive library space came forward—The Bubbler. The makerspace has evolved to become a major program initiative, bringing learning experiences through programs to nine libraries and other community venues–including a juvenile detention facility.
Attendance at the Central Library's 2012 "Bookless" event became a clear indication of community interest in non-traditional library programs. Bookless was a way for the community to say goodbye to the old library building prior to a major renovation. Over 100 local artists gathered in the gutted library space to share art, community, and fun. Attendance was surprising. In the words of library program coordinator Trent Miller, "At our first big event 5,000 people showed up, and we realized we should be doing this type of stuff." The desire to do "something different at the library" became a good fit between a grant opportunity and Miller's arts background. Programming was initially funded through a National Endowment for the Arts grant.
The new Central Library space called "The Bubble Room" includes a media lab, which required a focus from someone outside of the library world. Grant funds were used to hire a dedicated staffer with a degree in digital media creation and a professional background in video game production. Miller explained, "People over equipment— more important than the space are the people who are running it. Not 'we have a 3D printer, what can we do with it?' The Bubbler is a mindset – no matter where the program takes place."
This guiding philosophy has allowed new program ideas to emerge. Program offerings target a wide audience, particularly children and millennials. Pop-up programming where attendees drop in at the library and do the project are regularly scheduled. Other stations that are moved from library to library include stop motion animation stations, circuit blocks, and screen printing.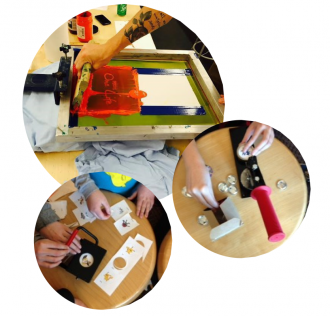 Some programs evolved from the artist's interest areas. The Bubbler did not start out with screen printing as a program offering – which needed an expert to successfully conduct it. "We hired an artist in residence and asked the artist what he would be interested in doing. Then we built the equipment. As we found the right people, we built the core things, not the equipment first," explained Miller." Now that the artist has trained others, the screen printing programs are now offered by other people throughout the nine libraries in the Madison Public Library system. The programs are also being brought to outreach sites targeting special populations, like the local juvenile detention facility.
Miller also co-wrote an IMLS leadership grant with University of Wisconsin, Madison professors Dr. Erica Halverson and Dr. Rebekah Willett. This grant helps to extend program experiences beyond the central library and measures the effectiveness of Bubbler program delivery.
According to Halverson, the IMLS grant has two focus areas:
To focus on learning when people engage in making experiences and how to best align programming to these experiences.
To learn how the Bubbler Room, the library system and city can work together to reach a system-wide approach accessible throughout the community for the events.
According to Halverson, the library director, Greg Mickells, has played a key role in The Bubbler's success. "A lot is possible because the library director is really supportive of this direction— not maintaining a status quo library. He is willing to let stuff happen: experiment, fail. He is very open to that."
At the core of the program's success was Miller's involvement in the Madison art community and other staff who were connected in the tech and media community. These outside connections have brought specialized expertise to the program offerings. "Now because of doing this—we have artists who are interested in being involved. It is an 'if you build it, we will come kind of thing,' to the point we have to say no because so many people want to be involved," said Miller.
By using and building on the strengths of the Madison community, The Bubbler was nominated as an IMLS 2015 Finalist for the National Medal for Museum and Library Service. Halverson and Miller plan to present at the upcoming Public Library Association conference. Watch for other opportunities to learn more about this innovative program and library space project in the future.
Resources
Bookless: a library transformed