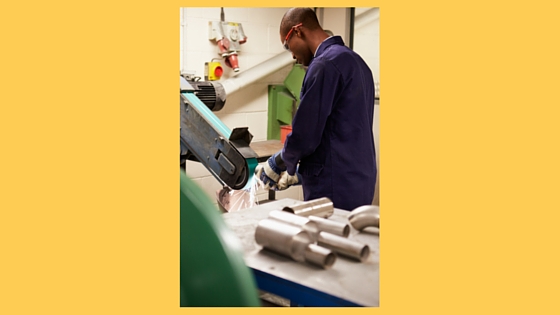 I recently read an article, "Making It," in the Colorado Springs Independent about the maker movement and how it could impact the local economy. It made me think about one of the reasons for having a makerspace in a library: supporting the entrepreneurs, inventors, businesses, and ultimately, your community.
Makerspaces are wonderful places for people to learn about and explore new technology. They can also be labs for inventors developing new products. People create incredibly unique, ingenious, and desirable products, but it can be expensive to create prototypes and initial runs of products. The article mentions that makers and their success in business "will depend on how much support the city and state provide…"[1] Libraries can step in and help in major ways at this point.
Working in a department that houses two makerspaces, I have seen makers – from teens to older adults – using the machinery to develop their ideas and build their businesses firsthand. We have had people come in to print 3D prototypes, try them out, and then bring back a new, slightly altered design. Having access to low-cost 3D printing allows them to develop their ideas with little cost for materials and no upfront purchase cost for machinery that they may not really need long-term. This availability also fits especially well with businesses employing a lean startup model by depending on the library to provide resources typically only available to large companies in the past.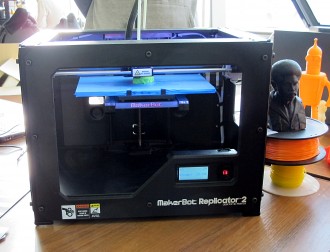 The same can be said of people's use of the laser cutter and CNC machine. A local costume company, Elope, for instance, has used the laser cutter several times to make prototypes of new items that they then decide if they want to have mass-produced. Easy access to these tools in the library allows them to more quickly obtain their prototype and make any decisions they need to before sending the designs to be manufactured.
Libraries can also help to develop the workforce by providing makerspaces. One of the conversations I've had with local manufacturing businesspeople was about how finding people with the necessary skills to employ in their plants can be difficult. Not as many people are learning the expertise needed to work with the various machines. In the last few years, various news outlets, like Forbes[2] and CNBC[3], have been covering this lack of skilled workers. If businesses can't find skilled workers in their city, they may move or not be able to continue, affecting local economies. By providing access to machines like the CNC, albeit on a much smaller scale, libraries may offer patrons a chance to explore a new skill and perhaps spark a new interest that they never would have considered before.
The opportunities that people have access to can greatly shape your community. Providing technology and machinery in makerspaces is just one more way libraries can help their patrons to develop their ideas and create the next breakthrough.
---
Sources:
[1] Stanley, J. Adrian. "Making It." Colorado Springs Independent, December 9-15 2015: 19-21.
[2] Wright, Joshua.  "America's Skilled Trades Dilemma: Shortages Loom As Most-In-Demand Group Of Workers Ages." Forbes, March 7 2013.
[3] "Survey shows growing US shortage of skilled labor." CNBC, July 20 2015.
---
Tags: 3D printers, makerspaces