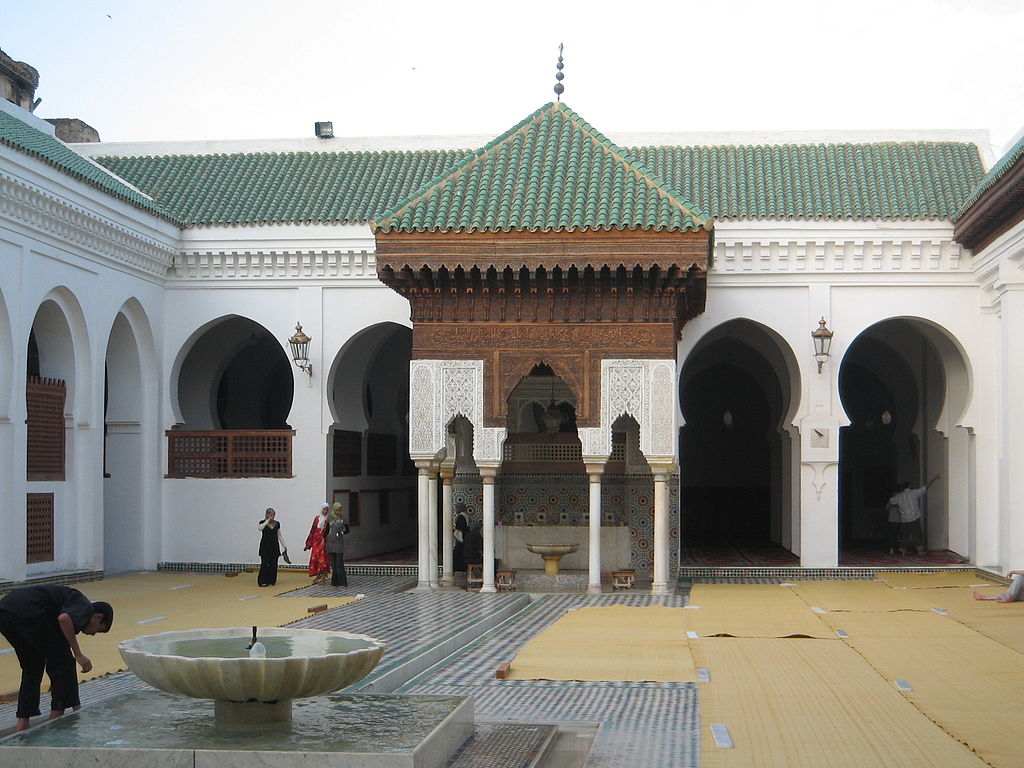 Picture Credit: By Khonsali (Own work) [CC BY-SA 3.0 (http://creativecommons.org/licenses/by-sa/3.0) or GFDL (http://www.gnu.org/copyleft/fdl.html)], via Wikimedia Commons
The library of the al-Qarawiyyin University in Fez will reopen for public use after the completion of major renovations led by Canadian-Moroccan architect Aziza Chaouni. After receiving a grant for the project from Kuwait's Arab Bank, the Moroccan Ministry of Culture asked Chaouni to rehabilitate the library in order to safeguard its contents and make it suitable for public use. Chaouni was approached in 2012 to begin work on the renovations. In a field mainly dominated by men, she was surprised and pleased to receive the call; after all, the al-Qarawiyyin is the oldest library in the world, and this would be a huge and indescribably important undertaking. Four years later, the renovations are almost complete, and King Mohammed VI is hoping to cut the ribbon on the reopening in May 2016.
The al-Qarawiyyin complex, which includes a mosque, library, and university, was founded in AD 859 by Fatima El-Fihriya, the daughter of a wealthy businessman who moved to Fez from modern day Tunisia. El-Fihriya was very well educated and devout and invested her robust inheritance on a mosque and center for knowledge in her new home of Fez.
"The University of al-Qarawiyyin is the oldest existing, continually operating, and the first degree awarding educational institution in the world according to UNESCO and Guinness World Records."[1] The al-Quaraouiyine mosque and college became one of the most influential spiritual and educational centers in the Muslim world. By 1963, it was incorporated into Morocco's modern state university system. Education at the al-Qarawiyyin university concentrates on the Islamic religious and legal sciences. With ages ranging from thirteen to thirty, most students at the Qarawiyyin study towards high school diplomas and bachelor's degrees, although unaffiliated Muslim males with a high proficiency in Arabic are also able to attend lecture circles.
Chaouni said her team made sure to respect and give reverence to the building's original features, such as the fountains and the intricate zaleej tile work. This mosaic tile work is historically emblematic of Moroccan design and artistry. Chaouni gave deference to the past while embracing the twenty-first century. "There has to be a fine balance between keeping the original spaces, addressing the needs of current users, including students, researchers, and visitors, and integrating new technologies—solar panels, water collection for garden irrigation, and so on."[2] Among some of the features included in this conversion are a reading room, book stacks, a conference room, a manuscript restoration laboratory, a rare books collection, and a café.
Another feature of the library's updates is digitization. This process is an ongoing effort to improve access to the fragile and irreplaceable manuscripts. Currently, about 20 percent are available electronically.
---
Resource
---
References
[1] "The Karaouine Mosque," Fez Guide Advisor, 2014, accessed May 15, 2016.
---