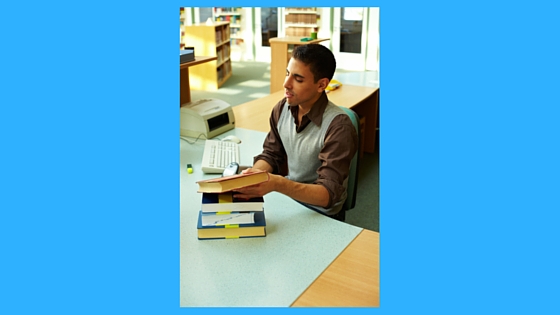 Maybe the following statement is a mistake: "The decrease in library borrowings, the closure of bookstores globally, the reduction in the sale of print media, and the deterioration of the quality of annual book fairs are signs of our times," says an article in Singapore's Straights Times. "We cannot ignore the changes around us."[1] The author goes on to state: "The accessibility [to e-books] makes reading effortless, making trips to libraries and bookstores unnecessary."[1] I think he's wrong. But I also think the article has a point. Libraries focus on certain metrics, and much like the declining Big Five of the publishing industry, they have based their future planning, and often the source for their funding, on the wrong data, which has caused them to shift their priorities away from the purpose of the library in the first place. It's not just the number of patrons who walk through the doors or the number of books borrowed that matters. The library is about cultivating a love for reading, encouraging new readers, and converting nonreaders into readers. How is that done?
Tell Powerful Stories
Regardless of who they are, people love stories. Think of it in the way a business does: How do they connect with customers? Marketing is just a series of stories. They tell inspiring stories about their company, its founders, and how they have made their passion their business. Then a business shares reviews and customer experiences, which are essentially stories about how customers have interacted with them. Twitter contains 140-character stories, Facebook contains short stories of what is happening or has happened, and a blog is filled with stories of a product's relevance to readers.
What can libraries learn from this? The lesson taken from the marketing world can be broken into three simple parts:
Tell the story of the library itself and the people who work there. Much like being a teacher, a librarian pursued passion rather than money. Your community created a library for many reasons: preservation, public education, and establishing a community center. Share the "why" stories of your staff and organization.
Tell the stories of patrons. How have their lives been changed? Who found their love of reading through checking out books? What have they been inspired to do?
Tell the story of "now." What is happening at your library? What are you doing that should excite patrons and make them want to be a part of it? This doesn't just mean traditional news outlets, but also using social media to accomplish your communication goals.
It is not just the stories that reside in the books on the shelves, or the e-books digitally borrowed by patrons, but the real-world stories that will inspire your community.
Create New Stories
While some libraries struggle, New York Public Libraries are experiencing a resurgence of visitors.[3] What are they doing differently?
"Nationally, public libraries are redefining their mission at a time when access to technology, and the ability to use it, is said to deepen class stratification, leaving many poor and disadvantaged communities behind," says Winnie Hu of the New York Times. "Sari Feldman, president of the American Library Association, said library workers have shown people how to file online for welfare benefits and taught classes in science, technology, engineering, and math to children who could not afford to go to summer camps." [4]
"All libraries are having a renaissance," Feldman said. "We're seeing that libraries have really stepped up to take on roles that are needed in a community."[5]
Successful libraries enable patrons to create their own stories with makerspaces, classes, job counseling, and community events. Various clubs allow them to share their stories with others and create new friendships. Libraries have become community centers, gathering places, and learning centers. They provide access to technology and information like no other institution can.
Most of all, though, libraries are still all about stories. Our stories, the stories our patrons have created, and the stories they will create with our help. As long as libraries do not lose sight of that fact, as long as they do not focus on the number of books borrowed or patrons they can attract, but instead on the power of words—whether they be printed, pixels of e-ink, spoken, or 3-D printed—they will continue to be a vital asset to our communities.
---
Resources
"Storytelling and Business: Finding Your Power Stories," Intuit Quick Books
Webinar: Using Social Media to Accomplish Your Communications Goals, George Washington University: Master's in Strategic Public Relations Online
---
References
[5] Sari Feldman, ibid.
---
Tags: importance of libraries, reading programs, storytelling, telling the library's story