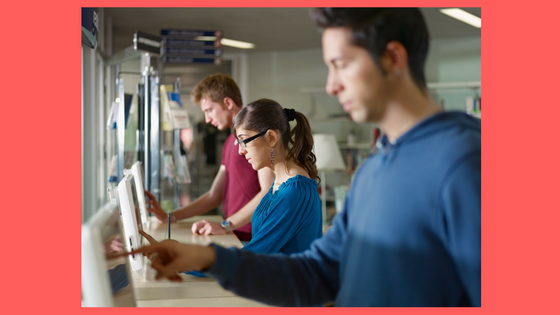 Do community members rush into your library, grab a few items, and leave, or do they view spending time there as time well spent? The answer to that question may determine whether you are participating in the experience economy, as described by Joe Pine in a recent interview.[1] Pine and co-author James Gilmore updated their now-famous 1999 work, The Experience Economy, in 2011[2] and it continues to have relevance as libraries seek to compete for people's time.
In its simplest terms, the concept behind the Experience Economy is that our culture now seeks to spend its money on memorable experiences rather than on services or goods—and we do so in all sorts of venues, not just in the traditional realm of entertainment. An experience can have elements that are entertaining, educational, escapist, or esthetic; the best experiences incorporate all four of the "e" adjectives. It is a business theory at its core, explaining where people choose to spend money and why they make the choices they do.
Libraries aren't businesses, and money seldom changes hands between library users and the library. This particular societal trend, however, has significant potential to impact libraries. That's because discretionary spending reflects what people value. Libraries compete for people's time, attention, and goodwill every day, and we are much more likely to be successful if we understand what society values.
Permanent Experiences
Libraries have created any number of experience-oriented spaces. The Cerritos Library is a well-documented early adopter of the experience ideology, saying the book "served as an inspiration to make the library more interactive and user friendly,"[3] and "images and exhibits on display as well as sounds emanating from the Rainforest and aquarium areas add to the multi-sensory experience of the visitor."[4] Families find a radically different experience at Explore Outdoors, Anythink Libraries' certified outdoor classroom, a creative space in which young children explore the world around them through activities such as climbing or building. Family Services Director Lynda Freas refers to the classroom as a "library destination."[5] In experience economy language, it is an attractive and dedicated space (entertaining) that encourages the development of motor and cognitive skills (educational) and provides materials that support dramatic play (escapist).
One-Time Experiences
For many public libraries, however, a lack of funding or space—or both—can preclude creating permanent, experience-oriented spaces. In that case, one-time events can offer a different sort of experience. A quick Internet search of what libraries are offering comes up with an array of events that invite library users to engage with us on the library "stage." Nearly any event that features staff or patrons in costume is likely an immersive experience. Library offerings range from life-sized mascots and book character greeters to ComicCon, cosplay, or pop culture tie-ins. Experiences are far more than dress-up, though. Escape Rooms, Murder Mystery Theatres, and props for do-it-yourself photo booths are interactive and memorable as well. Some experiences are worthwhile enough that they can even raise awareness for funds for the library's Friends group or foundation.
Evaluating Experiences
The evidence that we have succeeded in creating an experience economy, according to Pine, is that community residents will view spending time at the library as a good investment. They will also begin to feel a sense of belonging.[6] It's an excellent purpose for offering carefully crafted customer experiences and a great benchmark for evaluating what we offer our communities.
---
References
[2] Joseph B. Pine and James H. Gilmore, The Experience Economy (Boston, MA: Harvard Business Review Press, 2011).
---
Tags: inclusive public spaces, memorable events at the library, user experience