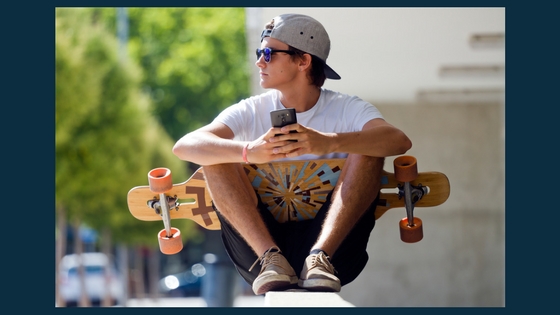 Working with teens in a public library is one big great adventure! There are the fun moments when teens from different schools become friends, the I-am-a-super-librarian moments of finding a teen the perfect book at just the right time, and the tough times when we know that a teen is not thriving because of a lack of resources, an identity crisis, or relationship issues. When these tough topics arise, public library staff are often not equipped to deal with them. Although teens may not want to talk to adults, they do want to learn.
At Pikes Peak Library District in Colorado Springs, Colo., we started using a Tough Topics for Teens bookmark to get the word out about the resources that we have to help teens on a variety of issues, including abusive relationships, acne, LGBT, and sex. We were inspired by a post on the ALA Think Tank Facebook page of a bookmark with a list of hotlines, and my colleagues and I were excited to make something similar!
We decided to have the bookmark be double-sided. One side has call numbers for difficult teen issues. The other side has local and national phone numbers for teens to use in a crisis. We include numbers for AA-teen, child abuse prevention, Colorado Crisis Service, eating disorders, El Paso County Department of Health, Inside Out Youth Services, Mental Health Crisis Hotline, National Runaway Switchboard, Suicide Prevention Hotline, and more.
At first, the teens did not take the bookmarks too rapidly. The bookmarks were mostly used by staff when helping a teen with a sensitive issue. Many of our teens are comfortable in our space and with our staff, so they open up to us. Our staff cares a lot and wants to help, but we are not trained counselors or medical professionals. This bookmark provides excellent resources to both staff and teens.
We've done a few different things to market this great resource to teens: adding bookmarks to book displays, placing them under glass table tops, and sharing them with volunteers during training.
In the East Library teen center, we have café tables with glass tops. We decided to place these bookmarks under the glass. This is a great way to provide information without them having to approach the desk.
We started adding the bookmarks to our book displays at our downtown location, and the books and bookmarks started flying off the shelves. The teens at our downtown library are socioeconomically diverse, and quite a few of them are dealing with difficult issues. The display put the bookmarks in front of our teen patrons and made the books even more discoverable! One of the unexpected outcomes of starting a Tough Topics display is that we were able to find gaps in our collection. Our collection development team purchased new books that deal with these issues.
Last year, one of our staff noticed that a couple of teen volunteers had marks that appeared to be from self-harm. This broke her heart and propelled her to find out what action we could take to support the teens and prevent it from continuing. Legally, we cannot do very much, but we can tell volunteers that we are available to help them find resources and show them our bookmark. There are so many cases of invisible pain; we decided to provide the Tough Topics bookmark to all of our volunteers during training. We mention the resource but do not linger on it.
If you are interested in using our bookmark as a template, please contact me, and I'll send it your way!
---
Tags: books for teens, public libraries and social issues, public libraries as resources, service to teens