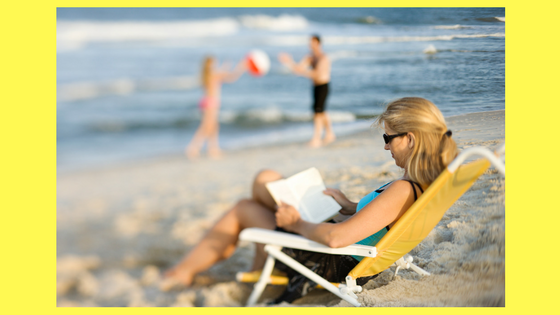 Last month in "Pop-Up Perfection: Staging a Pop-Up Library" I discussed one of the hottest trends in public library outreach–the Pop-Up Library. This month I'd like to share my own library's experience staging our first Pop-Up Library.
At first it didn't look like Rogers Memorial (Southampton, NY) Library's (RML) Pop-Up Library was going to happen. The staff was prepared and all the equipment was loaded and ready to go but the weather just wasn't cooperating. It was August 18 and while the heat and humidity typical of a summer on eastern Long Island was going strong, the threat of thunderstorms on the horizon almost put several weeks of planning and preparation on hold. In the end library director Liz Burns and the library's senior staff decided to place their faith in Mother Nature. By mid-morning the sky was blue and the sun was shining down on Coopers Beach, a public beach popular with locals and summer visitors alike, where staff from reference, teen services, and the library's family department had set up a tent and settled in for a day of giveaways, story time, and sharing the wide variety of services the library offers to a surprised but excited group of beachgoers.
RML first considered using a Pop-Up event as a means of connecting with the public when Kelly Furnari, the library's outreach librarian suggested it. Furnari had participated in Pop-Up Libraries at other libraries and was enthusiastic about RML launching one of its own. "Community engagement is so very important in what we do as a library, and part of this is meeting patrons on common ground to discuss ideas, promote services, and find out what the library can do to better serve the public. In my experience I've found that patrons are very excited to see the library out in the community," Furnari said.[1]
The people who stopped by to visit RML's Pop-Up Library would seem to agree. The staff saw more than a hundred different people throughout the day. Some just stopped to chat, others had questions about library services and many took advantage of the free books to take home that had been generously donated by RML's Friends of the Library group. Teen patrons were invited to make their own key-chains. A special high point of the day was a beachside story time organized by the Family Department. "With all our toes in the sand we shared a story with our younger readers and were able to discuss our future programs and happenings. I believe it was a resounding success!" said Anthony Zutter a staff member from the Family Department.[2]
But this success didn't materialize out of thin air. There was a great deal of planning behind the scenes before RML hit the beach. "There was a lot of planning and collaboration from different departments.  It was a library-wide effort to get the Pop-Up Library up and running," Furnari said.[3] First, though the library already had a tent and eye-catching signage available, there was still the issue of where to stage the inaugural Pop-Up. Since Southampton is a major summer vacation destination and a hot spot for the New York City crowds, a nearby popular beach was clearly the perfect choice. "The spot we chose got us to the people who don't normally come to the library. We chose carefully!" said Director Liz Burns.[4]
Burns said department-wide collaboration turned out to be the key in making the Pop-Up such a success. Having representatives from all departments showcased everything the library had to offer and provided something for everyone who visited. It also fostered a sense of community among the staff that has become a hallmark of what makes RML such a popular and well-loved place in the community. Burns attributes much of the Pop-Up's success to the great working relationship among the staff and their enthusiasm for their work. "The staff does a great job of being approachable," she says "They are excited about what we are offering." That excitement is clearly contagious judging by the reaction of those who visited.[5]
It may seem small but it's interactions like these that can make the difference between someone choosing to visit the library or not. We can never be too visible in our communities. Steve Alcalde, a reference librarian, summed up the importance of events like Pop-Up libraries. "I think being able to remind them of the library and our services, even if it isubtle, is a great beginning to having them think of us when presented with a question or problem they may not know the answer to. And that's a great start," he said.[6]
You may go through some growing pains but it's worth finding out if a Pop-Up Library might just be the answer to reaching the people in your community who might not know all of the wonderful things you have to offer. We're already scheduling our next one!
References
Email with Kelly Furnari, October, 2016.
Email with Anthony Zutter, October, 2016.
Email with Kelly Furnari, October, 2016.
Email with Liz Burns, October, 2016.
Ibid.
Email with Steve Alcalde, October, 2016
---
Tags: community outreach, outreach to public library non-users, pop-up public library