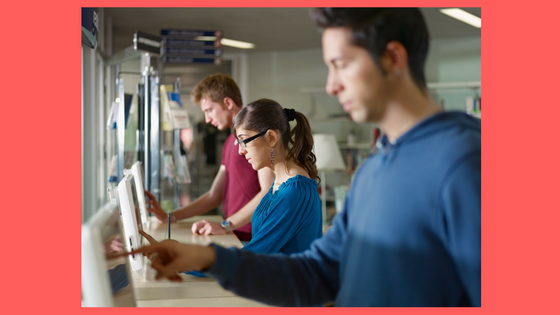 American Graphics Institute, located in Woburn, Massachusetts has a wicked program for libraries. In this case, wicked is a good thing. Libraries have become more relevant as community centers and many serve as the location for classes, from coding to robotics and 3D Printing. They also provide public WiFi and computer centers for those who would otherwise not have access to this technology. At many libraries, patrons can even check out laptops, iPads, and e-readers to use while they are at the library. Many patrons are using these tools for job search, and the classes offered to obtain training to assist them in finding better employment.
Free Classes
Enter American Graphics Institute and its Library Partner Program. The program's purpose is to help companies address the skills gap that many employers experience by helping the workforce obtain new skills or upgrade existing skills in creative, design, and marketing applications and technologies.
The company already offered design and digital marketing training free to Massachusetts based employees this past year through a grant program through the state. Available courses at no cost included Photoshop, Illustrator, InDesign, HTML, Google Analytics and WordPress and were available throughout 2016.
The courses address specific needs in fields like marketing where skill needs range from the creation and use of video to website and app design intended to make a company's product stand out from the competition.
Marketing is far from the only field where visual design skills are useful. Those seeking work in manufacturing, product design, game development, and countless other career fields also benefit from design training.
More than fifty book titles are available to libraries at no cost, as well as supplemental video training and lesson files. These materials act as self-paced courses or allow readers to take individual lessons to learn a specific skill.
Qualifications for libraries to participate
All libraries in the United States, including individual branches and library systems are eligible. While the courses and books are free, libraries are responsible for promoting the course and books to their patrons.
How to Participate
Interested in participating? Fill out this form on the American Graphics Institute website. Once you have made your request, the company will contact you about joining the library partnership. It really is that simple.
The program is offered to any user who is working at your library. They do not have to sign-in or create an individual account to take the courses. According to the institute, "We will only contact them if specifically requested to do so, for example, to answer a technical question."
Many times "free" programs like this come at a cost either to you or your patrons, even if it is just in requirements for them to sign up for a newsletter or emails from a company.
Whether this program is right for your library or not is something you will have to determine for yourself. It's nice to know that it is available along with Massive Online Open Courses offered by major colleges and universities, and other free online learning opportunities for library patrons.
---
Tags: American Graphics Institute, free courses, Library Partnerships, library programs