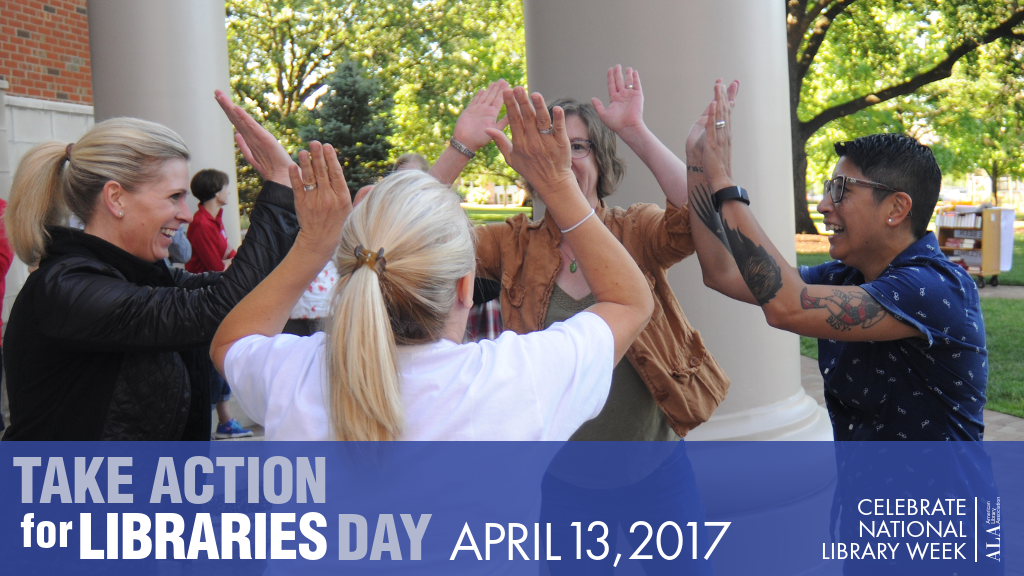 Since 1958, the American Library Association (ALA) has celebrated National Library Week. This year it will take place April 9-15 with the theme "Libraries Transform." The message is designed to increase awareness of the value, services and impact libraries and library professionals provide. All types of libraries – school, public, academic and special – participate. Each day has a specific celebration, but with proposed budget cuts the most important will be Thursday April 13. ALA has dedicated it Take Action for Libraries Day. This will be the first time a national advocacy effort will be observed during Library Week.
"We must stand-up and voice our support for libraries to legislators and local, state and federal leaders," said ALA President Julie Todaro. "Libraries and library workers transform lives every day through educational resources and expert guidance. The loss of crucial federal funding will have a profound impact on library services and the more than 1.5 billion who rely on them."
President Trump's proposed budget cuts for fiscal year 2018 includes elimination of the Institute of Museum and Library Services (IMLS) which serves as a critical funding resource for every state. More than $210 million could be cut from the Library Services and Technology Act (LSTA) and Innovative Approaches to Literacy (IAL) programs. Services provided through LSTA grants vary depending on the creativity of the library that receives them. ALA hopes advocates will place at least five calls to legislators to ask for full support of the IMLS funding during Take Action for Libraries Day.
In Missouri, the IMLS helped expand collections of the Wolfner Talking Book and Braille Library. They send informational and recreational materials in Braille and audio formats to Missourians with blindness, visual or physical impairment, or reading disabilities free of charge. The Pacific Library Partnership in California used funds to create Veteran Resource Centers. These centers helped veterans and their families connect with federal, state and local resources. For more information on what libraries in your state use IMLS funds for check out their website.
Take Action for Libraries Day is just the beginning of ALA's plan for advocacy. National Library Legislative Day is May 1-2 in Washington, D.C. and it will bring together librarians, trustees, supporters, and patrons to meet with members of Congress to rally support for library issues and policies. If you can't make the trip to D.C., ALA has a Virtual Library Legislative Day where you can watch a live broadcast of the advocacy webcast as well as contact Congress members by phone and email. The campaign is called Fight for Libraries and is providing ways for supporters to advocate for federal funding.  
Libraries house more than just books for our public communities, because they provide an atmosphere where social equality can flourish and numerous resources as well. Our nation's libraries help students with research and sponsor reading programs while helping adults find employment, use the Internet, take computer and immigration classes, and have a quiet place to study. Libraries need federal funding in order to continue to service the local community, so during National Library Week teach patrons about advocacy and take action by contacting members of Congress.  
---
Reference:
http://www.ala.org/news/press-releases/2017/03/take-action-libraries-day-launch-during-national-library-week​
---
Tags: activism, congress, National Library Legislative Day, National Library Week