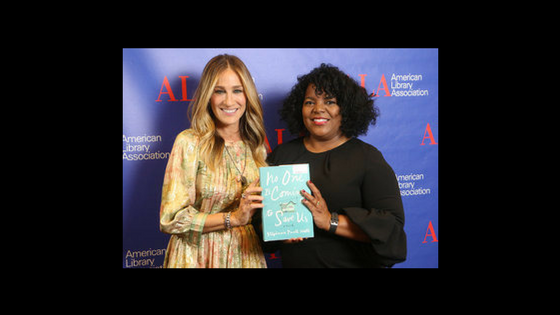 Growing up with seven brothers and sisters, actress and philanthropist Sarah Jessica Parker said the library was an escape for her as it offered a calm atmosphere away from a large chaotic household. "Public libraries are a vital part of our society," Parker said to the audience in the Skyline Ballroom at McCormick Place West on Saturday June 23, during the ALA Annual Conference. She was selected to serve as the Honorary Chair for Book Club Central, a new online platform of reading resources and content for book clubs according to a press release.
At the event, Parker announced the title of the first book for Book Club Central — No One is Coming to Save Us by Stephanie Powell Watts. According to Harper Collins' website the novel "… is an arresting and powerful novel about an extended African American family and their colliding visions of the American Dream."
Before announcing the first pick for the club, Parker expressed her gratitude for librarians and the importance of libraries. "You are all my longtime heroes, so this is a very meaningful moment for me," Parker said to the librarians in the crowd. As a child, Parker said her mother had a rule that no one could leave the house without something to read. Parker hopes Book Club Central will serve as a conversation starter and a conduit for a civil exchange of ideas.
After announcing the title of the book Booklist's Donna Seaman sat down with the Watts and Parker for a discussion of the novel. The author signed copies of her novel outside the ballroom after the program. Visit the Book Club Central website for more information.
---
Tags: 2017 ALA Annual Conference, ALA Annual Conference, Book Club Central, book clubs, Sarah Jessica Parker