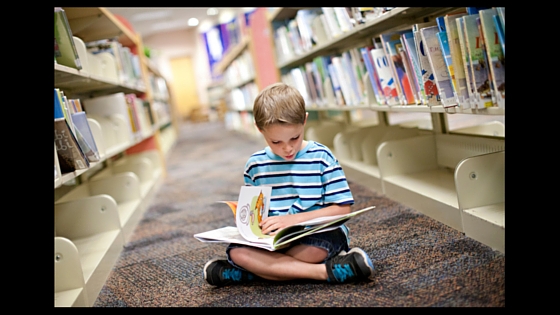 Library fines are a fact of life for most heavy library users.  But what about those who can't afford to pay for late and lost books?  In Illinois, the Rockford Public Library offers children the chance to pay off their fines by doing what they do best — reading more books.
Rockford's Read & Reward program, modeled after the Indianapolis Public Library's Earn and Learn program allows children ages 5-18 whose cards are blocked due to fines to pay down those fines by reading books and attending library programs. Kids receive a new card that allows access to books and online resources only, and they earn $1.00 per book read.[i]
The books read are counted by children checking out a book, taking it home, and returning it at a later date to staff at the customer service desk, rather than in the automated RFID return. This takes the greatest amount of staff time, as staff must manually enter notes into the child's account. "But I think it's worth it," said Lynn Stainbrook, executive director of the Rockford Public Library.[ii]
Children in the program must stay in the program for one year, even if they earn out their fines earlier.  "We really wanted to emphasize that learning and habit forming of coming in and having to return things on time," Stainbrook said. The one-year requirement also deters users from jumping in and out of the program as they pay off their fines, she said.  If any users in Read & Reward accrue new fines and don't pay them off, they are removed from the program.[iii]
The Read & Reward program is a good fit for the Rockford Public Library, which is situated in an area of under-educated residents and low incomes, according to Stainbrook.  In this environment, "Kids are not necessarily growing up knowing how to use a library card," Stainbrook said.  "If they've never been exposed to how the library works, that we all share these things together, get them for limited time and bring them back — if they don't know that, how do they know what they're supposed to do?"  Nearly 3,000 kids in the library's service area have blocked or barred cards.[iv]
Read & Reward is still fairly new to the library.  It started as a trial run at one branch in fall 2016 and was opened up to all branches and widely publicized starting early this summer.  At the end of March, twenty-three children were participating in the program; by late July there were sixty-eight signed up.  Stainbrook said circulation staff have received many positive comments from kids in the program, including one regular program attendee who said, "Read & Reward helps me pay off my fines while doing what I enjoy doing."[v]
---
References
[i] "Get a Read and Reward Card." Rockford Public Library. Accessed July 24, 2017. http://www.rockfordpubliclibrary.org/how-do-i/get-read-reward-card
[ii] Lynn Stainbrook, executive director of the Rockford Public Library, in a phone interview with the author, July 21, 2017.
[iii] Ibid.
[iv] Ibid.
[v] Ibid.
---
Tags: fines at the library, library fines, library program, Read and Reward