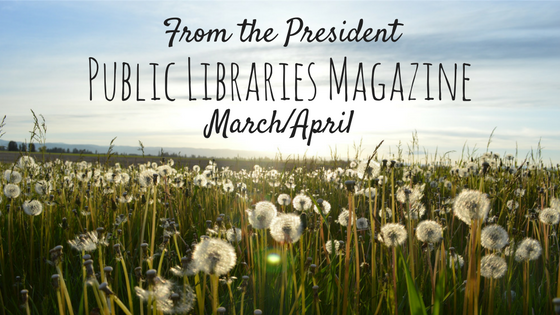 PLA President FELTON THOMAS is Director of the Cleveland (OH) Public Library. Contact Felton at felton.thomas@ cpl.org. Felton is currently reading Evicted by Matthew Desmond.
---
If you've read any of my previous columns, you've probably noticed that I prefer to impart life lessons by telling stories. While this is a practice that drives my teenage daughters crazy, it has been effective for me in getting my point across.
I'd like to reveal an important lesson that all librarians need to understand by telling a story that opened my eyes to the power of libraries and of librarians. There are a number of lessons to be learned from this story, but most important may be the realization that we can't keep underestimating our community's respect and love for what we provide them.
More than eight years ago, I had just taken over the director's position at the Cleveland Public Library and was introduced to the Great Recession right from the start. At my first board meeting, the chief financial officer warned us that it was quite likely that our local tax collection would fall by more than 20 percent. A few months later, the democratic governor of Ohio would release a budget that would cut library funding by $200 million from the state's biennial budget. A reduction that would have chopped state funding to libraries by nearly 50 percent.
Ohio libraries like mine envisioned a financial catastrophe at a level that had never been experienced. As you can imagine, anxiety and fear among the library directors were very high and with the nation's financial realities becoming clearer, there was a confusion about how to move forward. Fortunately, our state library association, the Ohio Library Council (OLC), wasn't having it. In a letter to the directors across Ohio, OLC's director of government and legal services challenged the directors to stand up and fight. Within forty-eight hours, the OLC had created an action campaign to Save Ohio Libraries. The campaign didn't hold back and was very aggressive in its demand that legislators fix the governor's budget.
Library supporters were urged to contact their local representatives, senators, and the governor's office. They were asked to send emails, make phone calls, send letters to the editor, and forward postcards urging support to save Ohio's libraries. The result was surprising: not only had the large metro libraries in the state adopted the campaign, but nearly all of the 251 library systems across the state had signed on as well. Within two days of the campaign being announced, legislators found themselves being overwhelmed with emails and phone calls. The governor's office and legislators found their phone systems crashing from the overwhelming number of calls. They could not open their emails because of the sheer numbers of emails flooding their online correspondence.
Ultimately, the legislators relented and the reduction that libraries accepted in that budget was less than 20 percent. However, the governor's office never forgot or forgave the OLC for this effort. Libraries had proven to legislators that their community residents love their libraries and were willing to voice that affection. Last week, I was walking through the halls of the statehouse to talk to legislators about a much smaller cut to the state budget for libraries, and found an enduring respect for libraries. The legislators and our present governor better understand the role
of libraries, but it was clear that they also know about our ability to mobilize when needed. One legislator even said that we should receive more funding and that we should get the troops ready to battle like eight years ago. That legislator had not been in office in 2009.
So what's the lesson to be learned? The lesson is that as funding for libraries is being attacked at the federal level, we must never forget that we are beloved by our customers. Being loved is not enough, the lessons we can learn from the Ohio example is that when we are attacked, we should fight back. The campaign requires all libraries to acknowledge the importance of the need for the campaign. It requires that it consists of more than just the librarian community, but closely involves our library supporters. Finally, it requires that we are relentless. In the Ohio example, libraries stepped on toes and lost support with some influential people. These decisions cannot be made lightly, there are ramifications that follow.
This is why I'd like to commend Emily Sheketoff, the outgoing executive director of the American Library Association's Washington Office. Emily has deftly managed our federal legislative agenda for seventeen years and I want to thank her for those efforts. Her departure will not be a quiet one though. After the release of the president's federal budget recently, Sheketo and ALA President Julie Todaro forged an aggressive legislative response. The Fight for Libraries campaign is asking all of us to be relentless, I just hope that it is as successful as its Ohio predecessor.
---
Tags: advocacy, legislation, Library Advocacy