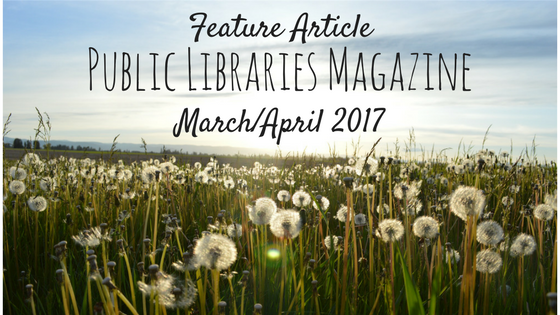 DAVID J. KELSEY is Manager of the Outreach Services Department at St. Charles (IL) Public Library. Contact David at dkelsey@stcharleslibrary.org. David is currently reading Garden Spells by Sarah Addison Allen.
---
What exactly does the term "outreach" mean in the library eld? Outreach represents different services libraries might offer— programming, homebound deliveries, bookmobiles, volunteering, community events—as well as collaboration with schools, Spanish speakers, the homeless, the LGBT community, hospitals, senior facilities, and correctional facilities. When I accepted the position of outreach services librarian at the St. Charles (IL) Public Library District (SCPLD) in February 2015, I did not grasp what outreach fully meant or truly appreciate what an exciting field of librarianship I was entering. Not all libraries have dedicated outreach librarians or departments. So why should libraries become more aware of outreach services?
Growing Senior Population
The Administration on Aging projects that by 2030, 19.3 percent of the population (72.1 million people) will be aged sixty-five years or older, more than twice the number in 2000 and up from approximately 13.1 percent in 2010.1 The US Census projects the US population aged sixty-five and older to grow to over 83.7 million by 2050.2 Libraries need to ask themselves: (1) How does this increasing demographic affect our library and community? and (2) How do we serve this growing population?
"Aging in Place" vs. Care Facilities
In a recent survey completed by AARP, most seniors wish to "age in place," to live at home and apply for long-term care services rather than reside in a senior care facility.3 All libraries can o er outreach service to this population: homebound deliveries, in- library pickup by caregivers, or books-by-mail are options. Volunteers or local Lions Club or Kiwanis Club members can select and deliver materials to homebound residents. Librarians can develop ideas that work for their library, community, and budget.
Due to the rising aging demographic in the United States, the number of people using nursing homes, alternative residential care facilities, and home care services is expected to grow from 15 million in 2000 to 27 million in 2050.4 An increase in senior facilities correlates to new opportunities for outreach programs to grow and create partnerships. When a new senior facility is built, outreach librarians can promote their library's services and how it can enrich the residents' lives.
Each facility requires different outreach services, so there is no "one size fits all" approach. At care facilities, we offer room-to-room service to deliver materials to bedridden patrons.
The St. Charles Public Library District
SCPLD serves a population of 55,000 residents in the far western suburbs of Chicago and includes parts of Kane and DuPage counties. SCPLD employs 120 full-time and part-time staff members.
Outreach Services, part of the Adult Services Department, consists of three part-time Outreach Services Assistants (Dana Hintz, Lynda Spraner, and Christine Steck) and a full- time Outreach Services Librarian (me).
The History of the Outreach Services Department
The Outreach Services Department of SCPLD has been delivering library materials to residents for over forty years. What began as one librarian delivering materials using her own vehicle has transformed into a full-scale operation involving four staff members. In 1975, a special services librarian was hired for the tri-city libraries of Geneva, Batavia, and St. Charles in Illinois—a first for the state. Shut-ins and those who were homebound were encouraged to call their local library to sign up for this new delivery service, which was funded through a federal grant and administered by the Illinois State Library, the DuPage Library System, and the three local libraries. When the service began, St. Charles had only one senior living facility. Available materials included regular print and Large Print books and magazines, talking books, phono- graphic records, and a circulating collection of framed art prints and sculptures.
Though the Outreach Services Department has had a long-standing history in the St. Charles community, the number of outreach patrons served boomed from April 2015, increasing from 79 to 183 patrons, a 132 percent increase.
Due to this boom and to new, dedicated staff, we have developed new community partnerships with the hospital, local homeless shelter, and Meals on Wheels, among other institutions, and we have established eight new community book exchanges, expanded services to patrons with Alzheimer's disease and dementia, and launched programming at facilities. Outreach strives to bring new life to a traditional service and to expand our reach in the community.
The Outreach Services Department Today
The Outreach Services Department provides service to residents who are temporarily or permanently homebound in the library district, including those who have low vision, difficulty with mobility, are recuperating from surgery, or have a prolonged illness. Outreach Services visits nine senior facilities, three home care facilities, and twenty homebound patrons a month, all while maintaining thirteen community book swaps. We deliver materials with the library's program van or our own personal vehicles. Residents who reside in facilities are automatically eligible for outreach service, while homebound residents must contact Outreach Services and complete an application.
We publish a monthly brochure featuring newly released Large Print books. Outreach patrons may check out items for eight weeks (as opposed to the standard three weeks) and they are not charged fines for damaged or missing material. We help eligible patrons apply for service with the Illinois Talking Book Outreach Center, which provides qualified Illinois residents with access to materials from the National Library Service for the Blind and Physically Handicapped (NLS), and we register homebound patrons to vote and provide them with notary services.
What We Use
The Outreach Services Department uses the SirsiDynix ILS's Outreach Module to help us select items, create facility and patron routes, and maintain patrons' checkout histories. NoveList is used for generating book recommendations, and a library-owned Sprint Wi-Fi Hotspot is used to download e-books to a patron's e-reader or tablet computer in the com- fort of their own home by someone from Outreach Services.
Outreach Services makes particular use of weeded materials at care and memory care facilities, especially for patrons who might not be able to keep track of circulating materials. The weeded materials that we supply are mostly Large Print books, but additional items are supplied from adult and youth services collections. SCPLD purchases periodicals for all facilities.
The Components of Successful Outreach
Engagement
Engagement is an important concept for outreach success. Coffee table books, adult coloring books, appropriate knick-knacks, and holiday props are used to encourage residents to swing by and check us out during visits. Outreach staff members offer programming at facilities: computer classes, book talks, holiday sing-alongs, and music recitals. Our programs are so popular that facilities and patrons want us to present them on all visits.
Outreach Services engages residents with "Tales and Travel Memories," a program created by Mary Beth Riedner of ALA's Alzheimer's and Related Dementias Interest Group. Each Tales and Travel program discusses the facts, folklore, and two native animals of a country, and we share books, pictures, and souvenirs with the residents. Outreach Services staff always have meaningful interactions and conversations with residents, with many remembering their own travels abroad.
We recently created four new Educational and Engagement Kits, used by staff to engage outreach patrons and specifically developed to assist in memory stimulation. These four sets revolve around specific themes: movie stars, TV stars, mu- sic stars, and cooking. Each kit contains a laminated, larger print informational book- let with background history and photos and small objects that patrons may hold and examine (for example, "Remembering Movie Stars" features movie stars from the 1930s, 1940s, and 1950s—such as Marilyn Monroe and John Wayne—and includes an Oscar statue, ruby slippers, pink opera gloves, and a fedora hat). Each resident receives a booklet and follows along during presentations by outreach staff at long-term care and memory facilities.
In August 2016, Outreach Services debuted ten new themed Caregiver Kits that contain DVDs, CDs, and coffee table books, located at our Caregiver Kiosk in the library. Themes include: "Laughing with Lucy," "Classic Comedy Shows," and "Golden Broadway Musicals and Dance." The goal of the Caregiver Kits is to promote memory stimulation, inspire meaningful conversation, and encourage continuing education for individuals who have Alzheimer's disease or dementia. Caregiver Kits are meant to be an enjoyable reminiscence activity for a caregiver to use with someone who has memory loss. The Caregiver Kiosk also features information on caregiving, aging, Alzheimer's disease, and dementia.
Social Interaction
In addition to the importance of the materials we deliver, and the formal programs we conduct, the social interaction between our patrons and outreach staff can be a meaningful experience for our seniors. Outreach staff members have been told that the visits we make can be a highlight of a senior's week. A homebound patron humorously offered to pay my outreach services assistant a million dollars if she would visit her daily as she so enjoyed their conversations. The department believes that the best part of our job is getting to know our patrons and developing relationships, and we feel honored that they let us into their lives, so we incorporate time into our scheduled visits for patron interaction. Outreach is an opportunity to make a truly meaningful difference in our patrons' lives. The impact we have on this specialized community is often outsized compared to the number of people we serve.
Good Collaboration
A positive working relationship with life enrichment coordinators helps ensure that the facility and residents always receive quality services and materials. Collaborate with life enrichment coordinators for facility programming and events. Often facility staff and patrons generate ideas for programs that require research which the library can help coordinate. One of our facilities recently requested a library program series featuring the culture and traditions of Mexico. Working with the facility's life enrichment coordinator, we developed a presentation and educational handouts on Mexico while the facility provided entertainment and ethnic cuisine.
Senior facilities have a high employee turnover rate. The National Center for Assisted Living states that there is a 24.2 percent annual overall turnover rate of assisted living staff.5 One facility we serve had three new life enrichment coordinators in six months. Librarians must continually introduce themselves to the new staff members. Creating a welcome packet for new life enrichment coordinators that explains your outreach program can maintain good collaboration so that outreach services can remain successful during transition periods.
Community Awareness
Community awareness is essential for successful library outreach. Libraries cannot assume the public is aware of any of their services, including outreach programs. Reach out to local papers, which are often interested in featuring stories about libraries. Advertising in the library newsletter with a simple "We Deliver!" is also useful. Word-of-mouth can some- times be the most successful method of gaining new outreach patrons: when I was signing up a new patron for outreach service, she was so enthusiastic about our program that she called her neighbor to come over so we could sign him up as well.
Libraries must be visible at community events. St. Charles Public Library has booths at the farmer's market as well as a local senior fair, local festivals, and business-to-business events. Our booth at the senior fair specifically displays information about outreach and handouts on our program, as well as other library services. Over six hundred seniors visited our booth in 2015, many inquiring about outreach.
Community Partnerships
Creating new community partnerships helps promote and strengthen your outreach program. For example, we partnered with our local Salvation Army Golden Diners. Golden Diners distributes Outreach promotional materials with meal deliveries to homebound residents, while Outreach Services maintains community book swaps at Salvation Army locations as well as senior facilities, apartment complexes, a grocery store, the hospital, and the local homeless shelter. Book swaps introduce the library to residents who might not ordinarily visit us. Weeded materials, again, come in to use here in addition to donated materials.
We are spearheading a partnership with neighboring libraries to increase service to residents in the hospital, as well as those recently discharged but temporarily homebound. Our Youth Services Department has partnered with the local juvenile detention center, where materials are delivered to teachers. Adult Services provides carefully selected (they have specific criteria) weeded and donated materials to their library.
Conclusion
Outreach librarians have a unique opportunity to improve an individual's quality of life by providing library services, programs, and materials to these nontraditional library users. It is through these services that we expand the walls of our facilities and bring library services to patrons wherever they may be. Libraries can be at the forefront of serving the aging demographic if they explore new ways of connecting with the growing senior population in their communities. What an exciting time to be an outreach librarian!
References
---
Tags: community outreach, library outreach, outreach events, outreach services, outreach to public library non-users