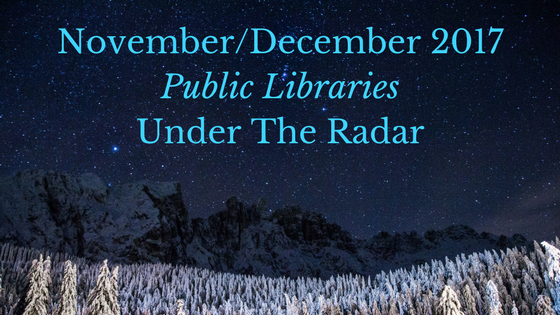 Contact Kaite at kaitestover@gmail.com. Kaite is currently reading Wolf Season by Helen Benedict and listening to Second Wave podcast.
---
Up until this moment, starting a fresh Under the Radar column has always been delightfully easy. I would wonder why it's difficult this time but I know why. This will be my last submission as a contributing columnist.
It's been a fun five years combining readers' advisory and pop culture with trending topics and emerging formats. I never thought I'd be name-dropping the Twitter feed for @KarlTheFog for ALA San Francisco-bound librarians or encouraging them to visit historical fetish exhibits at Chicago's Leather Archives and Museum in between ALA and PLA presidents' programs this past summer. Hey, we're librarians. We've seen it all.
I struggled with a fitting topic for this final column and tossed aside many ideas that didn't seem to impart a sense of closure. So I'm going to leave you with a few of my current favorite things and some items that are never off my radar.
Like many of you, I find podcasts a great connector for readers' advisory. It's intriguing to hear the answer to "What podcasts are you listening to?" from library patrons and then give them an audiobook or movie that's a great fit. I've been promoting all the "town" podcasts: S-Town, Crimetown, and Limetown.
I enjoy S-Town for the same reasons I enjoy Crimetown: high production values, an absorbing story populated with rich, layered characters, and they are all real people. You can't make this stuff up. If you have patrons who still demand a readalike for Midnight in the Garden of Good and Evil (1994), they need to listen to S-Town. And for fans of Goodfellas (1990), suggest they stick Crimetown in their ears. The true story of the rise, fall, conviction, and reelection of mob-connected Providence (RI) Mayor Buddy Cianci is riveting, amusing, and a little comforting during these tumultous political times. Give Limetown to your patrons who honeymooned at Area 51.
I never got around to writing about my nerdy fascination with illustrated novels for this column. They are written, read, and appreciated by people who understand that reading is a multidimensional activity. Few authors understand this better than Doug Dorst and J.J. Abrams (yes, that J.J. Abrams). They collaborated on S (2013), also known as Ship of Theseus. It is a work of art and a paean to the skill of reading carefully and thoughtfully. It is three mysteries in one volume and it is stuffed with clues for the reader to discover. Postcards, snapshots, newspaper clippings, old letters, a map on an ink-stained napkin. This lush, captivating work demands your full attention and some mental gymnastics. It's worth the intellectual workout.
But if you don't want to work that hard and just want to see how an author can use vintage ephemera to tell a heartfelt story, then look no further than Caroline Preston's The Scrapbook of Frankie Pratt (2011), a Jazz Age coming-of-age story told through ladies' magazine clippings, antique fortune-telling cards, ticket stubs, menus, and candy wrappers. It's a visual feast for the adult who never really outgrew picture books.
I can binge watch with the best. Right now, I'm hooked on The Great British Baking Show (2010) on PBS. On GBBS, every recipe comes with a story (and illustration!) that is meaningful for the baker.
It is fascinating to watch this show that demonstrates diversity of contestants who put their own cultural spin on flavors, constructions, and ingredients. I am also discovering desserts that I did not know existed. Anyone want to join me for a Grand Dessert Tour of the Continent after I turn in this last piece? Might have been fun to do a column on all food RA items.
I leave you with the best Instagram feed I hope you are following, @Baddiewinkle. Rihanna herself follows Baddie Winkle. She is a great-grandmother who became Internet famous for all the right reasons at age eighty-five. She is kind, bold, witty, adventurous, and cannot be body-shamed.
If you're wondering what I'm doing after Under the Radar, I'm training to be Baddie Winkle's personal librarian. Kthxbai, y'all.