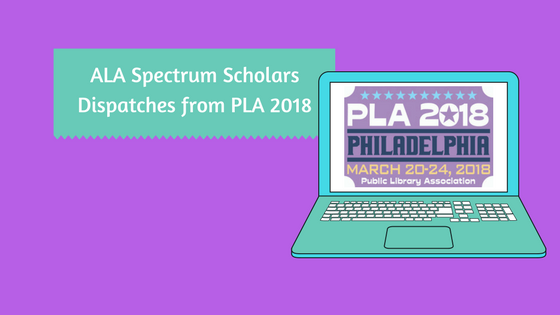 By Mahasin Abuwi Aleem, 2016-2017 Spectrum Scholar, mahasin@gmail.com
"Equity" is a word that seems to be on everyone's lips. As a resident and public librarian in a region undergoing rapid economic changes, including the displacement of long-standing communities of color and lower-income neighborhoods, "equity" has certainly been on my mind and heart.
My adopted hometown of Oakland, CA, has made a commitment to encouraging social and racial equity through the creation of a Department of Race and Equity. The department's focus is on dismantling institutional racism, and furthering equity within the City's departments. Committees in every City department, including one within the Oakland Public Library where I work, have been working on issues of equity.
As we've taken on this task, I've been thinking a lot about what it means to put equity into practice. How does a large institution operationalize equity so that it's more than just a buzzword?
The presentation "Applying an Equity Lens: Shifting Resources to Reach Low Income Audiences" and its stated learning outcome, that participants would "learn strategies for assessing programs and services from an equity standpoint," was the right program at the right time for me.
In an inspiring session, presenters Valerie Wonder, Community Engagement Manager for Seattle Public Library (SPL); and Tom Fay, Director of Library Programs for SPL; shared SPL's approach to implementing an equity lens for library programs and services in Seattle. (A third presenter, Rekha Kuver, SPL's Youth and Family Learning Services Manager, was unable to attend due to the inclement weather.)
Laying the Groundwork
SPL's equity work started in 2015, when under the director's leadership, board members and all staff members went to training offered through the City of Seattle's Race and Social Justice Initiative. From there, SPL retooled their work around five keys areas that were developed with community input: reimagined spaces; youth and family learning; Seattle's culture and history; technology and access; and community engagement. Desired outcomes and impacts were then crafted with a race and social justice lens.
Applying an Equity Lens to Existing Programs: Two Examples
Bookmobile Outreach to Local Preschools
SPL looked at a decades-old bookmobile outreach program to local preschools. By applying an equity lens to their outreach and through the collection of data on the income levels and race of students at schools served, SPL created an "opportunity map" to determine who was being underserved and which communities would be better served by bookmobile services. The research determined that schools in lower income areas were not being served and children of color were missing out on bookmobile services. SPL was able to transition bookmobile service to underserved areas where both lower-income residents and people of color resided.
Seattle Reads Program
In 2016, SPL decided to apply an equity lens to programming and developed four areas of accountability/analysis for its programs: participation, content, budget, and community involvement. This analysis was used when developing SPL's 2017 Seattle Reads events. The participation goal that year was to increase African American engagement. As the program was developed, staff had to consider what the content was about, whether it was relevant to the community, and by whom the content was developed. When implementing the budget, SPL made a commitment to making sure that the funds would be invested in communities of color: SPL allotted one-third of the budget to an honorarium for a speaker, and rented event space at a theatre owned by African Americans (chosen by the community) for the program, a change from years past.
There is much more that could be shared from the presentation, however, there were some highlights for me:
Key Takeaways for Doing Equity and Racial Justice Work:
Look to the Government Alliance on Race and Equity (GARE), a national network working to achieve racial equity and advance opportunities for guidance and support.
Understand the difference between equality and equity.
Recognize that "just opening the doors to everyone" doesn't provide equity.
When embarking the work of seeking racial justice and equity, offer/take trainings on implicit bias as a first step toward promoting equity!
The training of staff takes time and commitment and is a continual process. It has taken SPL two years to train all staff members and training is ongoing.
Equity work requires a commitment from the leadership of the organization. SPL's director's leadership was a theme throughout the presentation.
The community must be engaged in decision making.
Recognize the extra burden put on staff of color when asking to access their networks for community engagement.
Be willing to walk away from a project if it isn't serving the community.
There are multiple models for racial and equity work. Be willing to find one that works for your community.
It takes time to build relationships and establish trust. It took two and a half years of work to put together a twelve person advisory team on Native American programming.
After attending this session, I feel better equipped to approach programming with an equity lens, and to have thoughtful conversations with my colleagues about how to meet our own city's commitment to social and racial equity.
---
Tags: ALA Spectrum Scholars, PLA 2018, Social and Racial Equity