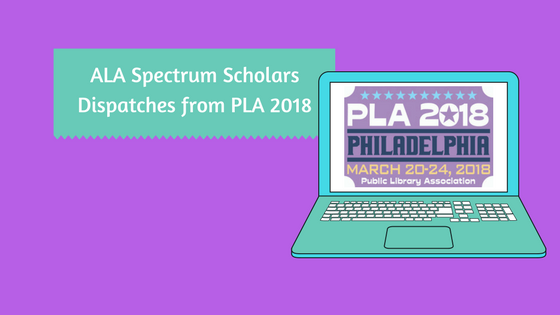 By Chloe Van Stralendorff, CVanStralendorff@anaheim.net, Spectrum Scholar ('17), Anaheim (CA) Public Library.
At the 2018 PLA Conference, Maggie Killman, Youth Community Engagement Librarian, and Gabriel Venditti, Community Engagement Librarian, gave a presentation called Building Meaningful Relationships through Community Engagement, in which they discussed the importance of increasing community engagement by creating more adaptive public services.
The conference featured many presentations on the concept of community engagement. Killman and Venditti's presentation in particular, outlined a comprehensive structuring of the various methods and techniques used to build meaningful relationships with communities. At the core of their message, they convey the idea that libraries and other public services are responsible for garnering relationships with their surrounding community members. In their presentation, they talk about defining community engagement, establishing a mission, vision, and shared values, CEN action, practical advice, and activities that can be implemented to improve a library's practice of community engagement.
Killman and Venditti's concept of community engagement is defined by the various aspects of relationship building and the components that lead to community mobilization and goals. Along the way, they gave helpful tips for initiating conversations and building rapport with community members in order to establish trustworthy relationships. As a Communications Specialist II for the Anaheim Public Library, I found this presentation to be very helpful in determining new strategies for engaging the Anaheim public library's own community leaders and members. I seek to establish new relationships on a daily basis, and always consider the quality of dialogue between public services and the public itself to be integral to the successful integration of community-oriented services and activities.
Most importantly, the presentation describes the key to relationship building as engaging residents, meaning you must meet people where they are, and not be afraid to work on a small-scale, individual basis. This offers community members the opportunity to voice their opinions about what needs attention or improvement from their public services. This kind of interpersonal communication can be extended to local leaders, including government officials, school boards, law enforcement and other public service members, nonprofits, local businesses, and religious organizations. Once a relationship has been established, the next step is to plan for community mobilization, which puts these valuable relationships to good use. Community mobilization is at the core of librarianship, and seeks to connect local residents with public resources.
Many of the relationships we build are for the purpose of creating social capital, which is the idea that an individual or group has the capacity for change, reflected in the relationship by measuring access to resources and knowledge of how to use them. Once there is room for social capital to exist, it can be applied to goals of improving the library's services and ability to meet the needs of the people, a concept called "asset mapping." Asset mapping is a visual technique for brainstorming creative solutions to meet the community members' needs. The success of asset mapping requires the ability for vision, one that is particularly geared toward community engagement, more specifically partnerships. This leads to mutually beneficial programs and services that enable libraries to share resources with partnerships and creatively solve problems of the community. Asset mapping can lead to the creation of a successful community-responsive public service, which is and should be the vision of all public libraries.
In addition, the presentation gave examples of how to implement these concepts, such as readings of African-American authors, Safe Place for Teens, and Pop-Up Game Days. All are examples of community engagement that had been conceived through asset mapping. The practical advice for asset mapping is described as "meet everyone, define your vision, set attainable goals, and tell your story and solicit feedback." At the end of the presentation, attendees were given an opportunity to have an open session with the presenters in a large group workshop, practicing some of the techniques and providing creative answers to common questions and unfulfilled community needs.
In summary, the public library acts as a conduit for community change, as it is a space that can be used to express community pride, provide a platform for open dialogue, access to free community resources, and open channels for communication with community leaders. It remains the responsibility of public services professionals to meet the needs of its community members by establishing healthy relationships with them.
---
Tags: ALA Spectrum Scholars, asset mapping, community engagement, pla2018, relationship building libraries and community