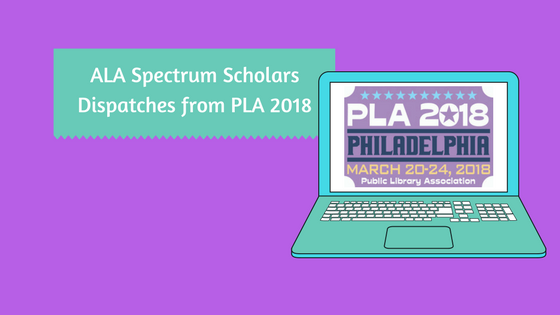 By Andrea Castillo, andrea.castillo101@gmail.com.
Partnerships between libraries and local Latino/a communities begin with relationship-building, both within and outside of the library's walls, according to Miguel Ruiz, Latino engagement librarian for the Evanston Public Library, which serves a community of about 75,000 in suburban Chicago.
As the Latino engagement librarian, Ruiz's work focuses on outreach (going into the community to provide access to traditional library services through library card sign-ups and helping people use online databases), engagement (building relationships with members of the community) and organizing (bringing people together to talk about issues impacting their community). Ruiz's discussion focused on helping librarians build engagement, that is, a collaboration both within and outside the walls of the library to build the well-being of the Latina/o community, in their own organizations.
While librarians who identify as Latina/o and those who speak Spanish may be more comfortable interacting with members of these communities, having a proactive attitude is an important tool for anyone engaging in this work.
"You really have to get out there and get uncomfortable and really be in spaces that you may not have been previously as a professional or even personally, which I think is the exciting thing about this work, especially if you don't identify as Latino," Ruiz said.
Ruiz identified five ways librarians can build engagement among members of the Latina/o community (which he pointed out was not monolithic, but whose members identify with terms such as Latina/o, Latinx, Hispanic, Chicano, or may choose to identify by nationality):
Understand the current library and community landscape
To plan outreach efforts, Ruiz said it's important for librarians to know what efforts have already been made to get the Latina/o community involved. Ruiz, who was an academic librarian before coming to Evanston, likened these efforts to doing a literature review, asking questions such as "Who has led or participated in engagement efforts?" and "What community services exist for Latino residents?" In many cases, there are more people working with this community than official job titles might suggest, including part-time staff, parents and volunteers. It also means staying up-to-date on news about the local community and identifying its leaders.
Build connections and partnerships with community leaders and residents
For Ruiz, this step is the most important in developing engagement with the Latina/o community, starting with reaching out to people and organizations that actively work with Latina/o residents and meeting with them. Before proposing an idea for a partnership, it's important to build a good relationship in initial meetings, as well as understand what other organizations are doing, he said. In one example, Ruiz discussed meeting with the adviser of a local organization for DREAMer students and workers, and several months later, arranging a meeting with the two of them and the teen librarian so the library and organization could develop a partnership. As he met with leaders, he asked about others he should meet with, and in all, he took part in about 20 to 30 one-on-one meetings.
Identify local and national resources
For librarians looking to build their Spanish-language collections and resources, Ruiz recommends REFORMA: The National Association to Promote Library and Information Services to Latinos and the Spanish-Speaking, both through their website and by attending conferences. The ALA also provides financial assistance for librarians to attend the Guadalajara International Book Fair, which features Spanish-language materials from around the world. Websites likes WebJunction can also provide programming materials, and the Chicago-based National Immigrant Justice Center, as well Unidos US, United States Citizenship and Immigration Services and the National Library of Medicine can provide resources on civics, citizenship and health. Finally, librarians should ask what members of the Latina/o community want to see — after talking to community leaders, Ruiz found that there was demand for Spanish-language books on spirituality, health and well-being.
Develop your own library community
Members of the community can serve as a sounding board for ideas about library programming and services. The Evanston Public Library has established a Latino advisory community, and Ruiz urged other librarians to do the same: "It's a great opportunity to get those voices you may not have." In addition to the advisory committee, the library is part of an email list of local community partners used to share resources. There, the library also promotes its events, including a screening of Coco in Spanish that was popular among patrons. Librarians can also join a library consortium and network among other information professionals to discuss ideas and issues.
Listen, reflect and assess services
Once the relationships have been built between library and community and new programs have been put in place, it is important for librarians to assess their impact, both with qualitative and quantitative data. Along with counting attendance, it's important to ask how the community benefited from the program, Ruiz said. His library recently implemented a bilingual storytime, leading staff to explore outcomes such as whether parents are more confident in reading stories to children at home, and what impact the program has had on literacy and other measures.
---