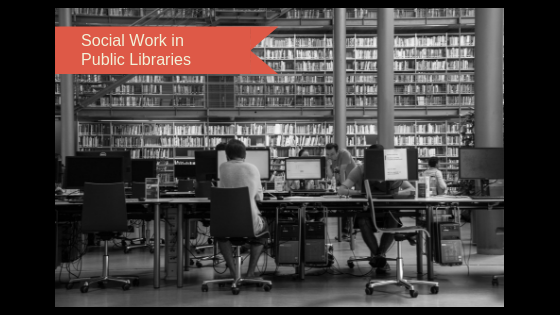 by Patrick Lloyd, LMSW, Community Resources Coordinator, Georgetown (TX) Public Library.
When I tell people that I'm a library social worker, I'm almost always met with some version of, "I had no idea libraries had social workers!" Increasingly, they do. Today there are over two dozen social workers serving public library patrons across the country in systems from San Francisco to Washington, D.C. We know that people come to libraries seeking information. Often, the answer to a patron's question is contained within the library. But sometimes the answers to those questions lie outside the walls of our buildings. Questions regarding Medicare benefits, legal help, emergency shelter, or financial assistance are common in many libraries. I was hired to help answer these questions.
Additionally, I work with our staff via training and consultation to help shape our work. At the Georgetown Public Library (GPL), we have begun to see our patrons' needs holistically, not just in regards to books, internet use, and study rooms. We understand that many of our patrons are facing ongoing life challenges that may include poverty, mental health symptoms, or the loss of a loved one. We have begun trying to meet these needs as best we can while continuing to offer our more traditional services.
Crucial to this work is understanding the library as a protective factor for our patrons. The Substance Abuse and Mental Health Services Administration defines protective factors as "characteristics associated with a lower likelihood of negative outcomes or that reduce a risk factor's impact." Here, risk factors are defined as "characteristics at the biological, psychological, family, community, or cultural level that precede and are associated with a higher likelihood of negative outcomes." We can imagine that typical protective factors might include growing up in a two parent home, educational and professional opportunities, supportive friends, and consistent access to transportation. Sadly, many public library patrons do not have access to these kinds of resources.
Our libraries offer heat in the winter and air conditioning in the summer. Our buildings are usually safe. Libraries offer clean drinking water, internet access, healthy socialization opportunities, and entertainment. The relationships that library staff create with frequent patrons may be one of – if not the only – healthy, supportive relationship in the lives of patrons struggling with highly stigmatized challenges such as homelessness, substance abuse, or domestic violence. For these patrons, the library and the relationships cultivated within it are protective factors.
Viewing our library through this lens has proven to be a helpful shift for the staff at GPL. Seeing our building and ourselves as protective factors, our goal when interacting with patrons who face substantial challenges is no longer to simply provide helpful customer service but to also consider how we might increase the chances that those patrons return to GPL again tomorrow.
Fundamentally, I see the goal of public libraries as the empowerment of the citizenry. Historically, libraries have empowered individuals primarily through the distribution of information. However, we offer so much more than that. I encourage you to consider the ways in which your library functions as a protective factor for the members of your community and to build upon those strengths so that all our patrons, both privileged and vulnerable, are empowered to reach their full potential.
---
Tags: library social worker, library social worker column, PLA Public Library Social Worker Task Force, social work column, social work in public libraries, social workers in public libraries, the library as a protective factor