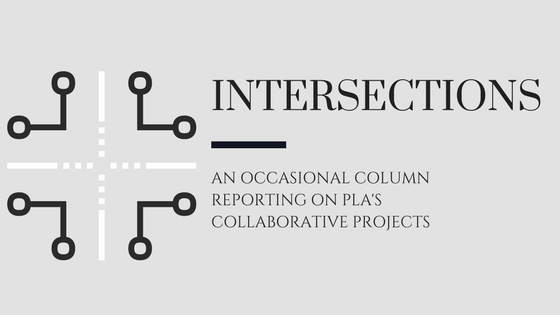 Just before the 2019 ALA Annual Conference, it was my pleasure to participate in the first-ever Knight Public Spaces Forum in Philadelphia. More than 250 people from across the country, including staff from parks, community foundations, libraries, and arts organizations, joined Knight Foundation staff and government leaders to discuss our civic commons and efforts to improve and expand them.
Themes from Knight's Reimagining the Civic Commons initiative of how best to develop welcoming spaces, increase equity and social justice, and assess change for continuous improvement are familiar to PLA members. Event host city Philadelphia was the first of five demonstration cities to receive funding, and the Free Library of Philadelphia's Lovett Memorial Library was among the community explorations included with the forum. Speakers at the forum discussed the difficulty of measuring civic engagement and social impact—and shared new tools that also could be of interest to public library leaders.
Here are a few that might not be on your radar yet:
· Measuring the Civic Commons Report. The report shares the data-driven approach for "determining the multi-faceted value of reinvesting in civic assets," rolling up 65 metrics to "signals" that show progress toward advancing social outcome goals. Tools include surveys, observation mapping and third-party data analysis. I appreciated panelists calling out HOW to measure, as well as WHAT to measure. One example of this was the recruitment and training (and funding!) of local residents to serve as data collectors, which increased project transparency, trust, ownership and local capacity for measuring success.
· Who's Coming: Respectful Audience Surveying Toolkit. Developed by Of/By/For All, the toolkit provides a guide to collecting demographic data that can inform planning and fundraising.
· The Just City Index. The Just City Index is a framework of 50 values, to be used as a tool for communities to establish their own definition and principles for what make each city or neighborhood more just.
Another theme I appreciated was a focus on rethinking and redesigning spaces that might inform public library renovations or new capital projects. Chicago-based architecture firm Studio Gang was funded to develop and share a toolkit of design strategies and techniques for communities to use toward reimaging their civic assets (including public libraries): https://studiogang.com/project/civic-commons.
I am grateful to the Knight Foundation for its investments in libraries and other vital civic infrastructure, as well as for the opportunity to hear and learn from so many creative and strategic leaders from a range of sectors. And it was a real pleasure to meet other library participants, as well, including from the Charlotte-Mecklenburg Library Foundation and The Friends of the Saint Paul Public Library. Here are a few of their takeaways from the event:
"The Charlotte Mecklenburg Library is so fortunate to be a recipient of Knight Foundation's generosity, leadership and innovative approach. The Public Spaces Forum provided great opportunities for civic leaders to share insights, identify common challenges and seek inspiration for building and maintaining great public spaces in our community. Charles Thomas, Knight's Charlotte Program Officer, invited 17 leaders from our city; some were familiar with one another, while many of us were meeting for the first time. By the end of the forum, we were eager to come back to Charlotte and discuss productive ways our separate organizations could leverage resources and create more dynamic public spaces together. Personally, the timing of the conference was ideal as the Charlotte Mecklenburg Library is undergoing several branch renovations, a new branch opening and planning for a new central library. With our vision of the library as a public commons, we strive to use our 20 branch locations as knowledge centers where everyone is welcomed and technology and programming—co-created and co-delivered with community partners—focuses on improving lives and building a stronger and more connected community. We will be forever grateful to the Knight Foundation for authentically investing in our people, organizations and cities to foster more and engaged communities. Great thanks to the Knight Foundation for its ongoing support of public libraries and for including libraries as part of these larger conversations about how we might reimaging our civic commons."  – Jenni Gaisbauer, Executive Director, Charlotte Mecklenburg Library Foundation
"In its Strategic Direction 2019-2022, the Saint Paul Public Library identified "welcome" as its primary objective: "We create welcoming places and experiences for library users." I've been collaborating with my colleagues at the Library to develop ways philanthropic funding can help to support programs that bring people together and that are inclusive, affirming, comfortable, safe, and inviting. This conference could not have been more perfectly aligned with this work. From start to finish, a major theme of the forum was public spaces as works in progress. I found it both a challenge and a relief that creating welcoming spaces is more of a process than an end point. The conversations related to placemaking and placekeeping have me thinking about applications for library renovations and capital projects and wondering, "How can libraries offer authentic place-based events?" Right now, the Library and The Friends are building cases for support for pilot programs that deliver impacts such as improved social cohesion, agency, and sense of belonging. We're working with consultants to help build out logic models, data collection methods, and other evaluation tools to measure change that demonstrate these impacts. Practices described in the Interim Reports from Reimagining the Civic Commons, as well as those used by ImpactED at Lovett Library & Park, offer potential to support our work, and I'm planning on introducing them to our consultants later this month. 
Overall, I am tremendously grateful to the Knight Foundation for investing in public libraries, including over twenty years of partnership with the Saint Paul Public Library, and championing their critical role in equitable development of neighborhoods and the resiliency of communities. The exposure to cross-sector interventions and creative approaches to community building was so inspiring! I am looking forward to continuing to build relationships made at the Public Spaces Forum and leveraging them to further strengthen the case for investments in libraries." –Julia Ruther, Institutional Relations Manager, The Friends of Saint Paul Public Library
---
Tags: Knight Foundation, Knight Public Space Forum, Measuring the Civic Commons Report, Reimagining the Civic Commons, Respectful Audience Surveying Toolkit, The Just City Index