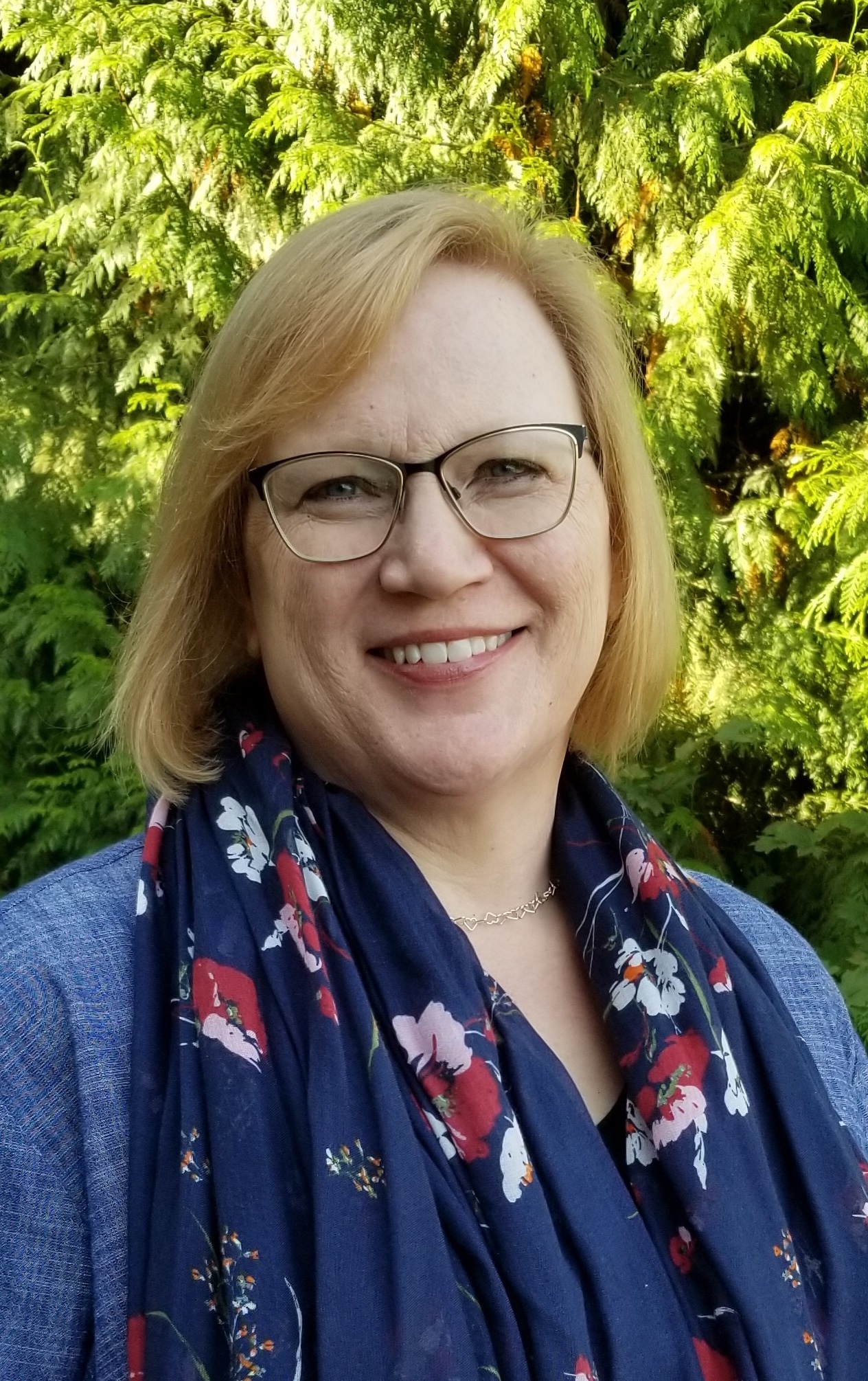 Lois Langer Thompson is Executive Director, Sno-Isle Libraries (lthompson@sno-isle.org); Christina Fuller-Gregory is Assistant Director of Library Services, South Carolina Governor's School for the Arts and Humanities, christinarfuller@gmail.com; Scott Allen is Deputy Director, Public Library Association, sallen@ala.org.
An Introduction to PLA's Equity Leaders
As PLA's Task Force on Equity, Diversity, Inclusion, and Social Justice (EDISJ) begins its fourth year, Public Libraries is please to debut a new column on EDISJ topics.
Time for PLA to Take Action
Embracing and celebrating diversity and creating a more inclusive profession have been longstanding goals of the American Library Association (ALA). However, member concerns about Orlando as the site of the 2016 ALA Annual Conference (due to Florida's "Stand Your Ground" law and the Trayvon Martin Case) created an association-wide urgency to do more. Barbara Stripling (ALA President, 2013-2014) led the call for a Task Force on Equity, Diversity, and Inclusion (EDI). That task force would develop a plan and strategic actions for EDI within ALA and the library field, turning the Orlando situation into an opportunity to educate, build awareness, and advocate for equitable treatment, inclusion, and respect for diversity.
The ALA Task Force on EDI defined the terms equity, diversity, and inclusion for the association, and gathered information from stakeholders through surveys, conversations at conferences, and feedback from various ALA groups active in EDI. A report was issued feature 58 recommendations focused on everything from the ALA conference experience to structural issues within the association and profession. Those recommendations called for ALA divisions (including PLA) to audit their goals, strategies, and outcomes for diversity and inclusion at least every three years.
At its June 2016 meeting, PLA's board of directors reviewed the recommendations. EDI was already on the PLA agenda and had been addressed through conference programs, feature articles, and more. However, PLA leaders knew this was not enough. Due to challenges reported by public libraries before and after the 2016 election; a continued lack of representation and advancement in the public library profession by black, indigenous, and people of color; and library partner discussions taking place nationally and internationally, PLA decided it had to take decisive action.
A PLA board subcommittee was established to consider next steps. That subcommittee identified the need to:
*capture data on diversity among library staff at all levels;
*influence how EDI could be advanced through library school education;
*examine PLA programs, such as the Leadership Academy, for how they impact diversity; and
*catalog and share library best practices related to diversity in the profession.

Ultimately, then PLA President Felton Thomas (2016-2017) and board member Richard Kong proposed establishing a PLA Task Force on Equity, Diversity, and Inclusion — later amended to the Task Force on Equity, Diversity, Inclusion, and Social Justice (EDISJ) — which was established at the board's meeting in January 2017.
Planning PLA's EDISJ Work
The task force held its first informal meeting at the 2017 ALA Midwinter Meeting in Atlanta and reconvened as an official PLA body in June 2017 at the ALA Annual Conference in Chicago. Co-chairs Kong and Amita Lonial knew establishing a core of EDISJ knowledge among task force members, as well as strengthening personal connections, was critical to creating a strong task force. (SEE PLA Task Force on EDISJ Charge below). Mia Henry, then executive director of the Arcus Center for Social Justice Leadership at Kalamazoo College, was engaged to facilitate a day-long training and strategy session, creating a foundation of understanding among attendees. Little did they know at the time that Henry's training would be so impactful that it would become the foundation of the task force's educational programming for the public library field.
Task force members were energized and quickly got to work. Inspired by Henry's training session, members agreed their primary focus should be to:
build community among public libraries through reflection and sharing;
create common language around EDISJ concepts (in particular identity, power, oppression, resistance, and solidarity); and
provide tools and action steps to challenge oppression in everyday lives and work, both in libraries and in communities.
Many task force members were involved in the work of the national network Government Alliance on Race and Equity (GARE) and its Libraries Interest Group, which was taking place concurrently. The GARE work to develop case studies and tools was critical to supporting the PLA task force's future work.
Educational programming became the priority. This was kicked off by a joint webinar in December 2017 with the ALA Office for Diversity, Literacy, and Outreach Services (ODLOS) titled "Understanding Power, Identity, and Oppression in the Public Library." Next came a day-long preconference at the PLA 2018 Conference in Philadelphia and other conference programs, including a session and sponsorship at the 3rd National Joint Conference of Librarians of Color (JCLC) in Albuquerque. Task force subcommittees focused on training for the field, communication efforts to both educate and connect PLA members, and evaluation of library EDISJ efforts. These subcommittees supported the work and made sure every task force member had a role.
Expanding the PLA Strategic Plan
In 2018, PLA's board of directors tapped the task force to ensure EDISJ was a priority in the updating of the PLA Strategic Plan. PLA leadership articulated its vision for a future where the library not only reflects the diversity of its community, but also becomes the leader of practicing inclusion at all levels, starting with the people who work there. Libraries should partner with community organizations to expand the reach of their benefits and those with whom the library collaborates. The library is a hub of cultural and civic engagement, helping to facilitate understanding of how society is, and should be, shaped. The task force was excited to contribute a new goal and objectives to the PLA Strategic Plan (see below).
Since the strategic plan was approved in 2018, many activities have been initiated to meet the objectives. Regional trainings and other educational events are engaging public librarians nationwide and advancing social justice work at the community level. The enhanced focus on equity and diversity in programming and special events at the PLA 2020 Conference in Nashville is integrating EDISJ work into PLA's flagship event.

The development of a library framework for cultural proficiencies in racial equity, initiated in 2019 with partners in the Association of College and Research Libraries (ACRL) and the Association of Research Libraries (ARL), will be a foundational resource for the field.
The framework will help public and academic libraries build inclusive cultures, within libraries and their broader communities, through guidelines on the development and implementation of organizational policies and professional practices that support diverse libraries with a diverse workforce.
Equity Starts With Us
By mid-2018, task force members knew they needed to be on the ground helping PLA members move forward. Inspired by their June 2017 training with Mia Henry, they envisioned convening members regionally to help them explore:
how power and privilege operate interpersonally and institutionally;
how oppression shows up in their communities and libraries; and
how they can put equity into practice by developing regional connections and creating local action plans.
Next, the PLA regional training series "Social Justice and Public Libraries: Equity Starts with Us" was born. IN 2019, nearly 350 public library staff participated in the Equity Starts with Us events, which were generously hosted by the Denver Public Library, Charleston County (SC) Public Library, Chicago Public Library, and Toledo Lucas County (OH) Public Library. Attendees explored their own identities through the Power Flower[1] exercise and considered how oppression manifests through exploitation, marginalization, powerlessness, cultural imperialism/dominance, and violence. Small group sessions brought discussions to the library level, focusing on core library program and service areas such as community engagement, staffing and hiring, collections, environment and space, and policies and practices. Attendees left energized and ready to take their next steps, whether those were "normalizing" EDISJ in their library by creating a sense of priority and starting with shared definitions; "organizing" their colleagues by building internal infrastructure and establishing partnerships; or "operationalizing" efforts by using the racial equity tools to develop strategies and drive results in their communities. By nearly doubling the number of events being held in 2020, PLA will start to drive systemic change in public libraries throughout the country.
The task force's work is contributing to an increased EDISJ orientation throughout PLA as evidenced by the following:
The biennial PLA Conference is the shining star of PLA's work, and its orientation to EDISJ issues is growing. For 2020 the task force helped revise the PLA proposal process to seek more diversity in speakers and topics. With regard to Nashville as the conference site, PLA recognized that some Tennessee laws do not align with PLA's commitment to EDISJ or the core values of librarianship. (No meeting sites are immune from political actions or legislation contrary to PLA's values). The PLA Board and EDISJ Task Force decided to use our presence to educate and inspire action. We are working together to develop "Day in the Community" immersion activities, and to highlight Nashville's rich history of community inclusion and the network of local organizations working toward equity.
Educational programs, in addition to the Equity Starts with Us events and PLA National Conference, are also promoting EDISJ. For instance, a packed session of 100 librarians participated in the "Implicit Bias, Health Disparities and Health Literacy: Intersections in Health Equity" preconference at the 2019 ALA Midwinter Meeting. Health literacy is a proven, effective tool in addressing health disparities for vulnerable communities. This preconference and accompanying Public Libraries article (September/October 2019 issue) encouraged libraries to address health inequities by promoting health literacy; creating new community partnerships and inclusive health programming; and proactively reaching out to those in the community who may receive disparate treatment.
Many other PLA initiatives inspire PLA members to implement EDISJ principles and help libraries create full and equal participation in their communities. These include PLA's programs to increase digital skills and broadband access for community members through DigitalLearn.org; our work with library social workers, and to promote enrollment in Affordable Care Act insurance plans; and our efforts to increase public awareness and library participation in the 2020 Census. Finally, PLA's Inclusive Internship Initiative is introducing students from diverse backgrounds to librarianship as a viable, rewarding, and meaningful career path.
Be sure to check back here for updates in this new column as we seek to lead the library field in fighting oppression and creating solidarity. We encourage PLA members to participate and share their successes and challenges as we move forward.
NOTE
1. The Flower Power exercise is a tool used for looking at who we are in relationship to those who wield power in society. The outer circle of petals (which a group usually fills in together) are used to describe the dominant social identity. The inner petals (which workshop participants fill by themselves or in pairs) describe the social identity of the individual. In Rick Arnold et al., "Educating for a Change" (Toronto: Doris Marshall Institute, 1991): 23.
READ MORE
Equity, Diversity, Inclusion and Social Justice Resources
The Government Alliance on Race and Equity (GARE)
PLA STRATEGIC PLAN
The following goals and objectives were approved in the PLA Strategic Plan in June 2018.
Goal: Equity, Diversity, Inclusion, and Social Justice. PLA advocates for equity, diversity, inclusion, and social justice (EDISJ) in order to enable every member, library, and community group to fully and equally participate in a society mutually shaped to meet their needs.

Objective 1: Reflect EDISJ principles in association leadership, staffing, values, mission/vision, strategies, and operations.
Objective 2: Equip members with tools, mentoring/coaching, learning opportunities, and other resources to advocate and apply EDISJ principles in their libraries and communities.
Objective 3: Identify measurable impacts, including professional competencies, that demonstrate progress in key EDISJ areas.
PLA TASK FORCE ON EDISJ CHARGE:
To develop a strategic and coordinated approach for PLA related to issues of equity, diversity, and inclusion.
The task force will explore methods and consider resources to be developed that will allow PLA to take a multifaceted approach. This may include recommending how EDI content is integrated into PLA programs; elevating successful libraries as models to generate and share best practices; identifying ways PLA might influence equity and inclusion within public libraries; and helping library serve diverse communities and staff.
PLA EDISJ TASK FORCE MEMBERS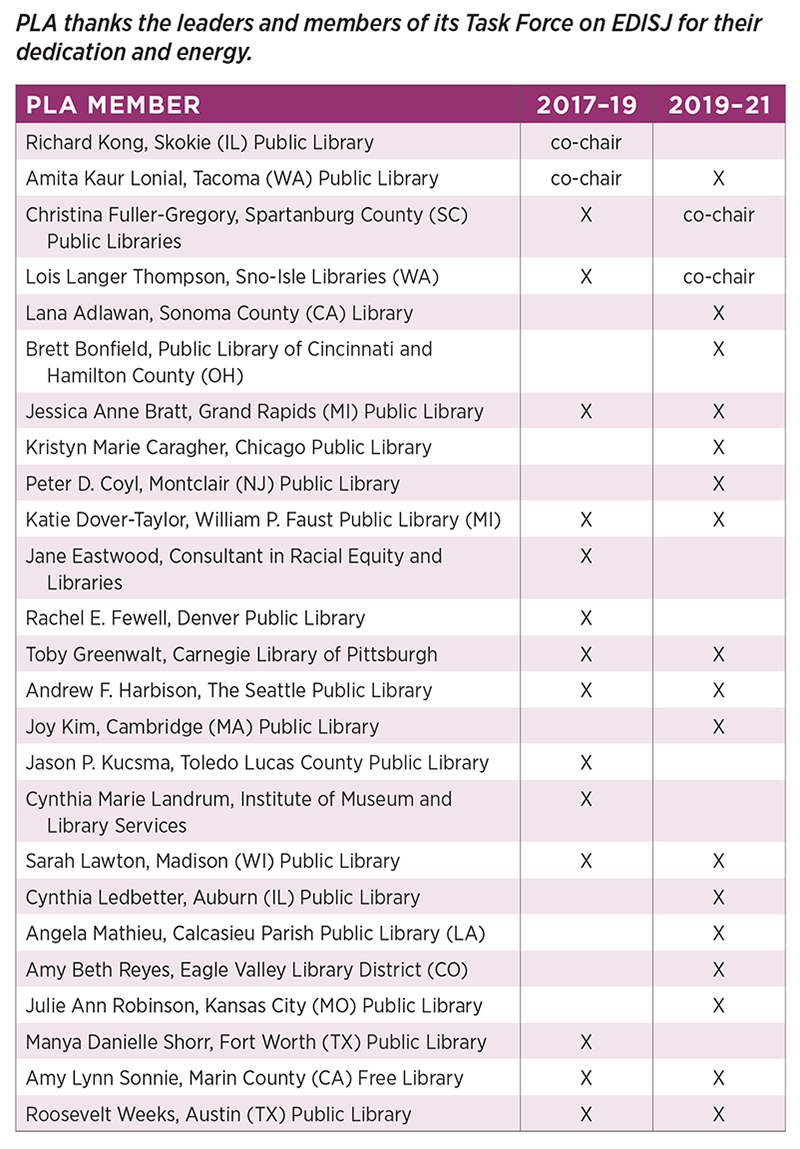 ---
Tags: PLA EDISJ task force