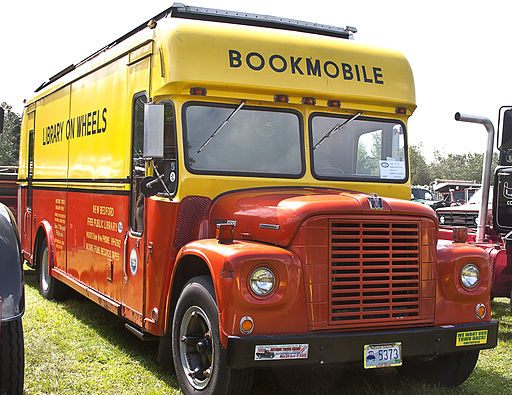 When you think "bookmobiles," chances are you don't think "virtual." But library outreach professionals are accustomed to adapting to new and changing environments, and just like their brick-and-mortar counterparts, bookmobiles have been finding innovative ways to connect with their communities in a COVID-19 world. It's no surprise, then, that in its 15th anniversary year, the Association of Bookmobile and Outreach Services (ABOS) has decided to take its annual conference online, with a pitch-perfect theme: "Out-Doing Outreach."

Established in 2005 to support and encourage library staff and leadership to provide quality bookmobile and outreach services, ABOS has been meeting each year since 2007, hosting an event that's part-car show/part-professional development, and unlike any other conference you'll find in libraryland. For ABOS President Cathy Zimmerman, who has participated in conference planning for the past five years, the benefits of gathering outreach professionals to swap stories and trade secrets are endless. "Everyone freely shares ideas, programs, and issues that pertain specifically to outreach and bookmobiles. It helps us to find 'our people' and these relationships span the globe and continue for years to come," says Zimmerman.

Camaraderie and connection, in an unconventional career which can often feel isolated, even from other library departments, is invaluable. "By learning about other programs, you realize that you are not alone in what you are doing," Zimmerman says. "Many bookmobile departments are singularly run and it is a breath of fresh air to find others who understand what your daily routine is like. These people become your sounding board for ideas and teach you new methods. You find [bookmobile programs] that are similar in size and see that they are doing a particular thing and it reassures you that it can be done." In this time of great uncertainty, when many library workers find their jobs in jeopardy, and libraries are facing budget cuts when the community need for their services is greater than ever, there is much to be learned from the creativity and resourcefulness of library outreach programs large and small.

Ultimately, Zimmerman says her biggest takeaway from the conference has always been the friendships she's made. "People you can call and bounce ideas off. People you can call and ask 'Why isn't this working?' People that cheer you on when you have a triumph." Now more than ever, we're learning how to build and sustain both professional and personal relationships digitally, and these skills are becoming indispensable in outreach and beyond.

Whether your library has a longstanding bookmobile program, you're thinking about hitting the road yourself, or even if your outreach department doesn't have wheels, there's something at the ABOS conference for all library professionals interested in outreach. Here is a sampling of this year's presentation topics, which showcases the wide-ranging subject matter covered by the ABOS conference:
Procuring an Outreach Vehicle: A Guide to the Process, Procedures and Pitfalls of Buying a New Library Outreach Vehicle
Compassion in Action: Reducing Library Access Barriers for Domestic Violence Survivors
Assessing Outreach: Tools for Evaluating Impact and Staff Time in Off-Site Services
Pulling a 180: How to Adapt Outreach Services in Times of Extreme Change
Maximizing Your Library's Impact Through Strategic Partnerships
Other topics include: Building Dementia-Friendly Communities, Services for Veterans, Little Free Libraries, Building Memory Kits, and Libraries without Borders.
The ABOS 2020 Virtual Conference, "Out-Doing Outreach," takes place from October 13-16, 2020. Registration is $79 per attendee, or $69 per person for departments of three or more. Learn more and register here.