by Dr. Nkem Osuigwe, Director, Human Capacity Development and Training, AfLIA, Accra, Ghana; neosuigwe@aflia.net.
Today is history, tomorrow – Nashville Public Library Civil Rights Collection
US Congressman and a Civil Rights icon John Lewis, has just died. He was one of the 'big six' of the Civil Rights Movement. I had read about Martin Luther King Jr., Roy Wilkins, Whitney Young, James Farmer and Philip Randolph. I had read about Rosa Louise McCauley Parks. I know what they believed in, what they fought for, what they did and what they achieved. History. It was all history. Then, I went to Nashville, Tennessee and I realized that today is history that will be recounted tomorrow.
I attended the PLA conference (February 23rd – March 1st, 2020) with Cohort 2, AfLIA Leadership Academy in Nashville funded by the Global Libraries initiative of the Bill and Melinda Gates Foundation. What started as a library visit to Nashville Public Library on Tuesday, February 25th, 2020, turned into a life-changing experience that opened new vistas of the role of public libraries in building communities, by the transformation of mindsets through history. History? Really?
I remember the Civil Rights Collection Room at the Nashville Public Library and I get goose bumps again and again seeing in my mind's eyes those names, pictures, and actions of people who laid down their lives, literally, so that all can be everything they wish to be despite the colour of their skin.
Andrea Blackman and Tasneem Tewogbola of the Nashville Public Library took us on a time travel, transporting us right into the Civil Rights Movement of the 1960s. We saw pictures of the sit-ins at local lunch counters as we sat at the symbolic lunch counter, we felt the pain of discrimination, we cheered the courage of young men and women who stood peacefully and courteously to demonstrate and say 'we are one' because we all have red blood flowing in our veins even if our skin colors are different, we followed the economic boycott, we were amazed by the principle of non-violence and how it was put to work, we understood that freedom is not enough if it does not allow people to use their voices to say who they are and what they want and most importantly, we agreed with the bold resolve of the picture collage 'NEVER AGAIN'!
I have reread my blog post about the visit to the Civil Rights Room over and over again https://web.aflia.net/libraries-are-more-than-books/ and I still can't shake off the conviction that African public libraries have to urgently have a second and third and fourth look at the history of their communities and seek ways of bringing these histories alive for the current generation, in order to help build self-identity and know that there's still history to be made. This only happens when people get involved in building a better world today because being a bystander in a community where there are needs removes us from the pages of history. Libraries can propagate this as they highlight the history of their communities.
It's easy to regard history as something that happened in 'ancient times' but the history that will be told tomorrow will be the things done today by men and women of courage to drive change and create a better world. Public libraries owe it as a duty to their user communities to collect information in different formats of events that take place in their environment today. This will become history tomorrow. This thrust is quite critical so that history will be made up of facts and not the alternative truth that can breed conflicts.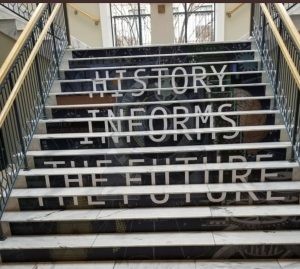 The Civil Rights Room also helped me to understand why it is crucial that one's voice is heard. As Andrea and Tasneem walked us through the Civil Rights Room and the new annex, I saw a poster with the inscription,
"The Power of …Power,
Nearly, a century later,
What are we fighting for?
Which voices must still be heard?
Who must still be counted?"
Something shifted in my mind. Voices are power. Voices in our communities need to be heard. Our knowledge, our meanings, and values need to be projected for understanding that will breed inclusiveness. I tried to imagine how this can work in the context of African public libraries. I wondered whose voices need to be heard. Whose voices have we been hearing anyway? Whose knowledge have we been imbibing? What role can libraries play in ensuring that the voices of history-makers in our different communities are heard? How can libraries record history to inform the future? Beyond newspapers and books, how can libraries make the heroes and heroines of their communities visible, heard, and telling their own stories? How can African libraries propagate the story of Africa and by Africans? How can our voices be heard, integrated, and matter in the global body of knowledge?
The African Library and Information Associations and Institutions (AfLIA) where I work as Head, Human Capacity Development and Training, signed an agreement with Wikimedia Library in January, 2020. One thing led to another and we got a grant in June, 2020 from Wikimedia Foundation to train 300 African librarians to work in online collaborative spaces using the OCLC Wikipedia + Libraries Better Together curriculum adapted to the African context. This happened because Wikipedia is recognized as a platform where librarians can work to help their communities have their own voices and create knowledge as they tell their own stories about stuff that's important to them https://web.aflia.net/aflia-receives-grant-from-wikimedia-foundation/
Libraries open minds to possibilities of better and greater things. They have the ability to infuse one with the strength, courage, and imagination to envision what can be. And that's the first step in how history is made. The insights gained from a library visit in Nashville, have put into motion events that will certainly change lives and create a new future for many libraries in Africa. We are on the threshold of making history as we seek to transform lives by empowering African voices to tell their stories. As John Lewis metamorphoses from an elder into an ancestor, we continue to hear him as his words boldly inscribed on the entrance portals of the Civil Rights Collection Room still speak succinctly to African librarians – "If not us, then who? If not now, then when?"