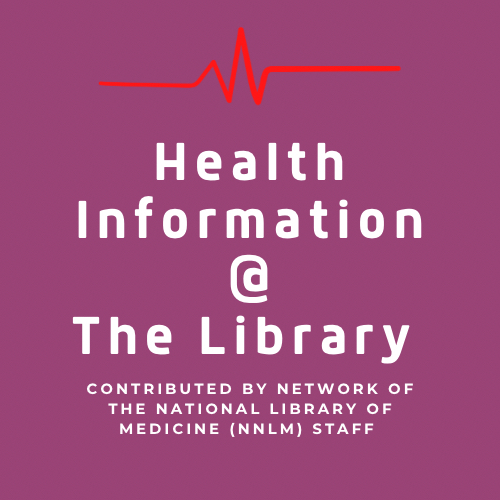 Welcome to the exciting new column Health Information @ the Library, brought to you by the friendly Network of the National Library of Medicine (NNLM) staff! Each month we will explore a new topic and dive into evidence-based health information resources, educational opportunities, and more, all at no cost! At NNLM, our mission is to advance medicine and enhance public health by ensuring that all U.S. health professionals have equal access to biomedical information while also empowering the public to make informed decisions about their health. We collaborate with public libraries to fulfill the health information needs of their communities through training, education, funding, programming, and partnerships, we will look at these more closely below.
Let's explore how we achieve our mission. First and foremost, we provide comprehensive training and education on finding health information resources, evaluating health information, answering health related reference questions, and health programming. With NNLM, you can participate in various engaging formats for learning, such as webinars featuring expert guest speakers, a book discussion for librarians, or cohort classes on Moodle – all at no cost!  We offer a variety of Moodle classes that cater to different learning preferences and time commitments. Whether you're looking for a quick one-hour module to earn one continuing education credit hour or prefer to dive deeper with our multi-week courses that offer up to fourteen continuing education credit hours, or an online book discussion we've got you covered. These classes are designed to make learning about health information engaging. Our classes and webinars cover a wide variety of topics, such as reproductive health, rural health, mental health, telehealth, and tackling health misinformation. Our NNLM staff members in the regional offices also provide virtual and in-person presentations on health information. You can often find us presenting a state and national library conferences on a variety of health information topics. We also partner with state libraries, library systems, and libraries to provide localized deliver presentations that increase your comfort and knowledge of health information services.
By taking our classes, you earn continuing education credits that count towards the Consumer Health Information Specialization (CHIS), which showcases your expertise in offering quality consumer health information services. CHIS is all about empowering you with the skills and knowledge needed to provide top-notch consumer health information services. It revolves around eight Core Competencies for providing consumer health information services, ensuring that you're equipped to meet the diverse needs of your community. And guess what? There are even two levels of accomplishment to celebrate your progress and expertise! So, whether you're just starting your journey or already on your way, CHIS is here to support you every step of the way. Get ready to enhance your abilities, gain valuable insights, and make a positive impact on the health information landscape. Let's dive in and explore the amazing opportunities that await you through CHIS. NNLM covers the costs of acquiring CHIS levels one and two, as well as renewals.
The second way we help public libraries meet the health information needs of their communities is through funding. We provide funding support for projects that enhance access to health information, foster engagement with research and data, expand professional knowledge, and promote awareness and utilization of NLM resources in local communities. Funding is provided by the regional offices and centers. Be sure to follow your regional office on social media or subscribe to their newsletter or blog, as they will keep you informed about available funding opportunities. Regions have staff on board who can help you with the application process as well as training sessions for applying for funding. Funded projects cover a wide range of topics, including cooking and nutrition, mental health, senior health, stress management, mobile hotspots, telehealth, and much more!
A significant portion of our funding support goes towards enabling libraries to provide health-related programming. Numerous projects funded by NNLM can be found on the Programming Librarian site. Additionally, in collaboration with PLA, we incorporated health programming questions into Project Outcome several years ago. You can explore previously funded programming projects on our website, discover programming ideas in the Moodle class Beyond an Apple a Day or utilize our reading club toolkits to facilitate book discussions at your library.
Lastly, we provide a wealth of online guides and print resources. Our online guides serve as fantastic starting points for various health topics, offering valuable insights and helping you locate resources for your patrons. Guides include Black maternal health toolkit, environmental health and justice, K-12 resources, substance use disorders, health misinformation, and more. Feel free to copy and use our content on your website or in your library. You can also order print brochures and handouts to share with your community, spreading health information far and wide.
NNLM has seven regional offices that cover the 50 states as well as the Commonwealth of Puerto Rico, the U.S. Virgin Islands, and the U.S. Territories and Freely Associated States in the Pacific. We also have three centers: The NNLM All of Us Program Center (NAPC) coordinates engagement and training activities offered by NNLM in support of the NIH All of Us Research Program (All of Us), The NNLM National Center for Data Services (NCDS) coordinates with other NNLM Regions, Offices, and Centers to provide training and resources to increase data science capacity among information professionals, and The NNLM National Evaluation Center (NEC) provides innovative evaluation frameworks and evidence-based evaluation tools and practices to NNLM. Finding and connecting with your regional office is the best way to learn how to take advantage of all NNLM has to offer. Be sure to make your library a member! Membership is institutional, not individual and it's free!
Stay tuned for more exciting updates and valuable resources in our Health Information @ the Library column. We're thrilled to embark on this journey with you!