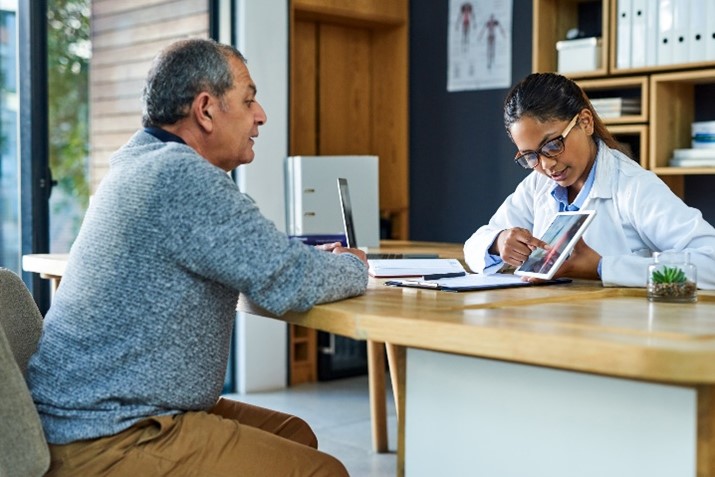 The U.S. Department of Veteran Affairs is transforming how Veterans receive health care. VA's Office of Connected Care provides Veterans with options to use telehealth and digital health technologies. These innovative technologies help Veterans overcome barriers to care. This includes long travel times to VA facilities so Veterans can access high-quality care when and where they need it.
VA Telehealth Services
In fiscal 2022, more than 2.3 million Veterans used VA telehealth services. That's around one-third of Veterans enrolled in VA care. With telehealth, Veterans can meet with their VA care team remotely from the comfort of their home or community. Recently, VA Telehealth Services celebrated its 20th anniversary. During those 20 years, VA has expanded its telehealth services to include over 50 clinical specialties. These include cardiology, diabetes management, mental health, oncology, and many more.
VA Video Connect
VA Video Connect is VA's secure videoconferencing app for video telehealth visits. With the app, Veterans can meet with their VA providers using any smartphone, tablet, or computer with an internet connection. Veterans can also invite their family members or caregivers to join their video visit. Since the beginning of the COVID-19 pandemic, VA saw a 3,000% increase in its video visits in fiscal 2022 compared to fiscal 2019. This demand has continued even after the pandemic. VA is still experiencing more than 180,000 video visits each week.
My HealtheVet
My HealtheVet, VA's online patient portal, enables Veterans to manage their VA care and track their VA medical history. Veterans can request refills of their VA prescriptions, exchange secure messages with their VA providers, view and download their VA health records, and manage their VA appointments. The platform also provides information on exercise, nutrition, mental health, and medical treatments.
Since My HealtheVet launched in 2003, more than 7 million users have created accounts. Veterans have used the portal to request over 255 million prescriptions and initiate more than 204 million secure messages. The My HealtheVet biweekly newsletter, which shares medical and lifestyle articles, currently has over 1.3 million subscribers.
VA Apps
 VA apps provide a range of services. This includes connecting Veterans with VA providers and helping Veterans self-manage medical conditions. VA has designed more than 50 apps for Veterans, their family members and caregivers, and providers. For example, Annie is VA's automated text messaging system that encourages Veterans to take an active role in their health care. Annie sends Veterans reminders to take their medications, tips for reducing their stress, instructions to prepare for their upcoming VA appointments, and more. The PTSD Coach app was created specifically for Veterans experiencing PTSD. The app provides tools for tracking PTSD symptoms and strategies for managing them. It also shares reliable information on treatments and therapy.
Convenient, High-Quality Care
VA's top priority is to provide convenient, high-quality care for Veterans. If you are a Veteran, VA can meet your health care needs. To learn how VA virtual care options can enhance your care, visit the Office of Connected Care and VA Telehealth Services websites.
---