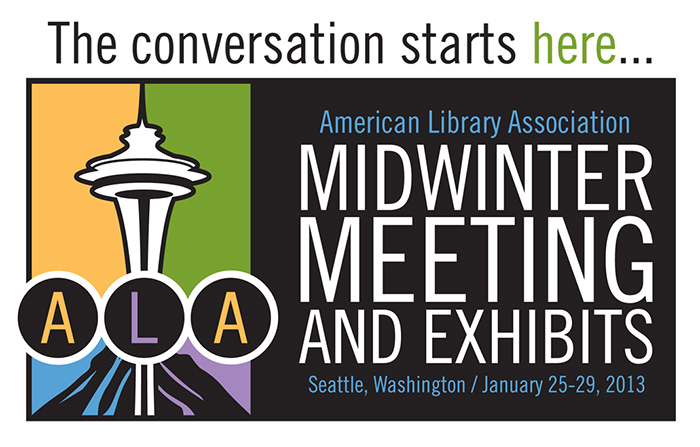 ALA, E-books, and Libraries: Where Do We Stand and Where Are We Going?
The ALA Digital Content and Libraries Working Group (DCWG), an exciting new endeavor by the ALA to develop and disseminate resources regarding libraries and their relationship with digital content, hosted a panel of speakers for a talk on E-books and the library at the ALA Midwinter Meetings in Seattle.
The DCWG, which formed during the ALA Annual Meetings in New Orleans in 2011, have already done a lot for the library community in the short time that it has been existent. In partnership with the ALA, here are some of the things that Sari Feldman, director of the Cuyahoga Public Library and a member of DCWG, updated the audience on their progress:
Published E-book Business Models for Public Libraries and a scorecard for the model.
After Feldman, Bob Wolven, Associate University Librarian for Bibliographic Services and Collection Development, and Alan S. Inouye, Director for the Office for Information Technology Policy spoke on the future steps that the DCWG plans to take. Wolven hopes that the group can further test the scorecard, and be able to work on some reports about e-book business models for school libraries. They also want to write a critique of the pay-per-use model and do research on methods of obtaining e-books beyond the Big 6. They are also looking for other venues of consumer models, such as subscriptions, new formats of providing digital materials, and new forms of publication. Inouye further discuss the role of ALA by reaffirming ALA's role as the advocator of libraries on the issue of e-books.
Next, the DCWG invited a panel of three speakers to share their thoughts on the e-books landscape: George Coe from Baker & Taylor, Matt Tempelis from 3M and Jamie LaRue from Douglas County (Colo.) Libraries.
Some topics that they discussed were:
"Highlight one or two things in publishing community that will change e-book market":
Tempelis – Publishers want to sell to libraries, but they need to find a way that will benefit them as well. He hopes for more consistency in finding e-book models for libraries.
LaRue – Insisted on more support from the library for independent publishers.
Coe – Recommended a ratings system for e-book models so that libraries can choose what works for them. By providing digital materials, libraries are reaching a new patron pool that might not have been interested in the brick-and-mortar library.
On "What libraries should and should not be doing":
LaRue – Thinks that libraries should stop pouring resources into outdated formats such as CDs or DVDs and look for new platforms. He also encouraged libraries to look at their roles different. For example, instead of being an archive of local newspapers, be a producer of local news. He also wonders if there could be some sort of display for e-books, like the current displays that libraries have for print books.
Tempelis  – Suggested outsourcing things that the library cannot do and partner with other community organizations to provide services that the library does not currently provide.
Coe – Wants libraries to take the data it collects from digital material circulation and use it to market library resources to library patrons.
On the library's inability to re-sell e-books:
LaRue – Wants libraries to look into ways to become the publishers, helping their library patrons to self-publish. Libraries are losing a lot of revenue when they lease e-books because they are unable to re-sell them.
Coe – Suggested that public libraries can follow the format of academic libraries and pay for the books that are actually being used.
Tempelis – Libraries need to define ownership of digital materials, because when you buy software, you are only given a license. He believes that if the library can prove that they can grow the e-book market, and show that they have a part in the increase purchase of e-books, then publishers and distributors would be more willing to work with libraries.
Final Thoughts:
LaRue – Instead of using the e-book platforms already available, libraries should look into building their own platforms so that they can diversify their e-book collection. Libraries are "investing in the quality of minds and education of the nation."
Tempelis – It's expensive to digitalize books, and there must be a way that publishers can feel compensated for digitizing the books. Also, having both print and digital in a library will get more and more expensive, so libraries should think about consolidating.
Coe – Libraries need to remember to expand their digital collection to those with disabilities, and could possibly work with school libraries to figure out ways to best provide e-books.
---