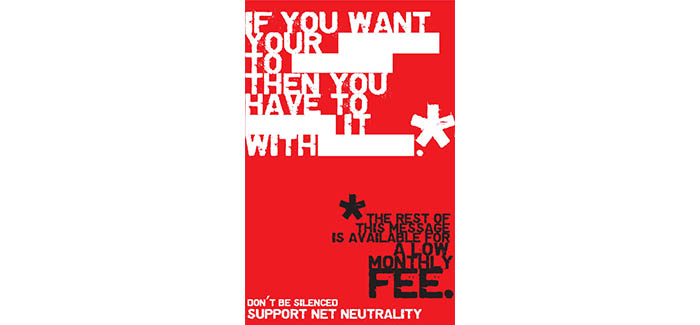 I hate to break it to you, but you're reading this post on an Internet that's no longer free and open. (And would you believe this is my very first PL Online blog post, too? What a bummer.)
I'll bet you've heard the buzz about last month's federal decision on net neutrality—the idea that all users deserve equal access to online information regardless of who is supplying their Internet service.1 In case you missed it, the U.S Court of Appeals for the District of Columbia ruled that the Federal Communications Commission (FCC) can't keep the Internet neutral anymore.2 It's just not legal.
Here's what that means: Broadband providers can charge companies big bucks to get rock-star treatment like faster "lanes" of Internet traffic and preferred access to their users.3 They can even block certain content or sites in favor of others better suited to their economic interests. 4 Pretty awesome for them, right?
On the flip side, smaller businesses and non-profits without the coin have to settle for the Internet cheap seats minus all the bells and whistles.5 And guess who might end up footing the bill for that rock-star treatment I mentioned earlier? Say hello to higher subscription fees for the same services you've got now, everyone.6 In the end, it's just bad news for consumers and public libraries.
Is there a glimmer of hope in this doom and gloom? Absolutely! Here's what we can do right now to take a stand on net neutrality:
Be unsettled. Let this ugliness bother you. It should. After all, we're First Amendment champions, not arbiters of Internet access. Need to spark your indignation? Check out ALA President Barbara Stripling's response to the decision:
This ruling, if it stands, will adversely affect the daily lives of Americans and fundamentally change the open nature of the Internet, where uncensored access to information has been a hallmark of the communication medium since its inception.7
Stay informed. I'm sure you've got a question or two about net neutrality—I know I do. There's no shortage of opinions out there, but I recommend getting the low-down from National Public Radio's All Tech Considered, the New York Times' Editorial Board, and The Switch at the Washington Post. Feeling especially bold? Tackle the full court opinion entered by Judge David Tatel.
Take action. The key to net neutrality's restoration might lie in FCC lingo. A White House petition seeks a directive to reclassify broadband providers as "common carriers," a move that would grant the FCC legal standing to regulate them more closely. As ALA works with policymakers to restore net neutrality, consider supporting this petition, which has a goal of 100,000 signatures by February 14.
Spread the word. Promote awareness about the net neutrality debate via e-mail, social media, or a good old-fashioned conversation. If this post resonates with you, why not pass it along to colleagues and other advocates working to improve outcomes for communities? Tell them about the White House petition and encourage them to sign it, too.
Imagine the faces of those you've recently served at the library: the third-grader you helped with a homework assignment; the recent college grad conducting his first job search; and the senior creating an e-mail account. We're their best possible advocates, and there's never been a better time to push back and pipe up on their behalf.
If we don't do it, who will?
*********************

Graphic for this post from Net Neutrality Poster by http://bugbyte.deviantart.com/art/net-neutrality-poster-54522508.
1     "Feds Can't Enforce Net Neutrality: What This Means for You," NPR, January 14, 2014, http://www.npr.org/blogs/alltechconsidered/2014/01/14/262454310/feds-cant-enforce-net-neutrality-what-this-means-for-you
2     Ibid.
3     "A Disappointing Internet Decision," New York Times, January 15, 2014, http://www.nytimes.com/2014/01/16/opinion/a-disappointing-internet-decision.html
4     Ibid.
5     Ibid.
6     "11 questions you were too afraid to ask about net neutrality," Washington Post, January 15, 2014, http://www.washingtonpost.com/blogs/the-switch/wp/2014/01/15/11-questions-you-were-too-afraid-to-ask-about-net-neutrality
7         "ALA troubled by court's net neutrality decision," American Library Association, January 14, 2014, http://www.ala.org/news/press-releases/2014/01/ala-troubled-court-s-net-neutrality-decision
---
Tags: libraries and net neutrality, Net Neutrality, restoring net neutrality