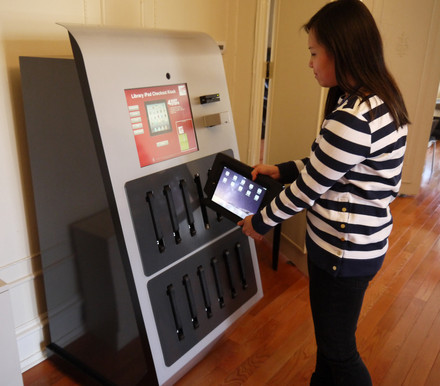 Those living near Drexel University in Philadelphia will have the opportunity to check out iPads as part of a new partnership between Drexel and the Free Library of Philadelphia. The program allows both students and neighborhood folks to rent the iPads for up to 4 hours. The iPads will be checked out through the use of a special kiosk. Drexel has been using a similar system for students to check out MacBooks since 2013. Students or patrons simply swipe their student IDs or Free Library of Philadelphia Cards in order to have the iPads released from the vending machine docks.
The iPads will come with specific preloaded apps such as Mango Languages, Hoopla, and Overdrive. Along with these apps are music, games, video editing applications, and educational resources. The iPad check out service is intended to coincide with the already successful Free Library of Philadelphia Computer Labs and Hot Spots spread amongst neighborhoods in Philly.
A search on Google revealed that a number of colleges and universities in the United States have been loaning out iPads to their students for some time. This includes both private schools such as Briar Cliff University, and public universities like the University of South Carolina and the University of South Florida. With the cost involved it is understandable that there are relatively few public libraries that allow their patrons to check out iPads. There is also the concern of the safety of the devices that would need to be addressed before more public libraries adopt a similar program. One hopes that a project like this meets with great success, and thus influences other public libraries to not only partner with their local colleges, but also take a chance on their patrons.
Further resources on iPad checkouts for your library:
http://crln.acrl.org/content/72/4/212.full
http://www.macprofessionals.com/new-library-ipad-checkout-solution/
---
Tags: academic libraries, free library of philadelphia, future of libraries, Hot Spots, iPads, kiosk, vending machine