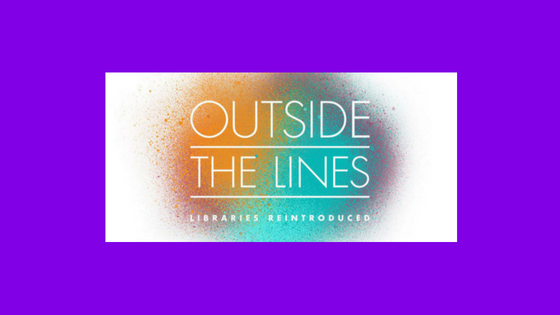 "Why do we need libraries when there's the Internet?" For those who work in the library industry, it's an unfortunately familiar question. Despite the many ways in which libraries have evolved to embrace community, innovation, and technology, many outdated perceptions still remain. In 2014, a group of Colorado library marketers and directors decided it was time to tackle this issue head-on. The result of this collaboration is Outside the Lines, a grassroots initiative that is helping to shift perceptions of libraries everywhere.
Outside the Lines, now in its third year, is a week-long celebration—September 11–17, 2016—demonstrating the innovation and creativity happening in libraries. Libraries of all types—large, small, urban, rural, academic, special—are encouraged to sign up in an effort to reintroduce themselves to their respective communities. To help ensure that they're "walking the walk," each participating library hosts at least one event or campaign during this week that gets people thinking and talking about libraries in a new way.
As of mid-August, Outside the Lines 2016 includes more than two hundred libraries across the United States, Canada, Puerto Rico, Denmark, and Croatia. The libraries' service areas range from more than three million to less than a thousand people. From libraries that specialize in theatrical plays to cultural centers that serve the indigenous First Nation tribes of Canada, a diverse set of institutions are going above and beyond to connect with their respective communities in unexpected ways.
Libraries are community hubs that help people be their best. You don't have to look far to see it. Whether it's the efforts of the Queens Library in New York to reach victims of Hurricane Sandy or the determination of the Ferguson Municipal Library of Missouri to be a refuge for those impacted by strife, libraries have the power to bring community together, in good times and bad.
The Orange County Library System (OCLS), which serves the residents of Orlando, Fla., is no exception. After a gunman killed forty-nine people at the Pulse nightclub this past June, OCLS stepped in to help their community heal. They offered titles to those struggling to cope with tragedy, donated supplies to their local LGBT community center, participated in a viral video campaign aimed at raising awareness—all to convey that their libraries are safe, welcoming spaces for everyone. OCLS, participating in Outside the Lines for the second year in a row, is continuing to put the idea of the library as a community connector on full display this September. "For Outside the Lines, we wanted to do something that would continue to help Orlando heal and also put the city's strength on display in a very public way," said Erin Sullivan, public relations administrator for OCLS.[1]
To achieve this goal, OCLS will host PaintStrong Orlando, a public art show and reception on September 15, 2016. PaintStrong Orlando is the result of a collaboration between OCLS and Sam Flax, an Orlando business that donated art supplies to anybody willing to make a piece of art in response to the Pulse shooting. The callout for PaintStrong Orlando resulted in more than 250 pieces of original art, many of which will be on display at the downtown Orlando Public Library for the duration of the exhibit. Many of the pieces will travel to other branches after the exhibit's opening reception to help spread awareness across the district. PaintStrong Orlando is just one of many ways that libraries around the world will be connecting with their communities in meaningful ways during this year's Outside the Lines celebration. For many, it's a way to show the important role that libraries can play in everyone's life. "We're really proud to show Orlando that the library isn't just a big downtown building where you can check out books, take classes, and use computers," says Sullivan. "We're an organization full of people that really care about our community and are proud to call Orlando home."[2]
Learn more and sign up for Outside the Lines at getoutsidethelines.org. Keep updated on Outside the Lines events and support online with #getOTL.
---
Reference
[1] Erin Sullivan, public relations administrator for OCLS, in an e-mail interview with the author, August 5, 2016.
---
Tags: future of libraries, importance of libraries, Outside the Lines, rebranding